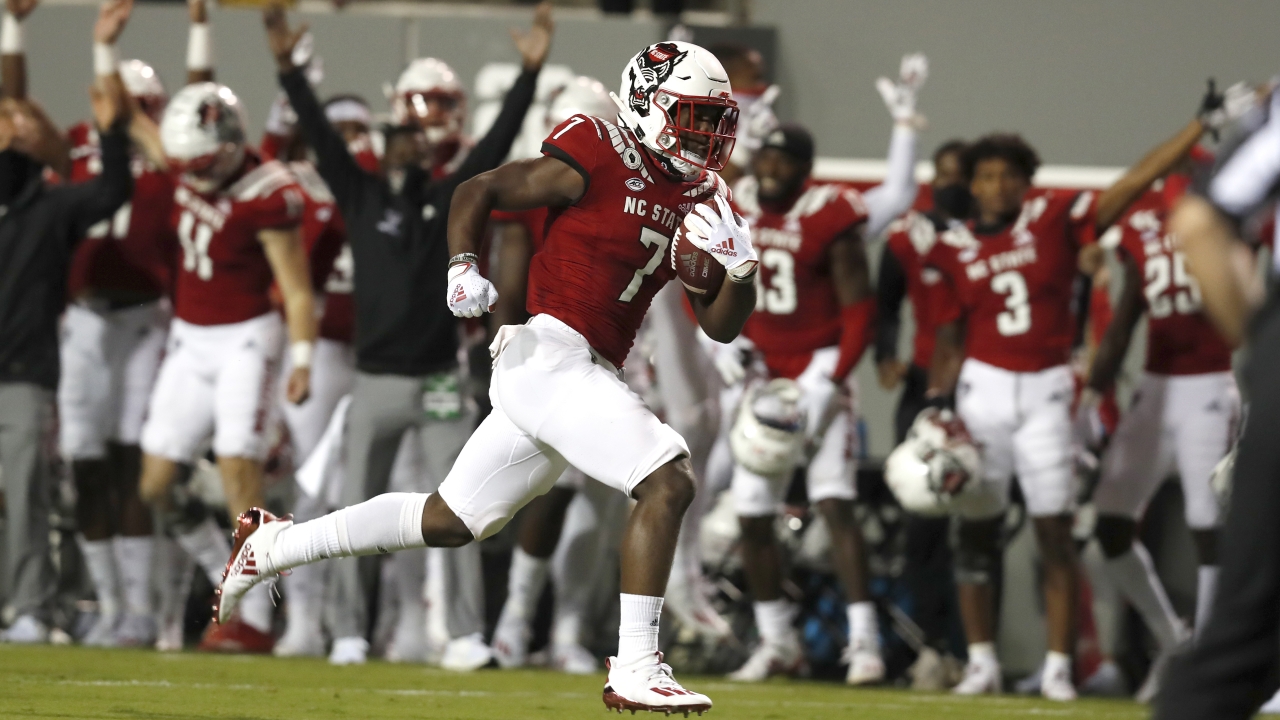 Grant Gibson
Zonovan Knight
Isaiah Moore
NC State Football
LOCKER ROOM REPORT: Wolfpack Players
---
Several players from No. 23 NC State met with the media via Zoom following the Wolfpack's 48-21 loss to No. 14 North Carolina.
NOTE: Click on each player's thumbnail to watch each interview.
---
Grant Gibson
How important was it to have Ben Finley come in and get the team in the end zone?
"At that time of the game, it was huge. He gave us the spark that we needed, and I thought that he played well. It was good to see him out there playing hard and playing well."
How disappointing was it for the team before that touchdown? How important was it to get things going?
"At that point in the game, I don't think that we were upset at all. It's a long game. At that point, I think we were down, 14-0. It's still in the first half. We could still come back and still play hard. I thought that we did that. We didn't flinch. We just kept competing."
Bailey Hockman did some good things late and got into the end zone. How important was it for him to have a good feeling heading into the bye week?
"I thought he came in at the end and played hard. I know it was tough on him at first to get pulled, but he was still on the sidelines trying to cheer us on and keep the team moving. I was proud of the way that he came in at the end though. That says a lot about him and how he carries himself. I thought he did well."
What would you say is the biggest point of emphasis that you guys need to work on heading into the bye week?
"We're going to take a look at this film. We need to fix a lot of things. We need to go back and look at ourselves first. I think that we need to get healthy and get some guys back, but I also think that we need to keep competing hard. I think that, in this bye week, we're going to look at ourselves, learn from this loss, and bounce back."
Zonovan Knight
Heading into the bye week, what is the biggest point of emphasis coming out of this game and the first half of the season?
"As far as this game goes, I can't really speak on it right now. It's something that we'll have to evaluate on film tomorrow and critique how we played today. Overall, I feel like our main thing that we need to work on is being more consistent offensively and defensively."
How are the guys feeling confidence-wise?
"Clearly, our heads are going to be down after taking such a big loss. For our momentum moving forward, we just have to carry energy into practice no matter what the past week was. This coming week, we need to have positive energy no matter what happened this week and just let that advance going into Miami and Florida State."
Does it make it more frustrating that this game was also a rivalry game as well?
"No, honestly. I don't know how the other guys feel, but for me personally, it doesn't make it more frustrating."
The team, as a whole, had difficulty moving the ball on the ground. Were the Tar Heels winning the battle at the line of scrimmage, or was there something else that they did defensively to stymie the run game?
"I personally feel like they were more physical than us up front, and I think that ultimately stopped us from being productive."
How surprising was that considering the success the team's had in previous weeks?
"I kind of was shocked because, on film, they didn't look that physical. Personally, they weren't that physical; they were just more physical than us."
Does the running back room have enough to overcome Ricky Person's concussion and still have a successful season?
"Yes, I do. I think we have enough depth to still be productive this season."
Isaiah Moore
Given how well the Pack's defended the run over the last three games, how surprised were you about what happened today?
"Pretty surprised, I guess. It's pretty frustrating. They just outplayed us."
Are UNC's backs just that good, or was there something schematically that they did to make it difficult?
"They just outplayed us. There's no excuses, no scheme. We've got to wrap them up, we've got to tackle them to the ground, and we didn't do that today."
As one of the leaders of the team, how tough is it to come in here and admit that another team just outplayed you, especially a rival? What do you have to do during the bye week to fix what's wrong from the first half of the season?
"We're all about telling the truth, and everyone in that locker room knows they outplayed us. We all know what we have to do moving forward. We're going to come in tomorrow, watch the film, and move on from it. We're going to learn from this, and we've got to play better going forward."
Did UNC's physicality catch you off guard?
"Not really. This is a physical sport. We have to be ready to come out and play physical football at any time and any day of the week, and we didn't do that today."
Was the Tar Heels' running game as good as advertised?
"It was good. We helped them out a lot by not tackling. We had a lot of missed tackles, but they're talented. They're talented up front, and they have talented backs. We knew they had that ability, and we didn't help ourselves much by not tackling and getting them to the ground."
With Devin Leary out, is there added pressure to play better?
"No, there's no pressure. We have the utmost faith in our offense that they're going to move the football and put us in a situation to win. This is absolutely team loss. On both sides of the ball, we didn't play well, and we've got to get better going forward."
Never miss the latest news from Inside Pack Sports!
Join our free email list