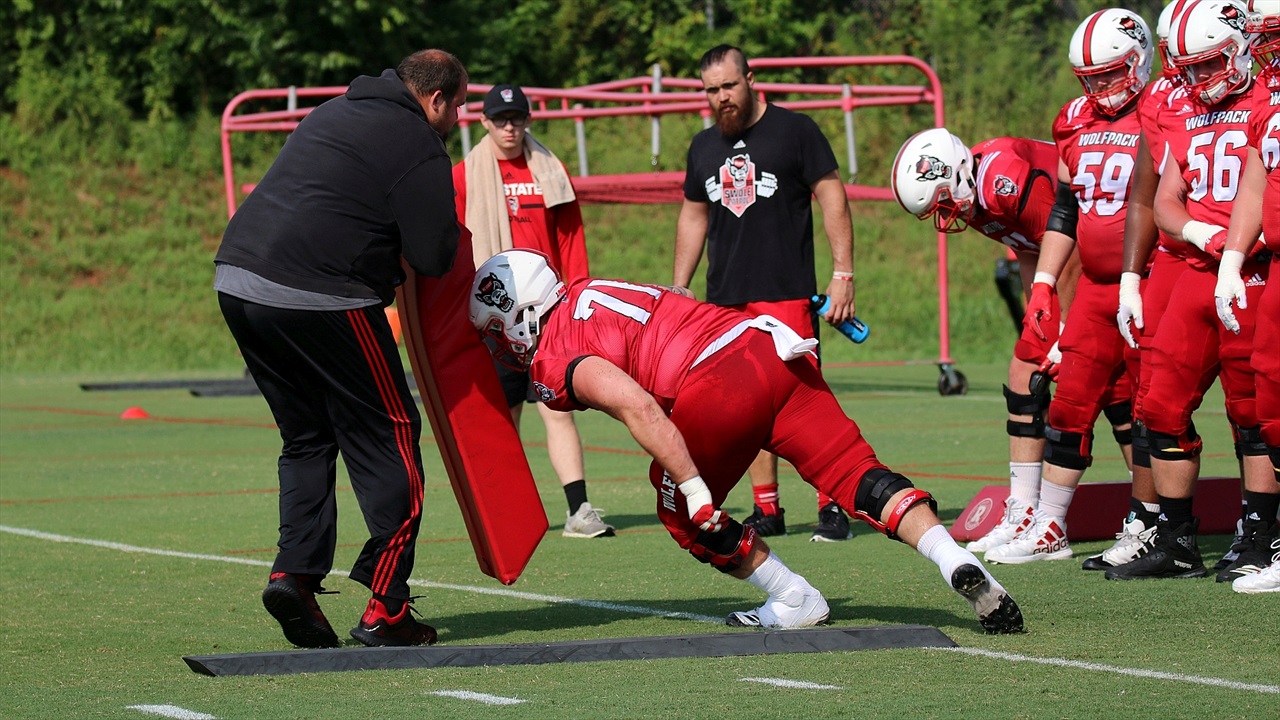 NC State Football
Joe Sculthorpe: "We're Firing On Full Cylinders"
---
No. 23 NC State redshirt senior offensive lineman Joe Sculthorpe met with the media via Zoom to discuss the Wolfpack's upcoming matchup with No. 14 North Carolina.
---
How much pride does the offense take in being able to put points on the board following the defense forcing turnovers?
"Coach [Dave] Doeren emphasizes something called 'complementary football.' You hear that a lot. We play off of each other, so when you get those big momentum plays where the defense gets a pick, gets a return, or gets a fumble recovery, even like a blocked punt, you want to carry the momentum onto the field as an offense. You want to get points out of that because it turns from a situation where it might be a change in field position where they have to drop back and punt to where you get a quick seven points. You really change the shift of the game."
How important has it been to get contributions from everyone that's stepped on the field regardless of experience level? How did fall camp aid in that level of contribution?
"At the point in time where the season was up in the air and everyone was fuzzy on details on what was going to happen, Coach Doeren told us, everyone on this team from first string to back in the third string, fourth string, and scout team guys, 'You have a legitimate chance to play this year.' One week, we're going in with everyone, and a positive COVID test and contact tracing takes out five or six guys, and we're left with people having to step up and play. When that preparation has come where we get in situations where some of starters get out of the game for whatever reason, our second string guys step up, play, and have great seasons.
Isaac Duffy stepped up this past week. He was a backup guy, and we lost a starter, so he stepped up and had a great game. Coach called him out during the team meeting on Sunday. Age doesn't really matter. It's all about skill level. You could be a freshman and still have great football IQ and attack the game every play. I'm really proud seeing young guys step up and get into positions, and I'm really proud that you don't see that drop-off when a backup guy gets in or anything like that. I think that showcases a solid team through and through, and it showcases our development and dedication during the offseason and fall camp, getting prepared for any situation."
How as the team rallied around Bailey Hockman this week? How much more confidence do you have in him now because of the way he performed in the Wake Forest game?
"This seems reminiscent of a question I answered during the earlier weeks regarding the quarterback competition, and my answer remains the same. Whoever is back there throwing the ball, handing the ball off, and calling the offense, I have full faith and trust in them. We could put Grant Gibson, our center, back there at quarterback, and I would have all faith in him to handle the job because I know the coaches trust him back there.
Our team as a whole is rallying around Bailey because we know he's going to step up, he's going to play, and he's going to have a great game. We have a lot of confidence in him. He has a lot of confidence in himself. He's ready to show the world that he's a legitimate college quarterback. We have as much faith in him as we did in Devin. I'm looking forward to him having a great game on Saturday."
Does Payton Wilson bring as much intensity to practice as he does during the games? How does that help the intensity of everyone else on the practice field? What's it like practicing against him?
"We put a big premium this year on having really tough practices. We're hitting just as we were during the first week of fall camp with pads on. To answer the question on Payton, it doesn't just happen on game day. He puts the work in throughout the week, and it shows up on game day. With anyone who has a really good game, it's no surprise. That week in practice, you watch it back, you watch Tuesday, Wednesday, Thursday practice, even Friday walkthrough, they're locked in. They're detailed to what's going on in the game plan. They're firing off on full cylinders. They're not slow. They're speedy off the ball, and they're finishing every rep like it was a game rep. He had two interceptions and a bunch of tackles. He had a really good game, and he got a lot of recognition for it.
Even 'Ickey' [Ekwonu] is the same way. He had a great game. He had eight or nine pancake blocks this past week, and if you go back and look at practice film, it's the same way. It wasn't like he was just walking through the motions. He was putting that work in throughout the week to get him where he was on Saturday. Honestly, you can see that across the board in our practice team. Whenever we practice hard, we win games. So far, we've been practicing really, really hard throughout the week. That's our gameplan going into this: keeping that intensity up in practice."
Is Wilson's intensity at a 10 at all times once his helmet's on?
"Yeah, the kid's a freak. He definitely plays with a sense of urgency that closely resembles what he showed on Saturday. He has one speed, and that's 'Go.' That's exactly how he practices."
North Carolina really got you all last year at Carter-Finley. What are your thoughts on that heading into this week?
"My thoughts on North Carolina are the same thoughts as they were against Pitt, against Duke, against Wake Forest, against Virginia, and against Virginia Tech. Just because it's a rivalry, we don't approach them any differently. We approached Duke, even though they didn't have the best record, like we were playing the No. 1 team in college football. It doesn't matter who we're playing against on Saturdays. We focus on ourselves. We focus our dedication in practice. We lock in for the 22 periods we're in practice throughout the week, and we really get after it.
I know it's a rivalry, and it's a great game. The game's been going around forever, and I don't want to belittle that by any means, but our preparation is the same regardless of who we're playing. We're looking at them just the way we look at everyone else on our schedule. We respect them as players. They're college football players, just like us. I guarantee they're doing the same thing as us. They respect us as much as we respect them. Whoever has the most preparation and the best practice throughout the week is going to win on Saturday."
Dylan McMahon is now in the lineup opposite you. What does he provide now that he's starting?
"Dylan's a great player. He was a starter before the season. He played like it, but unfortunately you can only have five offensive linemen start at one time. I thought Dylan had a great game last week. I thought he played just like if he'd been playing for the past two or three years. He's really detailed in his preparation. You see him up here watching film, getting new looks. He's learning every position from left guard, center, and right guard. He's getting every detail on the play, making sure he knows what to do because when his number is called, and it was called last weekend, he's going to go out and ball.
His preparation and approach going into the game really showcased this past Saturday. When he came in, I thought he played very well. I don't think he played timid at all. He fired off the ball with a lot of speed. He played with a lot of confidence. He always knew what he was doing. He was detailed with his movements. He didn't have any missed assignments. You're going to be seeing him a lot more throughout the season."
Describe the kind of pride that comes when a running back gets 100 yards or breaks off a good play and scores a touchdown.
"It's a weird thing, playing on the offensive line. It's a different perspective of the game. When you're watching from TV, you're seeing the whole play develop. From the offensive line, my face is buried in a 300-pound defensive tackle. I don't really get to see what happens that much during a play, so whenever I do look up and see our running back sprinting down the field for 30, 40, 50 yards, it's a really great feeling. It's like when, during pass protection, you hear a loud crowd pop, and you look up and see the receiver 80 yards down the field with the ball in his hands, running into the end zone.
It's a great feeling seeing your teammates score. It's just a shame, whenever that does happen, I have to sprint 80 yards down the field to go get lined up for a field goal. Sprinting that far isn't the most fun, but I'll do it for a touchdown any day of the week. It's a great feeling of honor, and I take great pride in seeing my brothers score touchdowns."
You had one of the penalties last Saturday. Did you get your money's worth on that shove? What is the line on playing physical and keeping your composure?
"I'm probably more ashamed about that penalty than anything else in that game. Looking back, that caused my team to kick from the 35 to the 20, giving Duke's offense great field position, and they almost scored a touchdown. Luckily, our defense had a great time, and they held them to three. I don't take pride getting penalties after the whistle. It shows a lack of discipline on my part, and it shows immaturity. I don't want any of my teammates to follow me in that example. It's not something you want to see.
Sometimes, football is an emotional game. You're playing for 60 minutes, hitting each other. I'm not saying it doesn't happen; you see it happen at all levels. You don't want it to happen, and you want to control that as much as possible. It's something I really don't want to have on film. In between the whistles, you might get a hold, or you might get a bit antsy before a play. Outside the whistles, you want to stay disciplined. You want to keep your composure, and you don't want to give the other team any advantage in field position just because you don't know how to control your emotions.
I was very ashamed of that penalty, and I was really glad that our defense was able to make up for my mistake on the field and keep them at bay with only three points. Looking back, [if they got] seven points going into halftime, that's a big momentum change as opposed to them just getting three. It's the details like that where you make small mistakes, and it comes back to bite you. I'm not proud of personal fouls, and no one on the team takes them lightly."
Never miss the latest news from Inside Pack Sports!
Join our free email list