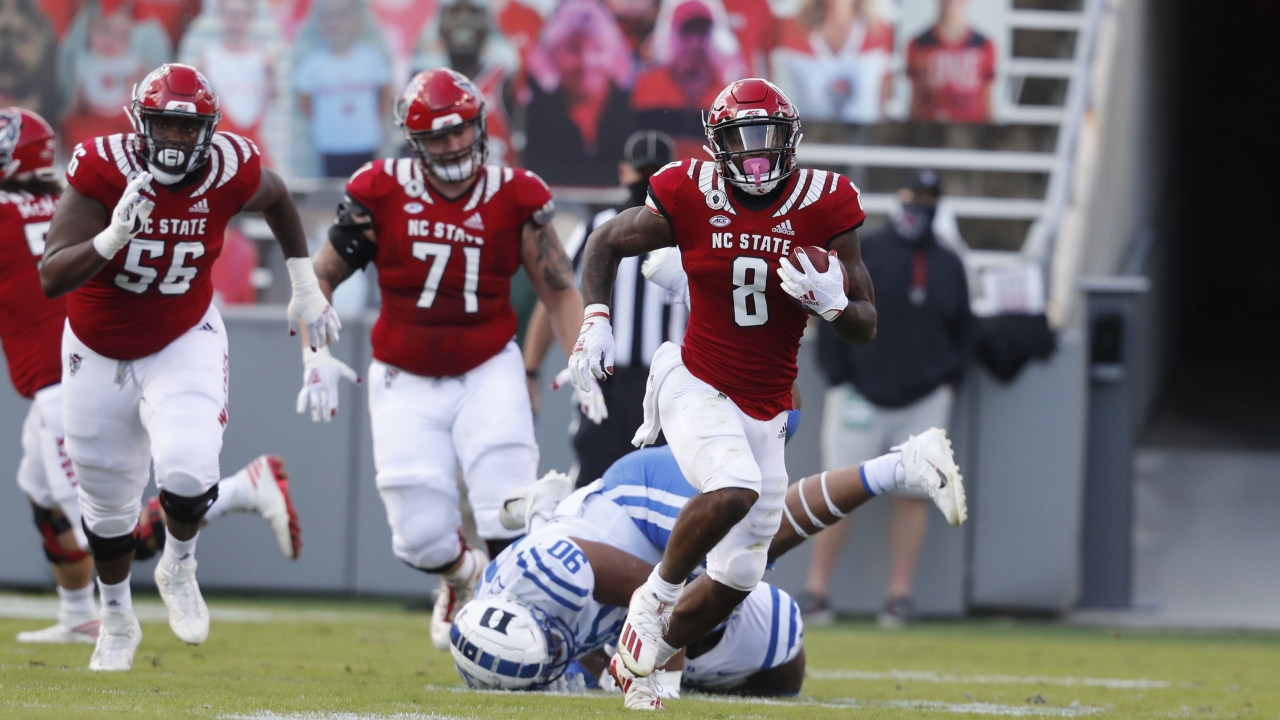 Photo by ehyman@newsobserver.com
NC State Football
LOCKER ROOM REPORT: Wolfpack Players
---
Several NC State players met with the media via Zoom following the Wolfpack's 31-20 win over Duke Saturday evening.
Below is a transcript of each player's respective comments.
---
Ricky Person, Jr.
When you see Devin Leary go down like that, what's the first thing you're thinking about? Also what are your thoughts on him returning to the sidelines, albeit in crutches?
"It means a lot. When he went down, of course he's like a brother. I've known Devin since my senior year of high school. To see that happen, I was heartbroken. I was frustrated. I was mad at the play that happened. He's just a fighter, and it took a lot of courage for him to come back to the sideline, motivate his teammates, and keep his teammates pumped up the whole time. Prayers go out to him."
What was the mood at halftime?
"Going into halftime, we were frustrated with what was going on. We were hurting ourselves. In the locker room, we kept telling each other that we have to fix this. We went into halftime with a 0-0 attitude and then came out and did what we normally do."
Is that a sign of the growth and maturity of this team?
"Yeah, it's a sign of maturity. The stuff that we've been through throughout the offseason is dumbfounding. We've been through a lot from COVID to the program. Even with the young guys, everybody's maturing."
Does having fans in the crowd now make anything different for you?
"Not really. We're still playing our brand of football. Credit goes to my offensive line. They played their tails off tonight."
What were you able to do to maintain the level of physicality Duke was giving in the first half and outwork them in the second half?
"It basically plays out during the plays. Our energy was down in the first half. We weren't moving the ball the way we wanted to move the ball. We needed something big to happen. Levi [Jones] came in with the blocked punt, then Max [Fisher] got the scoop and score. Those were signs that got the energy back on the sideline. We started back playing like ourselves because, in the first half, we didn't play like that."
Payton Wilson
How does it feel to get the win over a rival like Duke?
"It's pretty awesome. Growing up, my family and I had season tickets to the Duke games. It's kind of awesome to play a team I used to pull for, but it was a great team win. We prepared well, and it showed."
What kind of mindset did you have coming into this game?
"The same mindset as every week. Mindset makes up for everything. Coach [Tony] Gibson put me in a great spot to make plays. We had a great week of practice, and Coach [Dave] Doeren's been telling us since day one, 'The way we practice is the way we're going to play.' Our great week of practice led to a pretty good performance."
How critical was the play by Drake Thomas that led to your interception?
"His part is almost as important, if not more important, as mine. That pick was never there without him, and I made sure I let him know right after the play. I said, 'Bro, I appreciate it. You're the only reason I got the pick.' We all work off of each other. We play off of each other, and that's how plays are made."
Have you and your brother [Atlanta Braves pitcher Bryse Wilson] had a chance to talk about each others' big games yet?
"Kind of, but my brother and I don't talk about sports as much because everybody else wants to talk about them. When we talk, it's more 'Hey, how are you doing?' because I don't get to see him that often. I do want to shout out my parents because they were in Dallas yesterday, and they flew back to see me play today. I really want to say thank you. I love you, Mom."
Were you inspired or fired up at all any because of what Bryse did during Game Four of the NLCS?
"There's always been that brotherly competition. When he went out there and did that, I was like, 'Man, I can't go out here and have a bad game.' I wasn't really thinking about it too much, but it did help a little bit to motivate me to try to be as good as he is."
How good does it feel to have two games in a row where the defense carried the offense and kept things from getting out of control in the first half?
"It's pretty awesome because, for the first two games, the offense did carry us. We were giving up hundreds of yards and first downs here and there. Like I told Coach [Tim] Beck at the end of the game, 'Y'all carried us for a long time. Some games, we're going to have to carry y'all.' It's just a matter of working off of each other and one side of the ball making plays and picking up the other side."
What would you attribute the first-half mistakes to? Who said something to get the team back on track at halftime?
"The defense was performing well all game. The special teams mistakes and turnovers really got us. Isaiah Moore is great about being a vocal leader, telling us to keep our head on. 'The score is 0-0.' That's how we look at every drive. Every series is a 0-0 mentality."
Thayer Thomas
How difficult was it to come down with that touchdown reception?
"I was expecting the ball at the back pylon. On those corner routes, that's where you expect the ball. It was a little under thrown, so I was trying to put my foot in the ground and go up to make the play. The defender had already jumped for it, so at that point, I was trying to make a play if the ball was tipped. I was lucky to grab my hand on it, and obviously it braced against my helmet. It was definitely a crazy play. It was definitely a hard play for me to make, but during the game, we've got to make those type of plays if we want to win, especially in the ACC. I was happy that I made it so I could help my team win."
Have you ever made a catch like that against your helmet?
"Maybe in practice, but I've definitely worked on one-handed catches. I made one my freshman year. During practice, I make them a lot. I take pride in catching the football, seeing the football, and working on my hand-eye coordination to make those kinds of plays."
How did you feel the team was able to outwork Duke?
"I feel like, during the first quarter and halfway through the second quarter, they were bringing it to us. I think the key moment of the game was right before halftime when we blocked that punt and scored. That changed the momentum going into halftime. We did that last week; we blocked the punt but weren't able to pick it up like we wanted to. This week, we definitely executed on picking that ball up on the fumble. Fisher did a great job of scooping it and scoring, and I feel like that definitely changed the momentum for the rest of the game. When Leary got hurt, we went drove down and scored, and that fired us up as an offense to do what we're supposed to do."
What does tonight's comeback say about how far this team has come to be able to overcome adversity?
"I was here when we were really good and had Ryan Finley, Kelvin Harmon, and Jakobi Meyers. Being around those guys and those teams, you never really counted us out. Last year, we faced a lot of adversity as a team, and a lot of the guys that were playing last year were on those good teams as well. We have experience on how to win games, and we have experience on how to lose games. I feel like this team is so close because we've gone through so much adversity together. We've gone through people making fun of our team, saying we're not going to win any games this year in the ACC. That definitely fuels us, and it brings us closer together. We have a chip on our shoulder every time we go out there. I see it in our eyes. I see it in the way we're playing. We're playing hard, tough, and together. The experience with that is causing us to go back to how we won games prior, and we're using that experience to win games this year. Never count us out."
Isaac Duffy
When you have a couple of guys go down, what's the mindset going into the game shorthanded?
"The mindset is always the mindset we have in the weight room: 'If you're ready, you don't have to get ready.' We're all just ready to play whenever with that 'next man up' mentality. When an opportunity comes, we're there for it. We're very close as a team, and that's how we play. We're all together, and that's how we keep getting wins."
How much does it mean to you to be able to step onto the field in general after only playing special teams reps for the last two years?
"It meant a lot. Not really to me, but to my mom. She and I have been through so much. She's been there for me and supported me through my walk-on days with her having to pay for school to when I got my scholarship. Every game, she's there cheering for me on special teams like I'm really on defense. When I got in the game, I knew I couldn't hesitate. I knew I had to ball out for her because of all the times she'd watch me and told me to keep working hard. I was ready for it. I was excited for her."
How much did it mean to make an impact, not just come in behind Jakeen Harris, in this game?
"It meant a lot because we work hard. In practice, we practice like it's a game. When I got in there, I knew they were going to come to me, but I was ready. We work hard in practice, after practice, last night in the hotel… We're always working hard. We're always ready for the opportunity. When they started coming at me, it was just like practice. I just had to be ready, play with my technique, trust in myself, and make plays."
Never miss the latest news from Inside Pack Sports!
Join our free email list