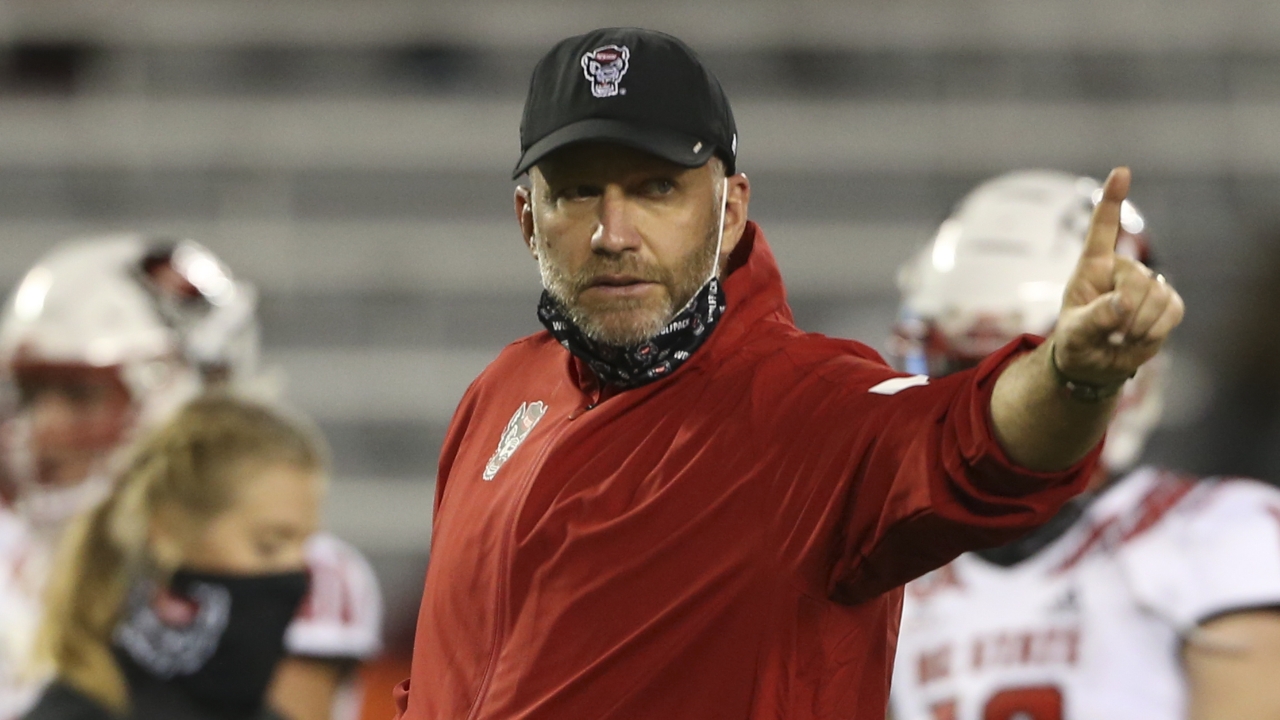 Photo by (AP Photo / The Roanoke Times, Matt Gentry, Pool)
NC State Football
Dave Doeren: "It's About Doing The Things It Takes To Be 4-1"
---
NC State head coach Dave Doeren met with the media via Zoom Thursday afternoon for the final time ahead of the Wolfpack's home game against Duke.
Below is a transcript of Doeren's press conference.
---
What was the recruitment process for Zonovan Knight? What put his recruitment over the edge in your favor?
"A lot of times when kids commit, they get caught up in the hype of a moment, and I think he was at the Duke/UNC basketball game when [he committed to Duke]. As time kind of went on, I think he realized that he made a decision that he needed to reevaluate. I'm not completely sure why he felt that way, but we never stopped recruiting him. It didn't feel like, when it happened, it was something that would last just because it felt emotional at the time as opposed to something he'd been thinking through for a long period of time.
To his credit, he came back here probably seven or eight times after that to make sure that this is what he wanted. For us, it was about providing information and showing him all the positives that we have. We don't talk bad about other places. We just wanted to make sure he understood what NC State had to offer him, and I'm thankful for us that he did."
Knight said that this game was personal to him because he wanted the coaches there to see him play since they hadn't seen him since high school. Is that the approach for in-state guys when they play against teams that also recruited them heavily?
"I can see that. It's not something I spend a lot of time talking to them about, but I know that there's relationships that they have on other sidelines whether it's former teammates, friends that might play for that school, or coaches. I can see how that's a motivating factor for a guy."
Have you seen an extra emphasis in trying to force turnovers knowing that Duke is more turnover prone?
"We've definitely talked about the fundamentals of taking the ball away like we do every week. Week in and week out, there's different things that you see on tape. Some people don't carry the ball with a lot of ball security. Some quarterbacks will hold the ball low in the pocket. For example, last week, we knew that the Virginia quarterback delivered the ball low. He had kind of a sidearm release, so we talked about getting our hands up and batting the ball. It's week to week on what you emphasize when it comes to the weakness of the opponent.
In the case of Duke, they've thrown some interceptions. They've fumbled some balls. I know they work hard on that. Our kids right now are very excited about what happens when they get takeaways here, and they see the outcome, how it helps our offense. I know they enjoy the sideline celebration they had, doing those things Saturday. I think there's a lot of energy about it here."
What's been the main way you attack in preparing for goal line stands in practice?
"The biggest thing is being tough. The guys have just got to want it down there. They've got to be strong and stout and have good pad level. You're going to see quarterback sneaks. You're going to see what their bread-and-butter, short-yardage runs are and then their play-action passes. You have to rep those things, but it's very hard to simulate in practice, without going live, what that's really like down there. Josh Harris, Alim McNeill, C.J. Clark, and Savion Jackson are some strong, thick guys that have fought hard in the trenches in those areas to win the line of scrimmage for us in those two situations."
Have you spoken to the team about this win being an opportunity to create separation from the rest of the ACC?
"Not really, no. It's more about doing the things it takes to be 4-1. I think when you focus on that kind of stuff, that extracurricular reward, it takes you away from the details that help you get it. The formula for us has been how to win a game, not what you get by winning the game. That's what really important for this team: to stay grounded, be humble, and to understand how hard it is to win and what it takes to win a game."
Never miss the latest news from Inside Pack Sports!
Join our free email list