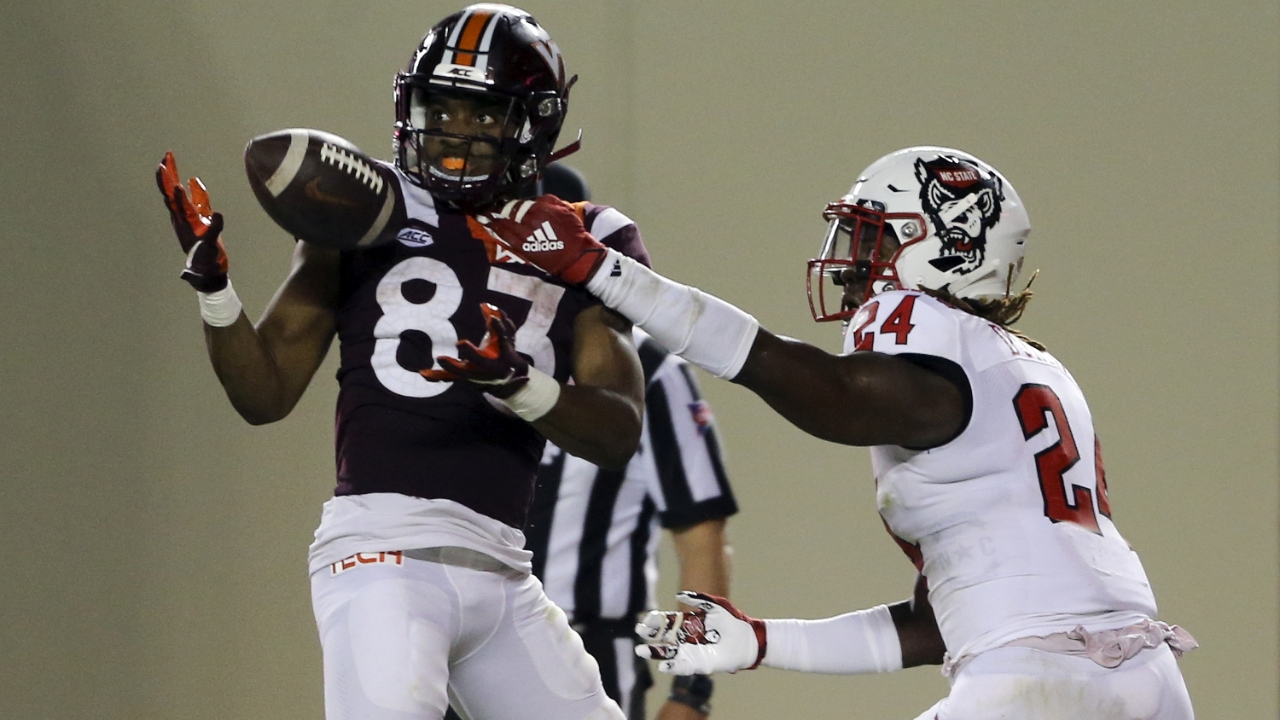 Photo by (AP Photo / The Roanoke Times, Matt Gentry, Pool)
NC State Football
Malik Dunlap: "I'm Playing With More Confidence"
---
Redshirt sophomore corner Malik Dunlap has been a key player for a young NC State defense that is stepping up to the plate so far this season.
Here's a full breakdown of everything Dunlap had to say during his Zoom media availability this week:
---
Duke has been struggling with turnovers this year. I believe they have 19 in their first five games. I'm sure the defense is aware of that. Are you guys chomping at the bit to make sure that's something that will be a factor?
I feel like we're doing a really good job on defense this week. I feel like we've got a good game plan going into this game against Duke. I feel like we're going to be OK; I feel like we're going to make a lot of turnovers and big plays.
What are you guys seeing on film as the reason they're struggling to protect the ball?
The quarterback makes early reads, he doesn't necessarily read everything, so we're going to take advantage of that and try to disguise and then go into our cover nickel on a lot of passes.
We heard about the "Takeaway Bone". How much added motivation does that give you?
The dog bone has everybody turned up. They told us going into that week that we'd have the dog bone. So now everybody's like 'I've got to make a play, I've got to make a play.' So I feel like it made us want to make more plays.
Being a guy who's 6-foot-4, 225 pounds, obviously you're one of the tallest cornerbacks in the ACC. Is there anything that goes along with that that you have to change about your game, or is it just something that comes naturally to you?
My whole life, me and my brother, because we were always bigger than everybody else... I would work out with little guys so I would learn all the little stuff. So I would learn that I was bigger than them so I could do more stuff. So I started learning my body, growing into it, learning that I can make more mistakes than a little guy because of my length.
When you face taller receivers, do you think you have an advantage?
I feel like nobody can dunk on me, so I'm confident in that.
Is it a matter of playing with more confidence for you?
I've been praying a lot, talking to God. I feel like he's showing me the way. So I've been watching more film and working on my craft a lot.
How much did greeting thrown in there last year help you?
I feel like it helped me because last year I was playing like I was talented, but I wasn't playing with confidence. I was just out there trying to make a play. But this year, by me going through all that last year, I feel like I'm playing with more confidence and everything's slowed down for me.
Tyler Baker-Williams is coming back this week, but in his absence, Taiyon Palmer and Joshua Pierre-Louis got a lot of playing time. How much did that help them?
I think that's going to help them a lot. They showed the coaches they can go out there and make plays in tight situations, so we can have a rotation, and I feel like it was good experience for them.
I can imagine that nickel competition in practice is going to be really intense. How much does that make the entire secondary better, knowing those guys who are freshmen now have those snaps and know what to do?
I feel like when we're all competing for one position, it makes everybody work harder so we get the best out of each other.
What is Dave Doeren like in practice, in the locker room, and after games?
Coach Doeren always coaches us hard. He always tells us to be blue collar, just go out there and let it loose; he always encourages us to go out there and be our best.
Were you and your brother pretty competitive coming up?
We've always been close; we've lived our whole life together. I feel like he had an edge on me our whole life, so that made me want to work harder to keep on my brother. But I feel like he had to motivate me to be a better player. He got a lot of attention being the number one player in the nation. So I was like 'OK, I've got to get up there and get an offer', and it made me work harder. I couldn't be lazy.
Do you guys go back and forth each week about who's the best?
We talk a lot. I actually talked to him today about how he played last week and all that. So we just talk about every game, and before every game we text each other a long paragraph about how we've got to make it.
Never miss the latest news from Inside Pack Sports!
Join our free email list