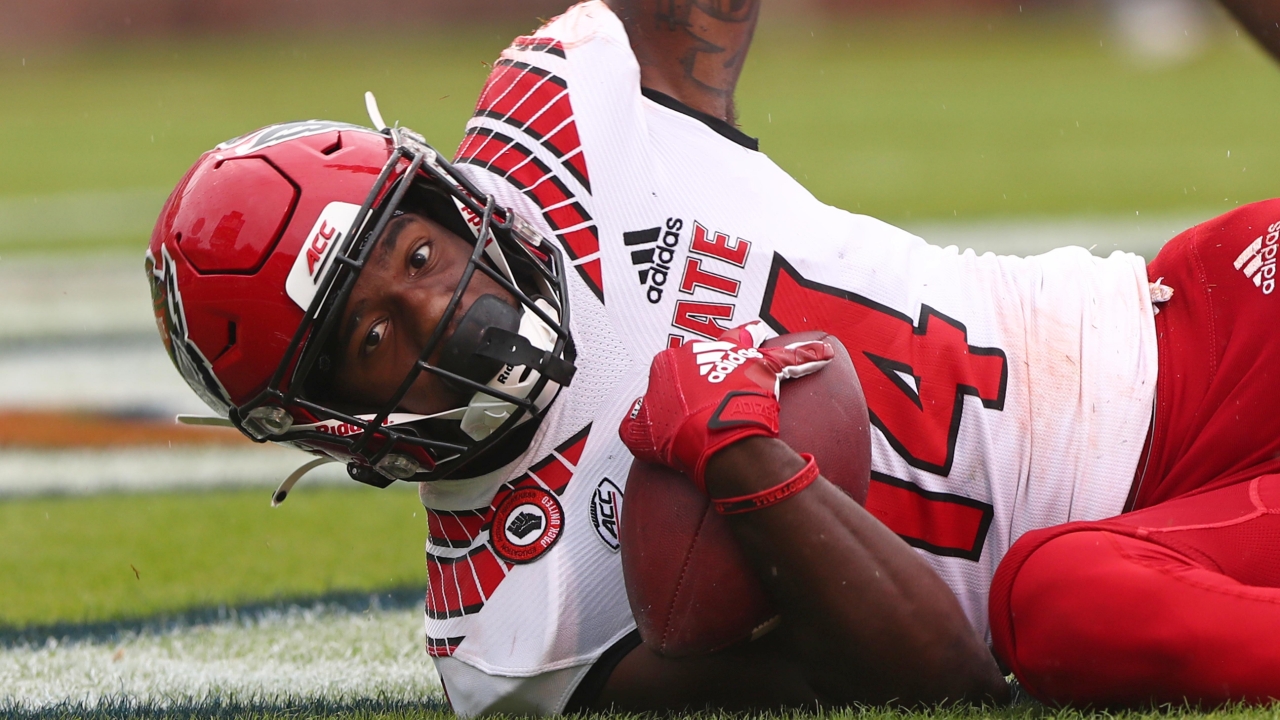 NC State Football
Porter Rooks: "I Don't Shy Away From A Challenge"
---
NC State freshman wide receiver Porter Rooks met with the media via Zoom ahead of the Wolfpack's upcoming matchup versus Duke.
Rooks has played in every game thus far this season, seeing action in 101 snaps. The Charlotte, N.C. native already has eight receptions for 96 yards in 2020, but he also had a touchdown reception at Virginia overturned following an official review.
Below is a transcript of Rooks' comments to the media.
---
What was different about your approach last week?
"Nothing was purposely different. I try to come in with the same kind of intensity every day. I was ready to compete. I felt like it was a game where I would get some good looks, and I did. I just try to make a play on the ball. I just wanted to compete and be a person my teammates can rely on."
How do you feel like you've grown from week to week?
"In-game experience has helped me a lot. I've adjusted to the speed of the game, and I'm learning the ins and outs of football and what you can and can't get away with. I feel like I'm doing a good job of adjusting, and I'll keep building on that."
Did you make that catch in the end zone last week?
"Definitely. I got under it. I wish I could get that one back, but it's all good. It is what it is, and I'll get another one."
Do you feel like it was your chance to show the rest of the ACC what you're capable of?
"I guess you could say that, but I'm just trying to do my part for the team. I'll make the plays that come to me as the season goes on so my teammates and coaches can have someone they can rely on."
How big are the next two games in terms of showing where the team stands against the rest of the state?
"It's huge, but for us, we're taking it week by week. Each week, we have to prepare for a new test, and you can't look past it. As you know, in college football, especially ACC football, you've got to come to play each week. Anybody can get upset. You've got to come locked in, ready to go."
Have you always been known as a guy with good hands?
"Yes. I try to pride myself on that as a receiver. You can't do much without the ball. Regardless of where the ball is thrown, you've got to go get it wherever it is. Being a trustworthy target for your quarterback is big, so that's been my main thing since I started playing receiver: getting the ball at all costs."
Was Thayer Thomas jealous of some of the catches you made against Virginia?
"No, I'm sure he wasn't. I'm sure he was happy for me just like I was when he made a couple of tough catches across the middle."
Are you surprised you've been able to make this much of an impact this early as a true freshman?
"I wouldn't call it surprise. I've put in the work for it. I put in a lot of extra hours, extra time studying, getting extra work in, catching, and things like that. I wouldn't call it a surprise. I feel like I've been ready for this, and I will be ready when my next opportunity comes. Like I said, I'm looking forward to each opportunity and capitalizing on each one of those."
When did you start feeling a connection with Devin Leary?
"Shoot, I would say back in the spring. We've been at it pretty hard, getting extra routes after practice and getting routes during the week. Especially during spring ball, we were getting routes during the week. We were getting acclimated with each other's timing. I'm glad we were able to show a little bit of that on Saturday."
Do you have to have a short memory as a wide receiver? What goes into the mentality of bouncing back like you did after your touchdown was called back?
"My brother was a basketball player. He was a shooter, and he always talked about shooter mentality. 'When you miss it, you've got to come back because you've got to be ready to fire again.' When I drop a ball, I've got to come back to make the next one. Like I said, when the ball's in the air, it's got to be yours."
Was there any doubt in your mind that you wouldn't be able to contribute right away?
"No, I have confidence in my ability and in what I've been working so hard for. I was just coming in to do my part. I wasn't trying to step on anybody's toes. I just wanted to do what I could to contribute to the team and be somebody that my teammates can rely on."
What was it that made you so prepared right off the bat to come in and play?
"Seeing my brother go through college athletics. He played basketball at Clemson, so seeing what he went through with his trials and tribulations, I came in having a decent idea of what the intensity would be like. I prepared myself for it, and I anchored down and worked. I didn't shy away from it. I've always been very competitive. I'm the youngest of three boys. I've always grown up competitive, and I don't shy away from a challenge."
Is it a process to get to where you are right now? What was the journey like to get to this point?
"It's always a process. It's a part of the countless hours of extra work I've put in. Nothing is handed out. Nothing is given. You've got to earn everything. Coming in, they didn't put me on any type of pedestal. I've had to work for everything I've gotten just like everybody else."
Never miss the latest news from Inside Pack Sports!
Join our free email list