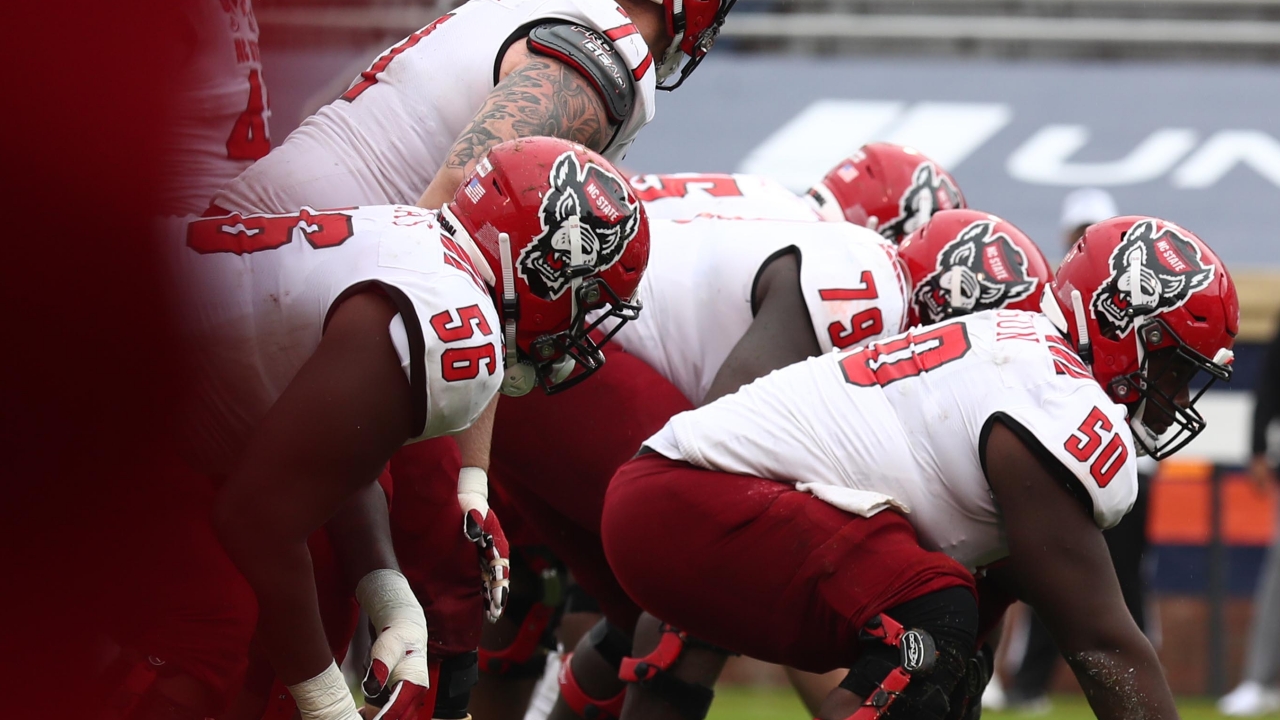 NC State Football
Bryson Speas: "We're All Pushing Each Other"
---
NC State redshirt junior offensive lineman Bryson Speas met with the media via Zoom ahead of the Wolfpack's upcoming matchup against Duke.
Speas has played in all four games this season, starting at right tackle against Pitt and Virginia. The Greensboro, N.C. product has five pancake blocks in 195 total offensive snaps.
Below is a transcript of Speas' comments to the media.
---
What has it been like to step into the starting right tackle spot with Justin Witt injured?
"The transition has been fairly easy. I played a little bit of right tackle last year; I believe I started in six of the last seven games of the season. The transition has been pretty easy. Coach [John] Garrison also made it easy. During fall camp, I was mostly a guard. Being able to remain versatile is fine with me."
Has it been easier knowing how to play multiple positions going into this season?
"Yeah, definitely. Last year, I was learning a bit more, but this year, I've been playing a lot faster."
Have you noticed an extra pep in the team's step with an in-state rival next on the schedule?
"The energy is up, but it's not only because it's an in-state rival. It's another football game for us, so we try to attack each week with better energy than we did last week so we can keep building on each win. I wouldn't say it's a change in energy, but we're still taking them seriously."
How strange is it that the Wolfpack doesn't play Duke, another ACC school right down the road, more often? Would you like to see NC State and Duke face off on a regular basis?
"I'm not really sure how they do the scheduling. I wouldn't say it's weird. It's kind of funny that, down the street, we only play them once every seven years. I wouldn't mind playing Duke every year."
How much does the offensive line's chemistry help when you have to fill in for Witt and you have to make adjustments?
"It helps tremendously. Knowing that you can trust the guy to your right or left, it helps everybody play fast, and everybody can be at that same dominant pace and continue to attack."
Can you describe the joy an offensive lineman feels when his running back gets 100 yards?
"It's out of this world, and then every time they score, you get to run down the field and give them a hug because you know you helped lead the way for them. It's a fun feeling."
How difficult is it going up against the Wolfpack's dominant goal line package in practice?
"The D-line front is amazing. You get those big, heavy guys in there like Josh Harris and Alim [McNeill], and you see the results that happen on Saturday. I feel like we give them a better look than the guys on Saturday do, but we're all pushing each other. It's a real work load."
How difficult is it to move a big body like Harris?
"He's like a Mack truck in there. You've got to keep your feet moving, and you've got to get your pads down to get him out of the way."
What are you seeing from Duke's defense that concerns you?
"I wouldn't necessarily want to say 'concern.' We practice every week so we can match up, to the best of our ability, with our competition, but they are a group of quick-twitch guys, and they have a lot of athleticism on the front. We're just working on that aspect this week in practice."
When you see a guy like Zonovan Knight running as hard as he does, breaking tackles, and carrying guys with him, does that raise your energy as an offensive lineman?
"If you see a running back working hard, that continues to pick your energy up throughout the course of the game. You see them making plays, and you're opening holes for them. It just raises the level of effort to another extent."
What's it like watching those plays after you finish your block?
"It's exciting. Last week, Bam scored on a wide zone play. I was watching the film, and I jumped up and down because I was so excited. I had my arms up in the air. I was like a little kid."
Never miss the latest news from Inside Pack Sports!
Join our free email list