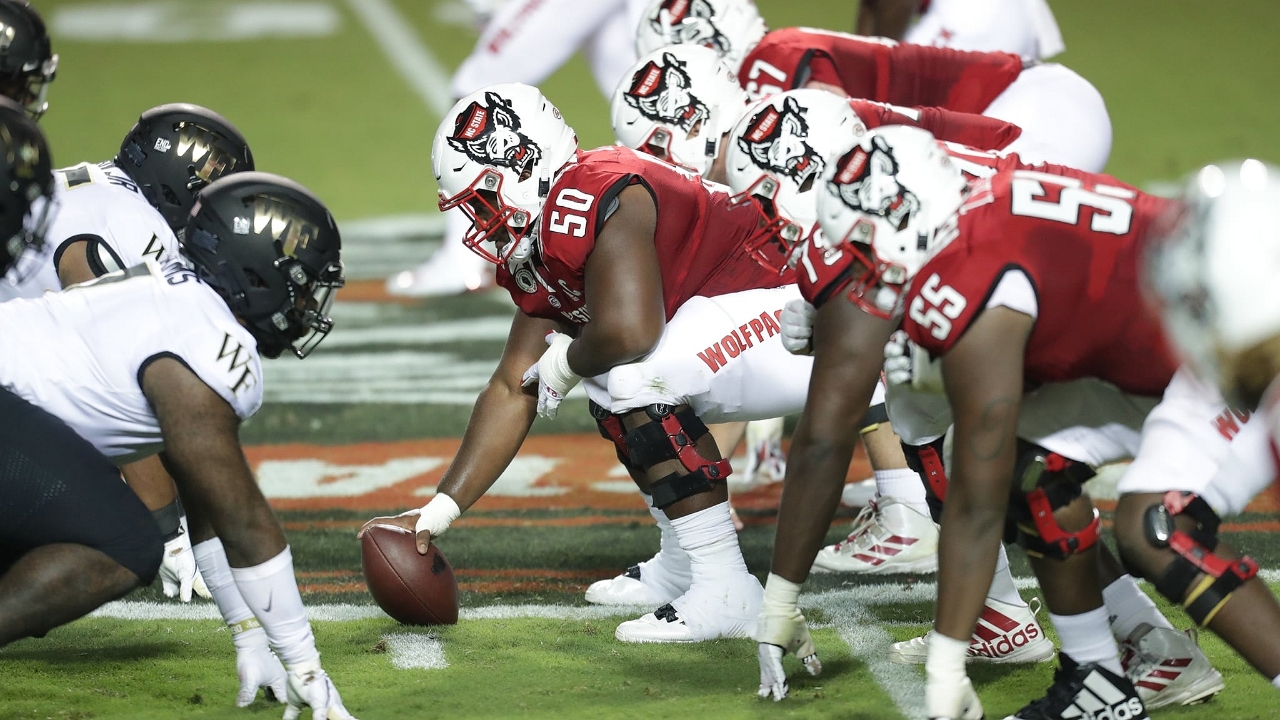 Photo by NC State Athletics
NC State Football
OUR FINAL TAKE: NC State vs. Virginia Tech
September 26, 2020
46,953
---
Several members of the Inside Pack Sports staff predict the winner of the NC State-Virginia Tech matchup.
---
James Henderson (IPS Publisher)
NC State 31, Virginia Tech 24
It seems like a lot of us are scared to pick State to win this game, so I will.
I think right now Virginia Tech has more questions than NC State, and that's the obvious positive for the Wolfpack. Do I expect it to be easy? Of course not, but I think State should be able to run the football, and if Tech has been hit as hard as everyone is saying, they should be down players --and the depth against an uptempo offense is a concern.
This would be a big win for the Pack, and I think they'll upset the Hokies. My only concern is if State's down a few players as well at critical spots, but they can overcome it.
Steve Williams (IPS Football Recruiting Analyst)
Virginia Tech 28, NC State 21
Just like the Wake Forest game, this is a very tough contest for me to predict. Going in we really don't know who's playing and who's not for Virginia Tech. There's also the element of surprise as we don't have anything from the Hokies to scout.
With all that, I'm going with Virginia Tech, although realistically I could see the game going either way. I do think, if the Pack can come out and run the ball effectively, they're definitely going to be in a position to win the game.
Bryant Carson (IPS Football Analyst)
Virginia Tech 41, NC State 34
VT is a complete wild card at this point. In the preseason there were some high hopes for the Hokies in 2020 but their Covid troubles throughout their fall camp have been going on for weeks.
After the way that State opened last Saturday this game became difficult to predict, but I can't help being skeptical on the Pack's chances of going on the road and upsetting what was supposed to be a Top 25 type team.
Who knows?
Phillip Danford (IPS Football Analyst)
NC State 31, Virginia Tech 30
Although there seems to be a lot of unknowns going into this contest, barring turnovers I expect a closely contested game. Both teams will look to run to set up the pass, and the team that hits the big throw may have a leg up.
But, NC State has a unique ace up their sleeve -- Charley Wiles and Brian Mitchell.
Intimate knowledge of Virginia Tech's personnel and a more than educated guess on their anticipated playing style may be just enough to tilt the scales in favor of NC State.
Jeff Reeves (IPS Photographer)
NC State 28, Virginia Tech 21
Having one game under their belt, State immediately has an edge over the ranked Hokies. Hockman will need to stay hot and that will let the running game pound away.
The big question will be the defense - did they learn from their mistakes against Wake Forest? If the secondary can distrupt VT's passing game, the Pack wins 28-21.
Ethan Barry (IPS Writer)
Virginia Tech 31, NC State 20
My head and my heart tell me this is a very winnable game for the Pack, but I'm taking the Hokies to win and cover. I'm an analytics guy, and the analytics I've seen like the Hokies to cover. Analytics aren't terribly reliable at this point in the season, but I'm still riding with them.
Defensively, State needs to find a way to force field goals in the red zone, and offensively, it's going to be a whole new challenge this week.
Andrew Schnittker (IPS Writer)
NC State 28, Virginia Tech 24
Given everything Justin Fuente has said this week, we have no clue who's going to be available for Virginia Tech. That could be a disadvantage in making it harder to game plan but can also be an advantage if NC State is a good deal healthier. NC State's also had a game to start building chemistry on both sides of the ball.
The run game looked very strong last week and will need to do so again. I think it will. I think NC State runs the ball well, Bailey Hockman hits a few big shots, and the defense cleans up a few of its big issues from last week against what's likely to be an undermanned Virginia Tech team.
Jake McSwain (IPS Writer)
NC State 28,Virginia Tech 24
Another game that I realistically see going either way.
I think the outstanding offensive line play continues and opens big enough holes for State to control the tempo. Hockman will need to continue to sell the play action game and throw well enough to keep the defense honest, but I think that will happen. Either way, I see this as a close game but think State pulls it out!
Never miss the latest news from Inside Pack Sports!
Join our free email list