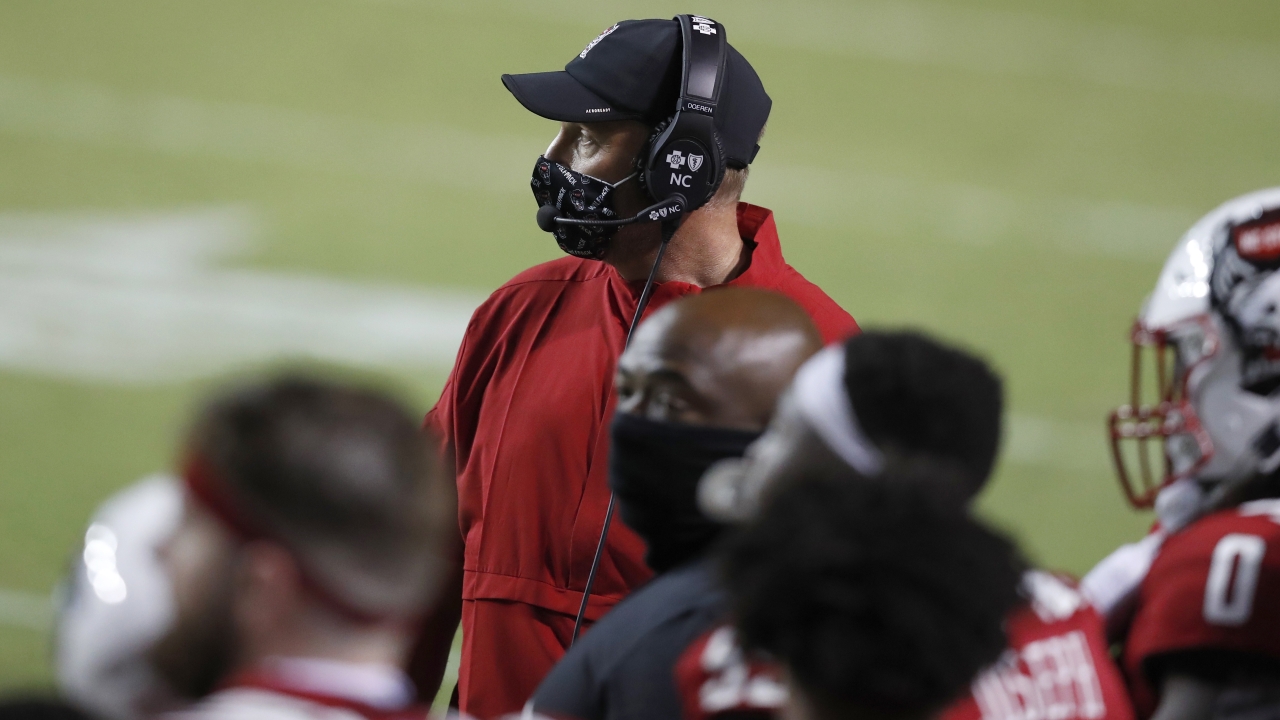 Photo by ehyman@newsobserver.com
NC State Football
Dave Doeren: "Full Steam Ahead"
---
NC State head coach Dave Doeren met with the media via Zoom Thursday afternoon for his final media availability before the Wolfpack travels to Virginia Tech.
Below is a transcript of Doeren's press conference.
---
Is there any word on if this game is still going to be played, or is it just full steam ahead?
"Full steam ahead."
With an empty Lane Stadium, will that be an advantage for your team? How will that environment feel compared to its normal atmosphere?
"You know, I've been there one other game. There was lightning during pregame, so it was empty when we came into the stadium that day. I've never been there for what everybody talks about, so I'm probably the wrong person to ask for that question. I don't know if it's an advantage. Obviously, not having to deal with crowd noise for an offense is something that helps you. I do think the crazy gameday environment is part of what college kids look forward to, so I feel bad for the kids on both sides if they don't have that. From a crowd noise standpoint, it always helps the opposing offense to not have to deal with the noise."
With the announced salary cuts, do you feel, in a sense, honored to help NC State, or is it a situation that stinks?
"No one ever likes losing income that you thought you were going to get, but it's a time where the school needs us to help, and we understand the pandemic and what it's created fiscally for NC State. I'm sure there are a lot of people out there that don't even have jobs because of their situation. That's the biggest thing I look at. We have a job. We have a great place to work. We're not going to make what we thought we were, but we still have the same opportunity, and it's a chance to help out our university in a time of need."
Is it frustrating preparing for Virginia Tech with the uncertainty that players you've prepared for may not play and those that may play may have flown under the radar?
"Not really. I'll be honest; this 2020 has been a year of uncertainty, so it's just kind of what you're used to at this point. Would it be great to know who's out there? Yeah, it would, but that's not where we're at, so I can't dwell on that. We've just got to focus on being able to make good adjustments. That's the key. We've talked a lot about things that they might do, but we also know that there's going to be things they do that we're not ready for. Like I said last week, you've got to build the rules into your system on both sides of the ball and special teams to handle things that you don't prepare the guys for, because you have sound rules, and the kids understand them. When you get them on the sideline, you make good corrections, you get them to listen, and you go out and do it better the next time you're on the field."
More on the salary cuts and furloughs:
"There aren't any layoffs that I'm aware of, but there are salary cuts and furloughs. The biggest message we've given is just that this is the right thing to do for the school. There's an obvious shortage in income that we would generally be able to create. It helps run this place, and because we're short, we're all going to have to step up and help things out. We're all aware there's a global pandemic, and things aren't normal. For the people that are getting hit the hardest, it's hard. It's really hard. I think we're all trying to do the best we can right now to encourage each other, get through this thing, and hope things get better once we get through this fiscal year."
How much added importance does the linebackers corps bring against a Virginia Tech team that thrives on running the ball, especially with a mobile quarterback?
"Virginia Tech runs the QB a lot, so there are a lot of what we call 'plus-one' runs where there's one extra blocker involved. They have nice design offensively with their misdirection pieces, their jets that create things on the edge, and also the vertical components with the counter and power inside with their quarterbacks and running backs. You've got to be really detailed. You've got to be sound. It's like option football when it comes to how you defend them, and they do a nice job. Having linebackers that you can rotate that can run and tackle is a benefit to us right now. In the first game, it payed off, and we're going to need those guys to continue to improve. I'm really pleased with how Drake [Thomas] played, and I know he's excited. This is a smash-mouth game. It's something that fits his style of play."
How has Devin Leary progressed this week? Is there any chance that he gets snaps versus Virginia Tech?
"Both quarterbacks [Leary and Bailey Hockman] had a good week of practice. We're excited for both of them. I can't tell you [Leary's chances of snaps]. I think the game's going to play out the way it plays out. They're both ready to play, and I'm pleased with how they both prepared this week."
What is the travel situation for this weekend?
"We leave tomorrow around 1 o'clock. We have eight buses. There's 10 players per bus. The bus normally seats 50, so there's going to be one player in a row of two seats then an empty row between them and then one player… It's going to be I guess you'd say a contact-tracing eliminator with the way we're busing so the guys won't have that issue in case someone tests positive. We'll test in the morning and probably won't get our results until we're up there, so we want to make sure that we eliminate the impact of that if that were to happen. There are a couple of coaches on each bus as well. We've got a 5 a.m. arrival time coming back home, and hopefully it'll be a ride home we're celebrating on."
How did the freshmen that played last week do? Is it refreshing that you didn't necessarily have to rely on so many freshman this early in the year?
"Yeah, it is. And there are some that played on special teams. As far as offense and defense, Porter Rooks probably played the most snaps out of the true freshmen that we signed. There will be more and more as we continue to practice and develop these guys. There are some guys that have a lot of ability. On special teams in particular, you'll see some more guys flash. I do like getting those guys reps. I think it helps them, especially if all of a sudden they have to play in a full-time role, to have gotten some reps in a game whether it's rotating at a position for a couple of snaps or getting in on special teams. I think it does help their confidence as the season moves forward."
Never miss the latest news from Inside Pack Sports!
Join our free email list