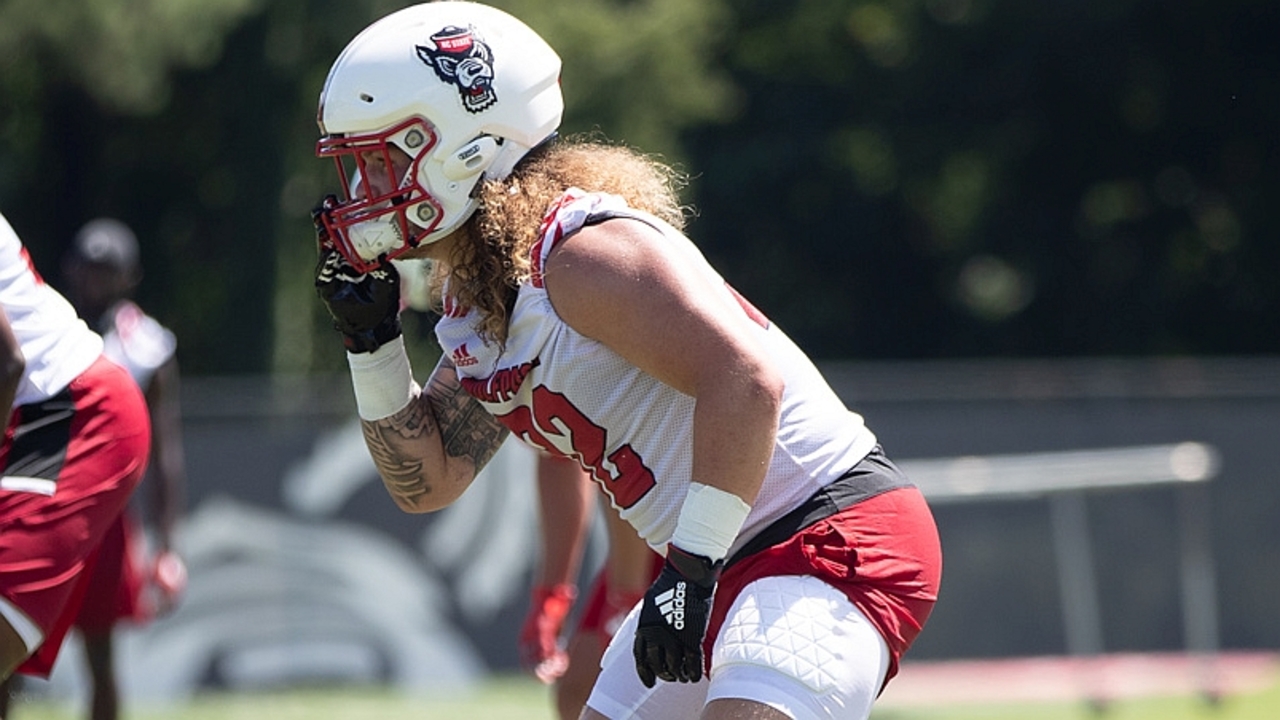 Photo by NC State Athletics
NC State Football
Drake Thomas, Rakeim Ashford On VT
---
NC State linebacker Drake Thomas and safety Rakeim Ashford both played key roles Saturday in a defensive effort that started rough but ended with closing the game with two fourth-down stops.
The pair spoke to the media via Zoom about the season-opening win and matchup with Virginia Tech Saturday. Here's a full breakdown of everything they had to say:
---

Drake Thomas
You guys had some issues defensively in the first half against Wake but it seemed like you cleaned a lot of things up. What was the message at half time?
I think the main thing was it wasn't any huge adjustments that we had to make. We just had to continue to play our game and make the routine plays. That's pretty much just what we did. We just fixed some small things and continued to play our game.
On Monday, coach was talking about how it was a goal for you guys to get off to a good start in both halves, and you guys did. What went into preparing and getting ready to do that and come out stronger?
I feel like it's more of a mental thing. It's a mindset. Making sure that you know in your head it's a 0-0 game. You treat it like it's the beginning of the game and go out there and play how you would at the very start of the game.
How gratifying is it when the offense repays you by putting the ball in the end zone and building a lead?
It's really good. It feels really great when you get in a groove and a lot of things are going right for you.
With you guys playing an odd defensive front, what type of responsibilities and freedom does that give to the linebackers?
I'd say it lets us run, go make plays. I really enjoy being in this defense. It allows us to be very disruptive in the run game and the pass game. I think we showed we've got a lot of different things that we can do with it. I just feel like we can be very versatile in it.
It seemed like Wake was the type of team to get that mesh and bounce the lanes to the outside. I could be wrong, but it feels like Virginia Tech could be a more downhill team that might run right at you guys. As a linebacker, is that a challenge you welcome?
Yeah, for sure. Honestly, my game, I feel like, I have a physical mindset. As linebackers, you can't shy away from more physicality. You've got to embrace that and go off of that.
What kind of challenge does playing a dual-threat quarterback present for a linebacker?
You've got an extra guy that can run the ball at all times. You've just got to account for it. You've just got to be smart, make sure you've fit in the right gaps and you've made sure you can stop it all.
What's it like to prepare for a team that hasn't played yet?
I'd say they've got a pretty experienced team. So as far as game plan, hopefully they're doing a lot of the same things as last year. I don't think they have any new staff or anything. So we're kind of just going off what they did last year and just locking into their personnel, what they've got as far as who's where and the players that they have.
Even without Louis Acceus, the linebacker room is the most experienced on the defense. How important is it for you guys to be leaders on the room and in the huddle but also in the stat sheet?
I'd say we do everything that's expected of us on the defense. As far as the coaches, what they expect of us, we have guys who have been on the field, played, we've been through a lot. So I'd say they expect us to go out there and make plays. That's what we've got to do.
What's it like preparing for games that could be cancelled at any moment?
We can't really even worry about that. We've got to approach the game as it's happening. It's kind of like the approach we had all of fall camp. There's a lot of rumors going around about 'We're going to play, we're not going to play.'
At the end of the day, it didn't really matter. Because we were taking every single day to go out there and get better. That's how we've got to approach every single week regardless of what's being said. So we're not really buying into outside talk or whatever they're saying. Our mindset is that we're playing this week, so we've got to get ready for that.
Rakeim Ashford
You got here late. How quickly did you assimilate into the system, and how difficult has that been?
When I first got here, it was coming fast because I came from a JUCO. But once I was here for two-three weeks, I caught onto everything else.
Are you surprised you played such a big role in your first game?
The first couple of possessions, it was going fast because I came from a JUCO. And D-1 is way faster than JUCO.
When did it start slowing down?
It started slowing down in the second half when I started seeing how they were running and stuff.
What was the process for you getting to NC State?
It first started when coach Brian Mitchell offered me. They'd been keeping in contact with me. When I was at JUCO, I had a good freshman season. So I believed I was ready to come to the ACC, a Power Five school.
What's the No. 1 thing you guys need to take away from Wake Forest win as you prepare for a team that hasn't played a game yet?
We've got a lot to improve on. We basically just need to get back in shape with how we were.
Is there anything with the scheme that you guys didn't do correctly in that game?
We've got to do better protecting the outside and disguising better with our coverages and stuff.
You get thrown into your first game in ACC competition and you mentioned it was a lot faster, but how do you feel like you performed?
I had a pretty decent game. I could have done better. But other than that, I think I did pretty well. I've got a lot to work on with my eyes in coverages and stuff.
On the fourth-down play that sealed the game, you had the pass breakup. It looked like you got the ball in your hands; did you knock that down on purpose for field position or did you drop it?
I got too excited. Once I broke on the ball, I just saw open field and when I broke on it, I guess it was going to be tipped, but it wasn't tipped. When it got in my hands, I was just going to take off with it.
How big of an adjustment is transferring with so much going on?
Everything was spinning. JUCO's way different from D-1. Everything, I had to learn plays, had to know the plays and stuff, get with the classes at D-1.
How long did it take you to settle in?
It probably took me about two or three weeks. At first I was kind of the quiet guy on the field, I wasn't talking to anybody.
Does that affect you on the field? Does it slow you down as you're trying to adjust to everything?
A little bit, but once I catch on, it's over with.
Never miss the latest news from Inside Pack Sports!
Join our free email list