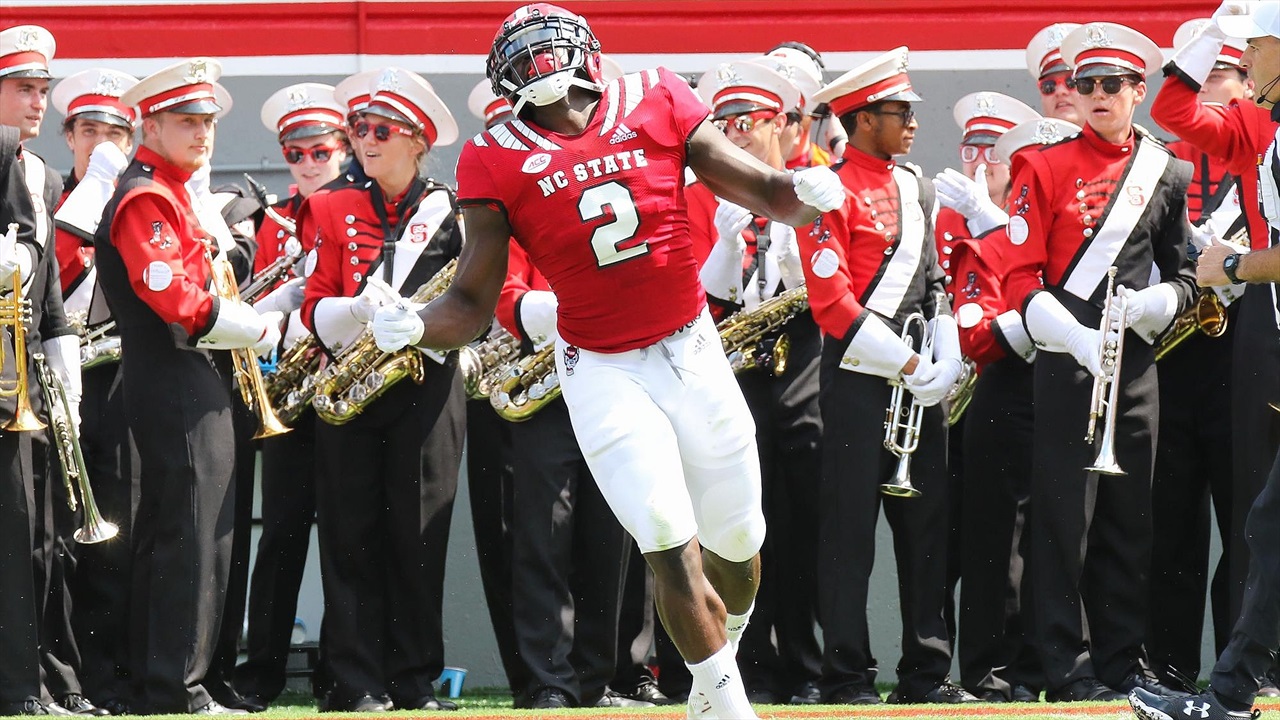 Photo by NC State Athletics
NC State Football
Louis Acceus: "This Is The Toughest Thing I've Had To Do In My Life"
---
NC State senior Louis Acceus recently discussed his retirement from playing football and his new role as a student coach.
---
How difficult was it to give up football?
"Basically, I've been dealing with concussion issues for the last year and a half. Since last October to now, I've suffered three concussions. After my last concussion, my doctor told me that it's time to hang it up and that I can't play football anymore. This is probably the toughest thing I've had to do in my life behind committing to school. I've been playing football for the last 14 years of my life. To give it up like that is heartbreaking."
What are you looking forward to the most in your new role as a student coach?
"Learning more about football behind the scenes: what goes into game planning, how to game plan, what to look for when you're watching film… that kind of stuff. I also look forward to being around my teammates still and being able to help them better their skills in different ways."
Are you staying with the linebackers, or are you working with the entire defense?
"I plan to stay with the linebackers, but wherever the coaches need me, I'll go."
What can we expect from the linebacker group in 2020?
"We're going to have a lot of kids playing fast and playing physical. That's all I can say for right now."
How grateful are you to Coach [Dave] Doeren and the coaching staff to allow you to remain a part of the team despite not being able to play?
"When I had a meeting with Coach Doeren, he told me it'd be stupid for me to leave the program like that with all the resources I have. I could get into football operations. I could get into coaching. I could get with the strength staff. Him allowing me to be around the players still is like a huge blessing in my life."
How much of a leader is Isaiah Moore among the linebackers and the defense?
"He's the voice of the team. Everybody leans on him for leadership. He's like the big brother of the whole team. We hold him to a high pedestal, and he keeps himself to a high standard. Coming in as freshmen together and watching him grow into the man he's become is a huge blessing."
What has the reaction to your announcement been from the team?
"After I posted the picture on Instagram announcing everything, they came to me with a lot of support, letting me know that everything's going to be okay and that they're still going to have my back no matter what. To be able to feel that kind of love from my teammates is indescribable."
Has coaching been something you'd ever considered as a long-term career path?
"I'd always thought about coaching when I was done with my football career. With the situation I'm in, I think it's time for me to step into coaching, test the waters, and see if it's for me."
What were the conversations you had with your family when coming to your decision?
"My family was supportive of my decision. They always told me my health was more important than being a professional, and they didn't want to see me make matters worse with the situation. I got a concussion back in March, and I was told by a doctor that I shouldn't be playing, but I still took the chance. I wasn't ready to give the game up. My family was in support of that, but it kind of felt like it was time to hang it up back then. Due to the situation that happened in August, that's when they told me, 'It's time to hang it up. You're just hurting yourself at this point.'"
Never miss the latest news from Inside Pack Sports!
Join our free email list