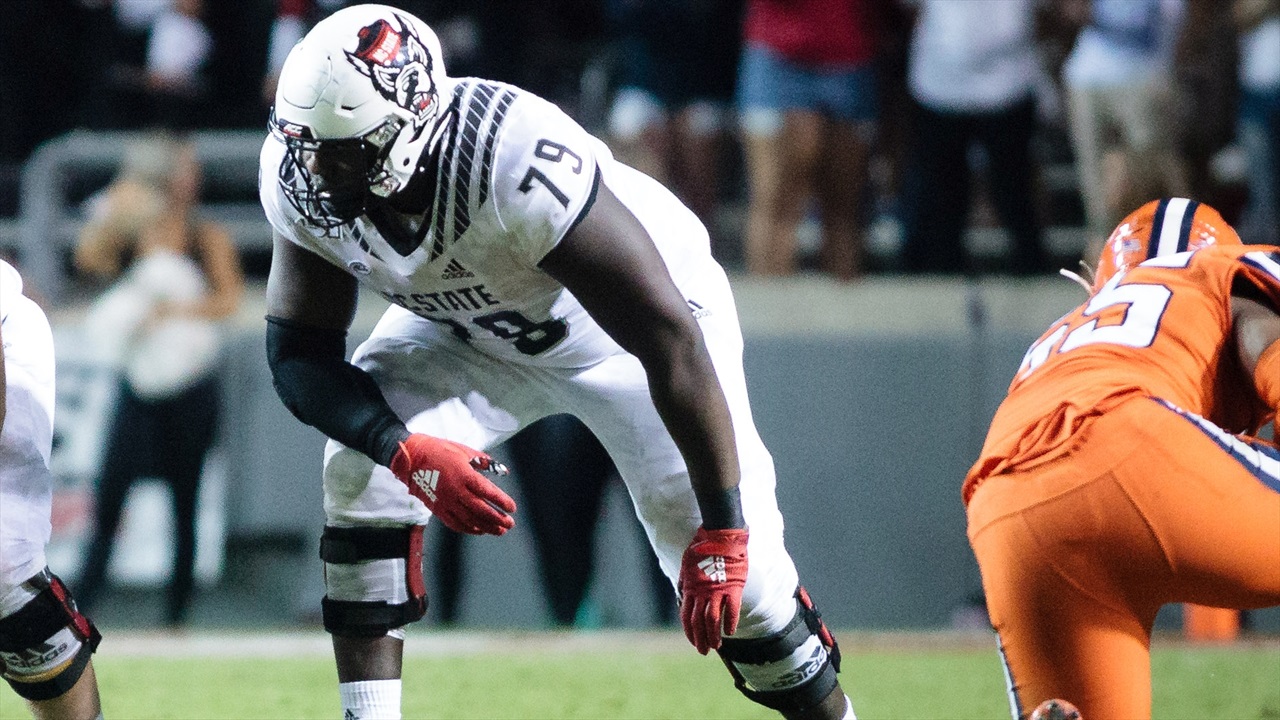 Photo by Steve Murphy/Inside Pack Sports
NC State Football
Ikem Ekwonu: "I'm Confident At Guard"
---
NC State sophomore offensive lineman Ikem 'Ickey' Ekwonu is ready for the season opener. He recently discussed the start of the season with the media.
---
How is Ricky Person doing after coming back from his injuries last year?
It's always really good to get your teammates back. We've got a great group of backs, and it's always nice being able to block for them. You guys have seen [Person]; he's dangerous when you give him the ball. It's always nice having a back back there you can trust. I have confidence in all the backs. It's really nice seeing Ricky come back from injury and do all the things he's been doing.
Who are you excited to see return to the field?
Really, just all of them. We had a lot of injuries to direct-impact guys that unfortunately got hurt. We also had a lot of guys that maybe didn't play as much that got hurt. It's just nice seeing everyone back, seeing the team back together again, seeing everyone competing, having fun, playing fast and physical. I can't really pinpoint one specific person. I'm just glad everyone's back and giving it their all.
How nice is it to play with the 1's where everyone else is in their fourth or fifth year? Can you speak to the leadership of Grant Gibson, one of the team captains this year?
It's really nice to be with the starters. The offensive line is a great group of guys. Being from Charlotte, Grant and I have a little bit of a deeper connection coming in here. Grant's done everything asked of him. He's been a very good leader throughout the summer. Even during quarantine when everyone was sent home, he texted all of us and made sure we were staying on top of things physically and mentally. Grant is a great leader and a great guy.
Is there any added pressure to succeed after getting named a Freshman All-American last season?
I don't really think pressure is something that affects me as much. I have a wrestling background, and wrestling is very one-on-one, man-on-man. Everything that you do on that mat is seen by everybody at once in the whole gym. Growing up with that in high school and wrestling a lot, pressure in situations like that just fades away.
Also with that, it's really easy not to feel pressure when you're confident. I'm confident in the guys around me, and I'm confident in the game plan and all the coaches. I know they all put us in a spot to be successful. We have confidence from all over, so it's really easy not to feel that sort of pressure.
What is the ceiling for the offensive line this year?
The ceiling is very high. I'm very confident in the guys around us. There are a lot of guys that can play. There are a lot of lineups we can use. The ceiling and the potential for the offensive line, even moving forward, is really, really high. I'm really excited about the group we have, and I'm excited to get after it and prove everybody wrong.
What can you say about Coach [John] Garrison's leadership and the trust level between him and the offensive line?
I think of him as a friend, someone I can confide in. Leadership-wise, he's doing a great job giving us a game plan and putting us in situations to be successful.
I feel like I've learned a lot under him. When I signed to NC State, I didn't have an offensive line coach. As soon as he got the job, he called me right off the bat. Right there, he built that connection even when I was still in high school. That connection has only gotten stronger.
He's doing a great job. Everyone on the offensive staff is doing a great job. He's definitely someone I trust to lead us in the right direction.
How has the transition from tackle to guard been?
I played guard in high school. I'm confident at guard. I like guard a lot. Wherever the team wanted me to play, I was ready to play.
This also goes to Coach Garrison's leadership, too. Tackle and guard are different positions, so getting me ready to play at guard at the college level is something he helped me with.
Is it a good thing or a bad thing that you won't be lined up against Carlos Basham, Jr.?
I'm a little disappointed. I always like going against great players, players that are on draft boards and stuff like that. I love that kind of competition. I'm sure I'll go up against him a couple of times at guard, but there's not much you can do.
What makes Basham so difficult to block?
With someone like him, his size is probably his biggest advantage. He uses his body well, and that's been one of his greatest strengths.
Would you call the Wolfpack a 'prickly' team heading into the season?
We have a lot of people talking down on us after last season, not expecting much from us. Now more than ever, we're a prideful team. We have pride in ourselves, and we have confidence in ourselves.
We're looking to shut a lot of mouths and prove those that don't see us as a threat wrong. We're going to go out every Saturday and leave it all out there. We're going to show everyone that we're not the same NC State from last year and that we're a better NC State.
Are you buying into the "rivalry week" narrative Coach [Dave] Doeren is pushing?
If you just look at the record, I believe the last three years have ended with a Deac win. Looking at that, it's definitely a game that's important to us. All the games are important, but it's one that we start to prove the others wrong. It's an important game to us.
Never miss the latest news from Inside Pack Sports!
Join our free email list