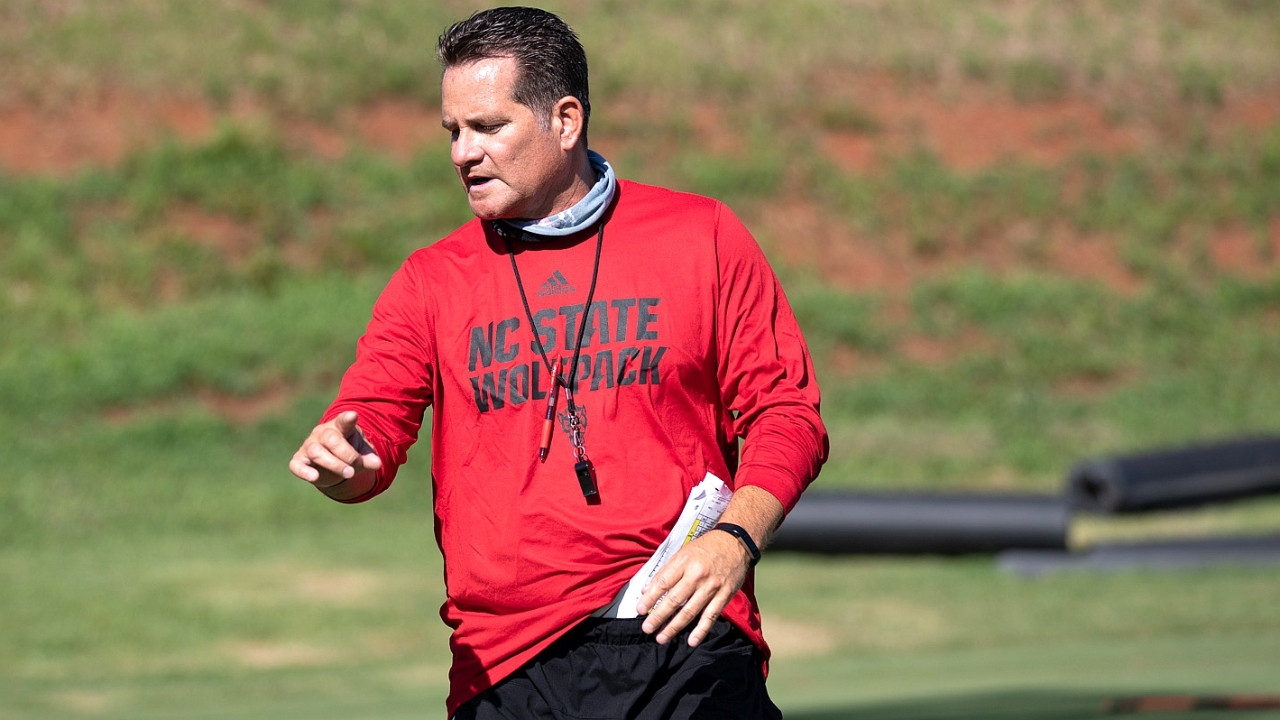 Photo by NC State Athletics
NC State Football
NC State OC Tim Beck: "They Want To Win"
---
NC State offensive coordinator Tim Beck met with the media via Zoom to discuss the team's progress as the season opener approaches.
---
Opening Statement...
The last couple of months have been very interesting to say the least, moving here and trying to get an offensive football team ready to partake into a season. We obviously didn't have spring, and everyone was pretty much home in the summer doing their own thing.
We ran into a stretch recently with some cluster where we had to slow things down and not practice a couple of times. It's been interesting. It's been very challenging, but it is what it is, and we just have to continue to keep working.
How much were you all set back, and how much were you able to make up after the setbacks?
We did have some setbacks, obviously, with the virus, but I feel like our players have been pretty resilient. We've continued to coach them online as best as we could. We're always creating video for them to learn from.
Memory wise, there aren't any issues. I don't see any busted assignments. For guys that have quarantined for one reason or another, there's some rust to them. You have to shake that rust off. The good part is that most everybody has gone through that, and getting everybody back is good. You can see that transition; it's starting to come back to these guys.
What can we expect from the run/pass balance?
Every day, I have a plan. There are certain things I want to work on each day. There are certain things we're going to need down the road whether it's formations or personnel. It might be a day where we throw it a lot and see how the quarterbacks and receivers handle the day. It might be a day where we run a lot. We're going to maintain balance and try to keep people off balance defensively. We're going to keep the game simple and let our kids play fast and hard.
With the three upperclassmen tight ends, how similar are they? What are the chances we could see more than one of them on the field at the same time?
I'm really impressed with them. I love the way those guys work. Coach [Todd] Goebbel has done a great job with those guys. They work hard. I have confidence in all of them. I think all of them can do everything that we ask them to do offensively in our system.
There haven't been any conversations at all about this guy can't do this or that. Do each of them possess a specific trait that they're better than the other guy? Maybe, but there's been a lot of improvement, leadership, and work ethic in that room. And yeah, there could be opportunities where you might see more than one.
Does Devin Leary have the full playbook in front of him?
For Devin, Bailey [Hockman], Ben [Finley], and all those guys, they have the whole playbook at their disposal. We've been able to get everything in that we need to get in. As we work through our offense and go through practices, we find out some things they can handle and some things they can't handle. It's my job to figure out what those are and, if it's a necessity, how we fix it, and if we don't, then we just throw it out. That's the beauty of being multiple.
What separates each of the running backs from each other? How do you choose who gets the call from play to play?
I value Coach [Kurt] Roper. He's been a very successful coordinator and football coach over many years. I value his decision making just like Coach [George] McDonald at receivers. They'll have a feel of who to get in and when to get in. There are certain times we want certain guys in, but I have a lot of confidence in them. There are four or five guys that can get in the game and do everything that we need them to do. There's not one guy that's shown that they can't do this or that.
We're going to run our offense with those guys, and they've done a good job. Coach Roper has done a good job of making sure they all get reps. In this unique season that we're in, who knows?
You might have three of them get COVID, and you're down to two guys. That's been a tremendous change from a lot of places that I've been over the years. This is a year where you've got to have a lot of guys ready to play.
How do you see your division of run/pass play calling as it pertains to the skill in the running back room?
The biggest things to all of that is who are the people, what are you good at, and what are they giving you. It's easy to say, 'If you have a lot of running backs, just run them.' I know if they're playing a nine-man box, it's hard to do that consistently. You have to have every single guy make those blocks. We're going to do what the defense gives us, first and foremost, keeping that in mind with our best players.
Over the years, we were good running teams. When you have guys like Rex Burkhead, Ameer Abdullah, and Ezekiel Elliott, you're probably going to be a higher run percentage team than you are throwing the football. You base your offense on what you're good at and what your skillset is but also on what the defense does.
All our players value that because when we function offensively and execute, they're all going to get touches. That's how the offense is built. As long as we continue to execute at that level, we'll be in a good position. Ideally, you'd like to be 50-50. You like to keep defenses off-balance trying to play both, but in the end, you've got to do what they give you and try to win the game.
How much have you seen the older receivers take onus for a lackluster season last year? How have the younger receivers stepped up?
It's great having C.J. [Riley] back. He brings leadership and experience. Emeka [Emezie] and Thayer [Thomas] have been awesome. They set the work ethic. They're veteran guys. They're very crafty. They get the game, and they work really hard at it.
We've got some young players step up like Porter [Rooks], Andrew [Jayne], and Chris [Scott, Jr.].They're very fearless. They just come in and go. They're not overwhelmed or in awe of the big stage. They come in and go really, really hard.
Coach McDonald has done a great job in that room with rotations, development, and leadership. It's a very consistent group. I feel really good about a lot of those guys. One thing that we have with this offense is depth. There are a lot of guys in that room that we feel good about playing, doing what we need them to do, and doing it at a high level.
How difficult of an install has it been?
I don't think the install in itself is difficult. I think the process of installing it has been difficult because you're on and off again with Zooms and walkthroughs and practice. Our players and coaches have done a great job. The resiliency of those guys is showing everyday. They've held each other accountable. They want to win. They want to work, and they work really hard. Our players want to win, so they're doing all the right things to be able to do that. Now, it's all about the opportunity to go out and play. All the coaches are excited to play somebody new and go out there and see how our guys do.
How has the competition been on the offensive line?
I love that group. You've got some great veteran leadership. You've got some extremely talented, young players. It's a great mix.
It's kind of how we are offensively; you've got good leadership across the board, and you've got a great mix of young players across the board.
Joe [Sculthorpe] and Grant [Gibson] have taken the leadership role above and beyond and have done a great job doing that. There are a lot of guys that have played for us up front. With that experience and the offense for these guys, that combination gives them a lot of confidence. I think everybody right now feels that. I think there's a sense of excitement to get out and actually do our thing, get physical, and do what we do best.
Never miss the latest news from Inside Pack Sports!
Join our free email list