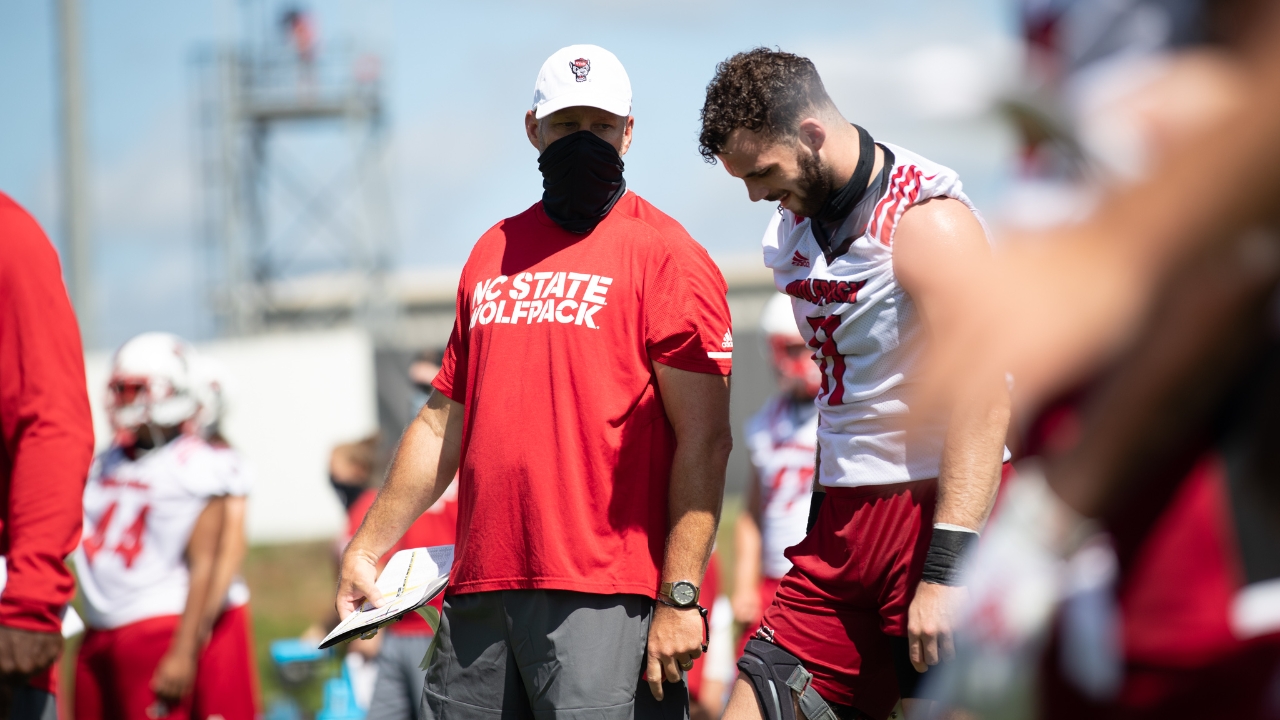 Photo by NC State Athletics
NC State Football
DOEREN: "It's Great To Be Coaching Football Again"
---
NC State head coach Dave Doeren spoke with the media via Zoom Tuesday afternoon following the Wolfpack's first practice of fall camp.
---
Opening Statement
"It's great to be coaching football again. It's been a long time since we've been out there. The guys had a lot of energy as you would expect. They missed being together. They missed being on the grass, being coached, and competing. It was just a helmet-only day, so there's not a lot to talk with you about individual performances and things like that. If you give me a week, it'll be a lot more detailed for you. We have so many guys back from injury, so it was fun to see C.J. Riley catching the ball again and Taiyon Palmer, Teshaun Smith, and Tyrone Riley. It was great to have them back on the grass with us. It's fun to watch the coaches get out there with their players. We've all missed what we do for a living. All of that was good. Wearing the masks on the helmet seem to be pretty good. They didn't fog up too much. The guys had to wipe them off from time to time. When their helmets were off, they had masks up. There are a lot of precautions, and I feel like the guys have bought into that. We've been very good, and now we'll see, as we have all 123 of them on the field and students returning to campus, if we can keep that in the same place."
How Different Was The First Day In Camp This Year As Opposed To Years Past?
"It's a very different camp. Traditionally, we would have had them here working out for a long time, and we would know exactly where they're at condition-wise. With us having six weeks to prepare them, we're spacing our work out and not doing as much, particularly with the first week. We're going to try to get their legs back and get them in football shape. We were out there for about an hour and a half, so it is a different camp from that standpoint. Generally, we have about 30 days, 29 days of camp but 25 practices. We have six weeks to get 24-25 days of work in. We're spacing out our work with potentially losing players to quarantining and all the things that can happen. We want to do everything we can to keep them as injury-free as possible. There's a lot of precaution here on our end, but it's more about pulling them back. They're so excited to be out there, so you kind of find yourself refereeing that way. There's been some good recall from the spring. As far as fall camp goes, this will be the most different fall camp for any coach. I don't care what level of football you coach; there is no comparison. With the precautions we're doing and everything that we do with these guys, you can't compare it to any camp we've ever had."
How Do You Pace Yourself For A Season-Opening Game You Don't Know Exactly When It'll Take Place?
"It's not ideal. Like I told the team, we're going to have to be very accepting of a lot of unknowns right now. It's just kind of the way the world is. We can sit here and complain about a lot of things, but the bottom line is that we've got to play football today. We're excited that we got to do that. I would love to know who we play, but we don't, and there's nothing I can do about it. When they tell me, we'll get our gameplan going and start working on that, but right now, it's about us, our team's core values, our team chemistry, the install of our offensive, defensive, and special teams systems, and the football IQ that we can teach."
What Did You Make Of Team Conditioning And Physicality On Day One?
"The guys were in good shape. The kids that struggled were the newcomers, the ones that signed in February and had no idea what a college practice looked like, and that's expected. This was their first time in a college practice. The young men that went through the winter program and the beginning of spring ball are in good shape. We didn't go out in full pads, and we didn't practice for two hours, so we didn't push them as hard as we will as we move forward. For today, I thought the returning players looked really good."
Who Are Some Of The Guys That Have Stepped Up From A Leadership Perspective?
"I think, in each position group, you're seeing that. Isaiah Moore and Grant Gibson, as you've seen from the 'Pack United,' have really stepped into a vocal role for social change. I'm super proud of them and the work that they're doing with our football team. When it comes to the day-in, day-out of football, in each position group, you see one or two guys that are very vocal. In the running back room, Ricky [Person, Jr.] is very vocal. In the O-line room, Joe Sculthorpe is very vocal. In the quarterback room, Devin [Leary] and Bailey [Hockman] are both very vocal. As you go through: tight ends, Dylan Autenrieth; wide receivers: Emeka [Emezie], C.J. Riley, and Thayer [Thomas]. There's a lot of leadership and experience in that room. On the defensive line, Alim [McNeill] has become very vocal in that group. At linebacker, Payton [Wilson] is more vocal than he was, but Isaiah is the guy that keeps everything going over there. In the secondary, Tanner [Ingle] is, without a doubt, the vocal guy in that group. Having these injured DBs coming back, it's going to be fun seeing the competition and how it plays out. I'm happy with the growth we've had. At this time last year, that would have been a really hard question for me to answer. We had to play a lot of guys before they were ready, and I think those experiences have helped them grow as leaders."
Have You Had Any Players Opt Out For Health Reasons?
"No, we haven't. We've actually had the opposite. These guys want in here bad right now. They really want to play. It doesn't seem that it's a topic anyone on this football team has brought up to a coach. If it happens, we'll deal with it, but at this point, it's the opposite. It's 'Coach, let's go.' They're very, very excited about the opportunity that they have. We'll see how it continues. Obviously, there's a lot of things going on around them nationally that they have to look at. Whatever they decide to do, we'll support them and the guys that want to be a part of this. It's an interesting time in our sport. That's for sure."
Have The Players Brought Up Anything Related To Other Conferences' Actions (i.e. Pac-12)?
"Not yet. Yesterday was our first day to have in-person team meetings. We had a billion Zooms with these guys, but I have not had a conversation about it with them. They haven't brought it to my attention. It's not that they won't, but they just haven't yet."
Thoughts On The Wolfpack's Conference Schedule, Avoiding Boston College, Clemson, Louisville, And Notre Dame…
"I'm not going to talk bad about any school. Boston College kicked our ass last year, so I'm the last coach you should call and hear them talking smack about anybody. For us, we've got to handle our business. We've got a lot to prove here as coaches and players. I am excited to play against teams we haven't played in a long time. There's a number of players on our roster that have not played almost every team we're playing from the Coastal division besides UNC and Georgia Tech. We've got a lot of guys from Virginia that are excited about the opportunity to play two Virginia schools from the league. Again, as human beings, if we sit around and complain about the things we can't control, we're going to have a miserable day. I'm not trying to do that right now. I've got enough going on. I'm focused on the 10 teams and trying to get our 11th team scheduled.
How Do You Manage Talking About The Big Picture? Does That Change With Safety Protocols?
"I think everything's changed when it comes to how far out you can look at things and think it might or might not happen. Every date on the calendar changes fast. This has got to be a day-by-day thing for us right now. We've got today; let's grind, do everything we can to come back tomorrow, and get a better day than we had the last. Once the league gives us direction on who we're playing, we'll go. This is the only year in my life as a coach where any player who can play in the game could start the game. You don't know when you're going to have contact tracing knock out an entire position group, and suddenly your fifth guy is your first guy. Every guy in the room had big eyes when I said that, and it's real. They have to prepare themselves that way. Keeping these young men healthy, engaged, and understanding of the reality is part of what we talk about."
Do You Have Much Of A Handle On What This Team Is Capable Of, Or Are There Too Many Variables?
"I really like this team. I don't know how many games we're going to win; we've got to earn every one of those. I do like their hunger. I do like their growth. I like their dissatisfaction with what occurred before and the things that we did over the offseason to be better for that. Losing provides you an opportunity for growth, and I feel like our guys took advantage of that opportunity. We've got a lot of work to do to figure out who our best 11 are. We played all these young guys last year because all the older, injured players were gone, but now they're all back together. There's a lot of competition in practice that needs to take place before I can tell you how good we're going to be, but I do like the growth that we've had and the direction that we're headed."
What Is The Message To The Team For When They're Not In Practice?
"I think the biggest thing is to protect the mission. These guys have talked for months and months about wanting to get back out there, to play, and to earn the right to be in a certain position as a football team, to not be disappointed with their season, to be excited about the results of their season. The biggest thing is just protect it. Wear a mask when you're in public, wash your hands, use Purell, don't go to parties where there are people who haven't been tested. You just have to be super smart. We talk about social sacrifice quite a bit as a football team. If you really want to have a season, you have to give up a few things that you normally may not have to give up. This year more than ever, if you want to have a season and not cross-contaminate and get guys into a contact tracing situation where your selfish decisions have cost 10 guys 14 days of their season… We've talked a lot about that, and it's still going to come down to their choices though some of this is out of our control, too. You could go to your mailbox, and all of a sudden you get germs off of it, and you had no idea. Some of this is going to be challenging, but they shouldn't be going to a party and getting into a swimming pool with 100 people. Common sense needs to be common right now."
Have You Noticed Any Differences In Devin Leary's Approach Since He's Been Named The No. 1 Starter?
"Yeah, I think so. It started during the offseason program. He's definitely more confident. He knows his teammates believe in him. He knows his coaches believe in him. He's not walking around like he has to prove himself no matter what everyday. He's very comfortable, but he drives hard. He's as hard on himself as anybody is, so we have to be careful that way with him. Both he and Bailey have grown a lot through their experience and reps they had last year. Now it's about getting them on the grass and getting them in as many in-game situations that we can. Today was a red-zone day, and we'll do it again tomorrow. Then third down comes in, then two-minute drill comes in. We're trying to get those thinking moments as a quarterback and how they're going to manage the team in those situations and see where they've grown in that area as well."
What Are You Telling The Medical Staff To Keep An Eye on In Terms Of COVID Symptoms Versus Heat-Related Illnesses?
"I don't mean this in a way where I'm not respecting COVID because there are so many precautions for that, but I'm more concerned about heat illness and season-ending injuries than I am about a virus that, in most cases for our age group of guys, lasts three-to-five days. There's been a ton of conversation about heat illness. We talk about the guys on our team that are sickle-cell positive because they're the ones that we're most concerned about when it comes to the heat. We got a break in the weather today with the rain yesterday, so it wasn't too hot, but there are still guys that need to hydrate better. We're constantly talking about hydration with the team. We're constantly monitoring by weighing them before and after practice. We know what kind of sweaters they are and replenishing them accordingly. There are a lot of things that go on to protect the COVID part of it, the heat illness part of it, and the hydration part of it for the soft tissue injuries that happen when you're dehydrated. I feel like I'm overeducated right now on the sports medicine side of things because there have been so many conversations on it."
On Terrell Dawkins Wearing No. 0…
"He asked for it. We had about eight to 10 guys in the winter ask for number changes, and I told them I'd wait until the end of the summer to see how their summer conditioning was, how their academics were, and how they were progressing. He did a great job in the classroom. He's gained weight. He's in a really good place mentally, so he earned the right to wear No. 0 for the first time. We'll see how that goes."
On Assigning No. 1….
"We're going to wait, get into camp, and let guys prove themselves a little bit. Obviously, we didn't have a spring. Normally I'd see how guys come out of the spring. You have a feeling on who those guys are, but you want to see them play the game too. It's not just about your leadership in the weight room or how you're doing things in the classroom. It's everything that you're doing, and right now, we haven't played enough football for me to be able to anoint someone there."
Never miss the latest news from Inside Pack Sports!
Join our free email list