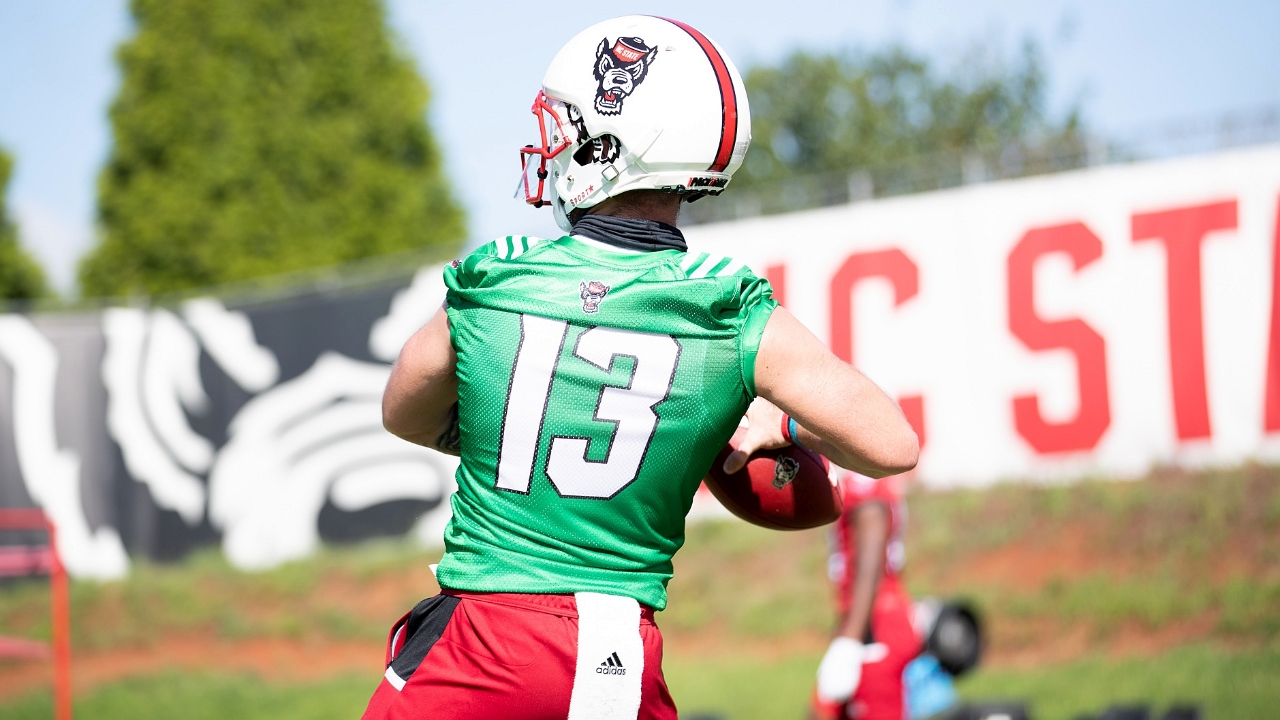 Photo by NC State Athletics
NC State Football
Devin Leary, Thayer Thomas on start of fall camp
---
Going into the 2020 season, NC State quarterback Devin Leary is looking to build on his five starts in 2019, and Thayer Thomas figures to be one of his top weapons.
Here's a full breakdown of everything the pair had to say about the start of fall camp.
---
Devin Leary
How was your summer, and obviously under normal circumstances you and your receivers are out there on the field throwing the ball around to build chemistry, how do you make up for that in a short preseason?
This summer was definitely different for all of us. It was something we had to adjust to, but for the most part I feel like we handled it very well. As you just heard from Grant, we were able to make a GroupMe group chat with our whole team, and we were also able to make a receiver-quarterback-tight end group chat, as well. It was really just staying in contact with everyone, seeing where everyone's head was at, and just making sure everyone was staying in their playbooks was really key for this offseason.
How much does playing last year, even in a different scheme, help you this year, the things you saw on film and you said 'I have to get better at', and applying that now in a new scheme?
It was huge, just getting those in-game repetitions. It really just helped me become more comfortable in the game, get more comfortable with the pace of the game, as well. Just learning from everything that I can from last year, being able to take everything that I learned on and off the field and being able to just enhance my game even more for this upcoming season.
What did you work on this summer in those couple sections you had with Malcolm? I talked to him a little bit this morning. What did you emphasize?
I had a really good opportunity to work with him, just picking his brain a little bit. He worked with multiple quarterbacks that actually play in the ACC. But really, we just focused on little, short things such as quickening up my throwing motion, footwork, just typical quarterback things. But it was really good to work with him.
Coach talked about being socially responsible when students return because you guys want to play. Is that a big conversation you guys have amongst each other?
For us, at this point, we're making safety a priority. Whether we're walking into the Murphy Center or walking around campus, we need to know that this pandemic is something that's occurring in the world right now, and we just need to do our best to avoid it.
Thayer Thomas
You had five games at the end of last season with Devin to build some chemistry, but over the summer, that's when you start to get a little momentum going for the season. How do you make up for lost time for not being able to do that, you and all the other receivers with your quarterback?
Devin was in New Jersey for most of the quarantine, but when we got back at the end of May, we made it a weekly habit to throw like three times a week to try to catch up for what we missed. I remember in March, April, May, he would come down for like a week or two here and there and we would just go to local fields and throw. We sometimes did it on a baseball field or wherever we could. We definitely got work in when we probably should have been in the house, but we had to make it happen.
Devin came as the No. 1 guy in the spring. Have you seen a difference in him, maybe a little bit more confidence, maybe a little bit more leadership qualities since he was named to the No. 1 a couple months ago?
I think I saw a difference in Devin since he's played from last year. It was tough for him at first, because he was a three going into last season. But I just told him to stay positive, because in my opinion I felt like he could be the guy at any point in the season, so I was trying to stay positive with him. But ever since he started playing last year, I feel like he sort of made it known that he's the guy now. So we just sort of went with it; I've definitely seen his confidence go up.
Obviously this was a difficult offseason for everyone. You graduated this offseason, and didn't focus on baseball earlier in the year, and focused on football. How much more focused do you feel like you are on this upcoming season now that you've put those things behind you for a little while?
I had the most time I've ever had off. In high school I played three sports, so every season I was constantly playing games. So far, my college career has been the same case. But when we got sent home, I could have lived down here at NC State, but me and my brother went back home and stayed at our house, got home-cooked meals, sort of just reset everything. I really worked on my speed this offseason.
I got to work with Ricky Proehl over in Greensboro. He trains a bunch of receivers over there. Whenever Devin was in New Jersey, I would throw with my high school quarterback, who's now competing for the job at Duke. So I would do some one-on-ones with their DBs. It was a good three months to focus on ourselves and what we wanted to get better at. I took advantage of that, in my opinion.
What were some things that you took away from Ricky Proehl?
I met Ricky back in 2008 when he first opened up his facility. It's called Prolific Park. Every time we've gotten off in the past, I've gotten to work with his two sons, Austin and Blake Proehl. I got to know them over the years. I call them my best friends, some of my best friends. Me, him, both of his sons, and I don't know if you guys have heard of Tyler Snead, he's the ECU slot receiver. So he's really helped us out over the last three years, just working on basic techniques of route running. He played 17 years in the NFL and coached five. So he definitely knows what it takes. I tried to take advantage of what was available to me. Because of the COVID stuff, I had to find something that could help me improve my game.
Coach talked about being socially responsible when students return because you guys want to play. Is that a big conversation you guys have amongst each other?
It's definitely known that we're able to do what we want to do right now because we're sort of isolated from everyone, and we haven't had a lot of cases because of that, I feel like. We've probably done one of the better jobs in the country of having control over the team, what we're doing and staying safe. In order for that to continue, we definitely have to really watch what we do when these regular students come back. Hopefully it doesn't derail us, but I think we have the right leadership to guide the players on what to do and what not to do. If we just continue to do what we've been doing, which we haven't had to stop at all like a lot of other schools, so I feel like we've done a really good job.
Never miss the latest news from Inside Pack Sports!
Join our free email list