NC State Basketball
Former NC State Assistant Thomas Carr Talks Tea Marie Hoops
---
Former NC State assistant Thomas Carr has accepted a new challenge as he has created Tea Marie Hoops, an AAU program that is already making waves on the AAU scene. He recently spoke with Inside Pack Sports about his program and much more.
NOTE: This is Part I of our interview so stay tuned for more from Carr on several of his players including NC State 2021 commitment Terquavion Smith‍ and 2022 target De'Ante Green.
Those will be premium features.
---
Thomas, I've seen you're helping out with Tea Marie Hoops. First of all, do you know where the name of the program came from?
Yes, the Tea Marie name was created from my daughter's first and middle name, which is Teagan Marie. Over the years I have started a couple of different businesses, all with the mindset that creating these businesses will create a legacy for her and naming each one in her honor. Whether it's Tea Marie Properties or Tea Marie Land and Tree, when the idea of starting an AAU team came about, naming it after her was a no brainer.
Also, in putting a staff and team together, it was important to me to have people that are around that embody who Teagan is as a person and that would represent her name and the brand in a first class way.
That's awesome. Honestly, I had no clue you had started the team. I just knew that you were coaching the 17-U team.
Yep, just running it through the non-profit that I have.
I know you started out as a high school coach before transitioning to college basketball. Coaching AAU basketball or starting an organization like this... was it always a goal of yours?
The idea of starting an AAU team originated when I was a high school coach at GW Danville. After the spring of my first season, I wanted to follow the blueprint that high school teams from Richmond and the Tidewater area had followed where high school teams would continue playing, practicing, and working out together as an AAU team. It was important to me to make sure that our guys were playing year round, not only from a basketball perspective, but to occupy their time and give them something to look forward to and grow from during those summer months.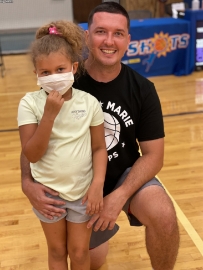 Obviously Teagan wasn't born then, but I looked at those kids as my kids during that time, where the love and pride I had for them gave me the energy I needed to put something worthwhile together for them, much the same way I have with Tea Marie Hoops.
Starting an AAU program from scratch... how did you go about landing the talent? Because you've put together a really talented roster.
[Laughing] I think that the simple answer is just blind luck. The reality of it is, it was a perfect storm where a lot of these teams that these guys would normally play on, or the shoe circuit their teams would play on, wasn't happening because of the pandemic.
So the need was there. And, in knowing a majority of our roster for years now, all of the kids had a desire to play.
I pride myself on being a player's coach and really building the relationship with the kids to where, whether they are a no-star or five-star, still treating them the same, still doing my best to help them any way I can, and then, an underrated component, that I think sometimes coaches forget, is keeping the parents involved. Everybody that plays and has played for us has an unbelievable support system in their families, and just having that rapport with them has allowed me to coach and teach these players a lot quicker than I normally would if that relationship and trust wasn't there with their inner circle.
The final piece, and what has put us over the top is players know players, and so for a lot of these guys, Terquavion Smith‍ especially, he's been my recruiting coordinator, they want to play with each other. De'Ante Green is the same way, and Bobby Pettiford, who was supposed to play with us the first week but he was on vacation, will be as good a coach as he is a player when he decides to hang his shoes up for good. All those guys are close and all those guys talk and have the ears of their peers. What it's done is, as they've seen how we play, the stuff that we wear, and the way that we carry ourselves, they've built the brand into something even more.
Basketball, and on court wise, I just have allowed these guys to be themselves, be talented, do what they do, and the only thing I've asked of them is to play together, play fast, compete at a high level, and to do stuff the right way both on and off the court.
Give me an update on where you are in terms of number of tournaments you've played and your current level of success.
This past weekend was our third tournament. We started off in Myrtle Beach with Big Shots where we played Garner Road. We beat them by 28. We played, and beat, a Moravian Prep team that was under a different team name, and then played Flight 22, an Under Armor team, and we beat them. We finished our first week 7-0.
Last weekend was another Big Shots tournament, this time in Rock Hill, SC... it was only two days. We went through the gauntlet again where we started off beating a talented Juice All-Star team. Next we had B-Maze Elite, who's got the number eight player in the 2022 class and another really good guard... we beat them.
Then we played a well run, well coached, and talented team in Team Curry that Sunday, where we were up 12 two different times, but they ended up executing better down the stretch, and beat us by 1.
This weekend, we came into Rock Hill for Rick Lewis' Phenom event, and we went 2-2. We lost to a Team Loaded team under a different name by one. We started slow and sloppy and got down by almost 20, walked them down, got up by I think 7 or 10 late in the second half, but couldn't hold on in the ened. It was a great lesson for our guys on valuing the ball and being in critical time/score situations.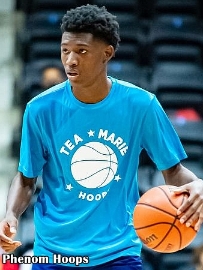 We played and beat Garner Road again on that Saturday, and then we played Team Charlotte again, a big-time organization, that features a high level point guard in Jacobi Wright. Jacobi played with us our opening week in Myrtle Beach, and just like he did for us, he had a great performance against our guys. We went 2-2 on the weekend, moving us 11-3 overall in three weeks.
The thing that I will say that has been fun this summer, and I think is a change for the kids is I like is you can't hide. You are getting the best players from all the shoe circuits in one setting, and the cream is rising to the top. For us, everybody wants parts of the new team at the tournament, and every tournament director, whether it was by request or just because it makes sense, has put us against the best teams, just to see how talented our guys really are and be able to give coaches a great evaluation setting.
As an organization we've loved it. With the sports climate as it is because of the pandemic, a lot of guys have been hyped up and received offers when the lights were off. Now that the lights are on, our guys have performed at a high level against some of these "name" guys that have landed offers and a lot of interest that they may or may not have ultimately deserved, which has been fun to watch.
Do you sense a different vibe with the pandemic going on, in terms of a hunger? You're around basketball players normally 365 days a year. I just wonder if this pandemic has, for a lot of these kids, kind of reinvigorated them to a degree.
It's funny you say that, because you brought me back to that first week where we did a training camp. We had everybody in for both the 16 and 17 teams...and leading up to it, my mind was racing with thoughts like "Man, how is this going to go? How are these kids going to act? What's the ..."
Just all the unknowns, but you've still got to think about them and try to plan for them so that everything runs smooth.
When I tell you though, that when we got on the court for the training camp and then to Myrtle Beach, it just was a sense of relief for everybody because we were back to our normal. That includes the parents, who for the past minimum four, a maximum eight years, every weekend in the spring and summer has been filled with the tournaments.
Initially, everybody didn't really know how to act, but once everybody got in their element and everybody got back to that sense of normalcy, you could see the kids let their hair down, you could see everybody was happy to play. So, from that first event until this past week at Phenoms, individual players and teams as a whole are starting to get their feet back under them and high level basketball is being played.
You're getting guys that are now in game shape, used to use bad refereeing or hostile crowds even though it's half the amount, but still you can hear everybody rooting against you or cheering for you, and so it's been one of those deals where it's just good to be back, man.
Especially because there's so much stuff going on right now that a lot of it these kids can't control, and even as individual adults we can't necessarily control, but just to be able to try to impact these guys in a positive way that they have a platform to play on and a platform to use.
If they feel the need to speak out for something that's bigger than them, they have that now. Whereas before we started playing they really didn't have it at all.
The last thing I want to ask you, where are you guys headed next? What's the schedule looking like for you?
We're trying to iron that out; we've got a few things that we're looking to do. I've got a tournament I'd like to play in this weekend, it's just a matter of making sure everybody's on the same page, and then the Peach State is still going on in Augusta and that'll be August 6-8 where I think we'll be locked in there.
Not that it's 100% yet, but just a couple of different spots that we're looking to go that, so long as the kids want to play and so long as they're doing the right stuff to take care of their bodies, to take care of their minds, we're going to keep this thing moving until school starts back – or whatever form of school we have starts back.
For our 17/u team, it is about letting them enjoy their last AAU lap, and giving all of them a chance to showcase their talent to whoever is watching.
Never miss the latest news from Inside Pack Sports!
Join our free email list