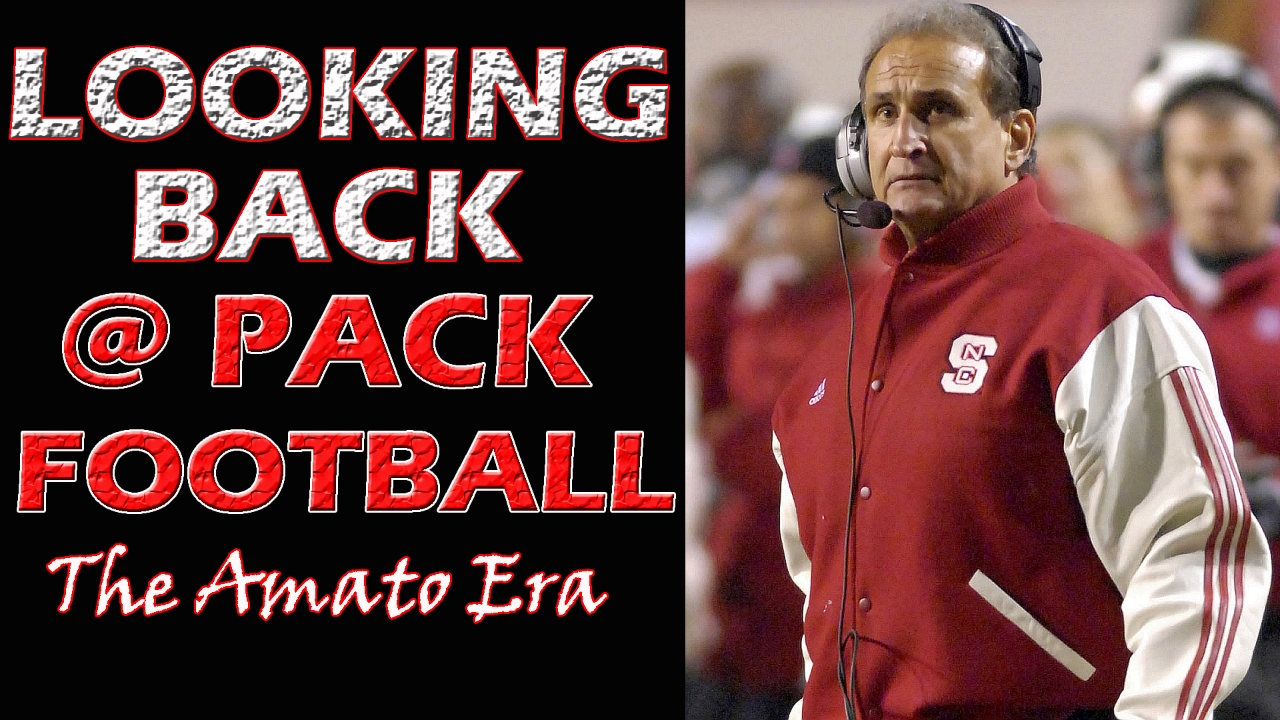 NC State Football
LOOKING BACK @ PACK FOOTBALL: The Amato Era
---
In this feature, we'll take a look back at NC State football and various eras while opening up discussion on what could have changed had situations played out differently. Today we discuss Dick Sheridan's legacy.
---
It is hard to imagine the most successful team in a program's history wondering what could have been, but the 2002 squad at NC State has those questions.
The Wolfpack showed resolve that season by not folding, and consequently, they still hold the record for the most wins in a campaign with 11. The victory over ACC champion Florida State on Senior Day and the trouncing of Notre Dame at the Gator Bowl are proof of the team's standing as being one of greatest, if not the best, teams that NC State has ever fielded.
Philip Rivers, T.A. McLendon, Jerricho Cotchery, Manny Lawson, Andre Maddox, Dantonio Burnette, Lamont Reid, and Terrance Holt are just some of the names that will rightfully remain in Wolfpack lore forever.
For State it is easy to lament the three-game losing streak that spoiled a 9-0 start to the season. It is human nature to wonder. To be fair to the Pack, they won a couple of nail-biting wins in the buildup that, if they had gone the other way, could have meant a decidedly average season.
After winning its ACC opener at home (a 19-point victory over Wake Forest) in its third game of the season, NC State traveled to Lubbock, Texas to face Mike Leach's Texas Tech squad.
The Wolfpack, already ranked 16th nationally at this point, needed all five of McLendon's touchdowns to stave off a Red Raider rally and claim a 51-48 win in overtime after the Pack led 38-10 in the third quarter. The freshman running back, who would rush for over 1,100 yards and catch 42 passes that season, reached the end zone all day despite not starting after he overslept and was late for a team meeting that morning. Leach's squad was no slouch that season. Texas Tech finished 9-5 overall and trounced Clemson by 40 points in the Tangerine Bowl.
The next close call would come from an unlikely source if you looked at the season records, but the most likely source if you looked at the history of the two programs.
NC State and Duke have played some of the most compelling football games in ACC history, an eight-game winning streak over the Blue Devils at the time notwithstanding. The Wolfpack's most successful team, in terms of victories in a season, would struggle with a Blue Devil squad that ultimately did not win a league game that season. It took the Pack forcing three straight incomplete passes after Duke recovered an onside kick with 14 seconds remaining to force the Devils into a 65-yard field goal attempt on the game's final play while trailing by two points. The attempt failed and a 24-22 result handed
State its eighth straight victory.
The Pack then famously thrashed Clemson in Death Valley on a Thursday evening to go 9-0 for the first time in program history. However, things then fell off.
Georgia Tech won in Raleigh with the help of a bizarre delay of game penalty against the Jackets that prevented a sack on third and long. Trailing by eight, Georgia Tech then completed a pass on third and a mile that set up the rally that ended the Wolfpack's unbeaten run.
State led 21-7 in the second half the following week at Maryland but the Terrapins rallied to win. The Pack missed a 38-yard field goal in the second half that would have given the team a 10-point lead and gone a long way towards sealing a victory.
The Wolfpack then lost its third straight game when Virginia squeaked out a 14-9 win in Charlottesville. NC State had its chances again. Current Pack assistant Freddie Aughtry-Lindsay recovered a fumble late. Philip Rivers helped State drive the ball down most of the field, but his fourth down pass to Bryan Peterson glanced off the receiver's hands with only seconds left in the game.
It would have been easy for the Pack to fold, but a Senior Day win the next weekend against league champ Florida State was uplifting. Fresh off setting a school-record for wins in a season, NC State then thrashed Notre Dame at the Gator Bowl in Jacksonville, Florida to conclude the campaign on a high. The Wolfpack finished the season 11-3, and the three losses were by a combined 15 points.
Amato would post winning seasons in two of his final four years as head coach, claiming victories in bowl appearances both times. In 2006 the Wolfpack closed with six straight losses (five coming by one score or less) and he was dismissed. His career record at NC State was 49-37 overall but only 25-31 in ACC play.
What are your thoughts on the 2002 NC State team and Amato's tenure? Premium subscribers can leave their thoughts and opinions in the comment section.
Never miss the latest news from Inside Pack Sports!
Join our free email list