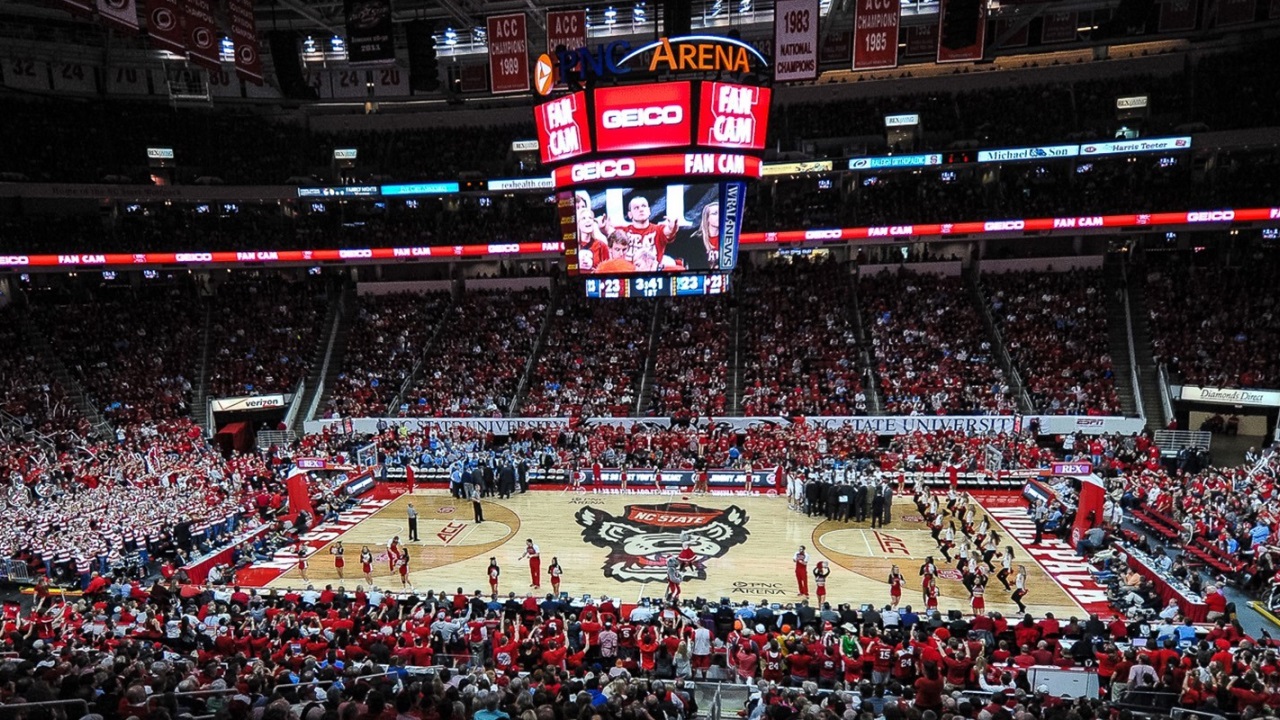 NC State Basketball
RELEASE: NC State Announces Three Hoops Hires
---
NC State men's basketball head coach Kevin Keatts announced Tuesday that he has added Mike Summey (assistant coach), Steve Snell (director of basketball operations) and Chris Zupko (assistant director of basketball operations) to the Wolfpack's coaching staff.
"I'm thrilled to announce three quality hires for our basketball program," Keatts said. "These are three coaches that add tremendous experience to our program and will help us develop our young men to the best of their abilities both on-and-off-the-court."
Mike Summey (Assistant Coach)
No stranger to the state of North Carolina and NC State, Summey, a Hickory, N.C. native, returns to the Pack after 20 years climbing the basketball ladder. A 1997 NC State graduate, Summey served as a student manager as a senior and also spent two seasons as a graduate manager with the Pack from 1997-99.
He was most recently with Bowling Green where he served as assistant coach from 2015-20. At BGSU, Summey worked day-to-day in the development of the players. He also played a big role in opponent scouting and off-campus recruiting, among other duties. He helped develop several All-Conference players in his time at Bowling Green as Falcon players received All-MAC recognition 11 times in his five seasons with the program, including having a first-team and second-team selection each of the last two seasons. In 2018-19, Summey helped Bowling Green achieve its first MAC Tournament championship game appearance in 17 years as the Falcons finished with a 22-12 record. In the most recent season, Bowling Green finished with a 21-10 record and was a No. 2 seed in the MAC Tournament when the season was cancelled because of COVID-19. In his last two years at Bowling Green, Summey helped the Falcons win 21-plus games in back-to-back seasons for the first time since the 1947-49 season.
Summey has an extensive coaching background, he came to Bowling Green after two seasons as the Associate Head Coach at St. Francis (Pa.). He also got his first full-time assistant job in college basketball with the Red Flash from 2000-03. Before Saint Francis (Pa.), Summey served as Director of Basketball Operations with the Miami Hurricanes for four years from 2009-13, where he oversaw the day-to-day administrative operations of the program. He served as the head coach at Bethany College (W. Va.) during the 2008-09 season and two years as the assistant head coach at North Florida from 2006-08, aiding in the Ospreys' transition to NCAA Division I and the Atlantic Sun Conference.
As the head coach for Division III Bethany in 2008-09, the Bison went 17-12 and finished second in the Presidents' Athletic Conference with a 9-3 mark en route to a PAC championship game berth and an ECAC South Region Tournament invitation. Despite losing four starters, Summey posted the best record in Bethany history for a first-year head coach.
Prior to joining the UNF staff, Summey served for two years as an assistant coach at The Citadel from 2004-06. Summey's career has also included a stop at Queens University in Charlotte, N.C. as the top assistant in 2003-04.
Steve Snell (Director of Basketball Operations)
Snell joins NC State as the Director of Basketball Operations with over 30 years of experience at the Division l level.
Most recently, Snell spent one season as assistant coach at Ohio in the 2019-20 season. Snell came to Ohio after spending three seasons at the University of Denver. He played a big role in the continued development of Pioneer basketball program as Denver had multiple players earn all-league recognition. Snell was a key part in the Pioneers success on the floor in 2016-17, which resulted in the team posting a 16-14 record and going 8-8 in Summit League play. The eight league wins were the most by the team since joining the league back in 2013. He also assisted in the development of a high-paced offense that led to DU scoring 75.8 points per contest in 2016-17, the most by the team since going up to Division I back in 1998.
Snell spent two seasons as an associate head coach at Santa Clara (2014-16). Snell was also at Air Force (2007-14) for seven seasons, the final two years as associate head coach. Prior to Air Force, Snell spent two seasons (2005-07) as a member of the coaching staff at Louisiana-Monroe. He helped the Warhawks to the co-championship of the Sun Belt's West Division in 2006-07 with an 18-14 record, including a perfect 14-0 mark at home. Prior to coaching at ULM, Snell spent four seasons at Tulane University, where he served as an assistant coach.
A native of Radford, Virginia, Snell served as an assistant at Marshall University for five seasons under head coach Greg White. In his time at Marshall, Snell helped the Herd to an 86-54 (.614) record.
Prior to his move to Marshall, Snell spent three years as an assistant coach at East Tennessee State University. He served the 1992-93 campaign at the University of North Carolina-Greensboro and also spent two years at Wingate University and one season at Radford University.
Snell and his wife, Ann, have two sons, Jaden and Jordan.
Chris Zupko (Assistant Director of Basketball Operations)
Chris Zupko has been hired as Assistant Director of Basketball Operations.
Zupko comes to NC State from Drexel where he spent four seasons as coordinator of basketball operations.
Prior to joining Drexel's staff, Zupko worked for the Hoop Group in Neptune, N.J. since 2006 where he spent nine years as the director of Hoop Group Skills Camp as well as a year as the assistant director of Hoop Group Elite Basketball Camp. In this position, Zupko helped grow the camp to 1975 campers with notable alumni including Karl Anthony-Towns, Kyrie Irving and Michael Kidd-Gilchrist.
Before he moved to the Hoop Group, Zupko spent six seasons as an assistant basketball coach at Hargrave Military Academy, including four seasons as an assistant for Kevin Keatts. He was a member of the Hargrave staff when the team won the national championship in 2004. There helped send 58 players to Division I, while six would go on to play in the NBA, including Joe Alexander, the No. 8 pick in the 2008 NBA Draft. Zupko also helped to produce two McDonald's All-Americans. At Hargrave, Zupko also served as the head coach of the varsity lacrosse team.
Zupko began his coaching career in basketball in 1995 at Roanoke College in Virginia following the completion of his bachelor's degree. He also holds a master's degree in physical education from the University of South Carolina. Zupko helped guide Roanoke to four NCAA appearances, two conference titles and a Sweet 16 appearance before spending the 1999-2000 season on the coaching staff at Hobart College.
Never miss the latest news from Inside Pack Sports!
Join our free email list