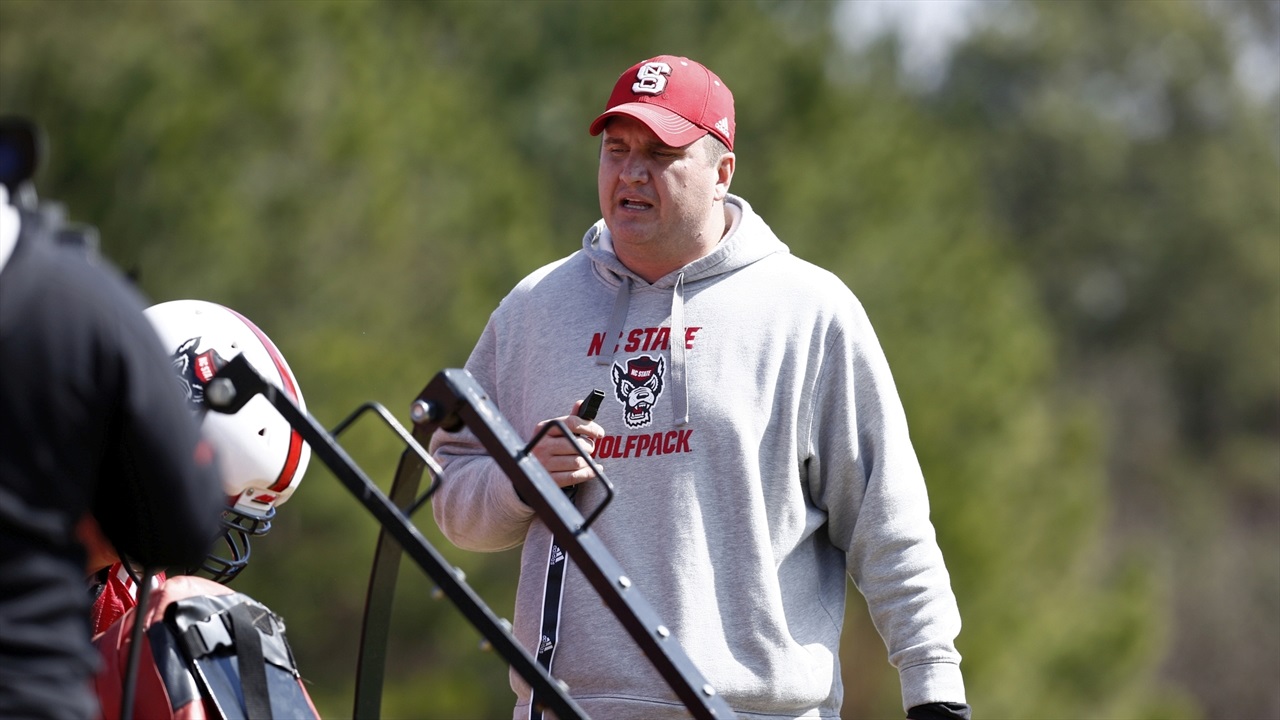 Photo by Jeff Reeves/Inside Pack Sports
NC State Football
John Garrison Excited To Continue Developing Offensive Linemen
---
With NC State moving forward after an abysmal 4-8 2019 season, Wolfpack offensive line coach John Garrison enters 2020 with four starters and multiple reserves from the previous year.
In his second year in Raleigh, Garrison will be able to reap the benefits from having underclassmen who had seen action in the year prior and watch them flourish in a revamped offense under new offensive coordinator Tim Beck.
One of the underclassmen that can serve a key role in 2020 is redshirt freshman Dylan McMahon. The Savannah, Ga. product saw action in four games last year, notching his first collegiate start versus Clemson. With McMahon finding his stride at the guard position, Garrison sees McMahon as a leader on the O-line despite only being in his second season with the team.
"[McMahon] is an extremely confident guy," Garrison said. "He does a great job of communicating and works hard. He's one of those guys you can trust. Even at a very young age, he's going to do everything it takes to be a pro."
Another player set to make an impact after taking a redshirt is redshirt freshman Timothy McKay. Despite his brother Matthew transferring out of the program, McKay is primed to make an impact in the upcoming campaign after seeing special teams snaps in the final three games of 2019. Currently listed at 306 pounds, McKay is someone Garrison looks at as someone who can play at either guard or tackle, though he's pegged at the latter spot for the time being.
"I think he can play both," Garrison said. "He is extremely athletic in what you're looking for at the tackle spot, being able to move. The physicality part is something he's got, but I just want to see him improve a little bit more. Your inside guys have got to be bulls; they have to be tough and hard-nosed. It's not that he's not those, but I just think, right now for him, it's best to put him in the tackle spot."
Both McMahon and McKay were able to capitalize on the recently-changed rule about players seeking a redshirt being able to play in a maximum of four games. Wanting to capitalize the most he can from his freshmen at his position group, Garrison knows the tightrope that he walks in order to maintain his players' eligibility, especially considering how it pertained last year to McMahon.
"McMahon probably should have played a little bit early on with him being able to redshirt through four games," Garrison said. "The way that I'd started out when I got here with our injuries in the spring, I was nervous about playing him. You play him in those first four games where he could have gotten some playing time and some experience, then all of a sudden you have to play him. If you didn't play him early on, and then if you get in a situation where you have to play him, you can play him the last four games, and he still gets the redshirt."
Despite the questions about the Pack's freshmen and maintaining redshirts, one major freshman undoubtedly made a huge impact in the 2019 season: Ikem Ekwonu. A starter during the final seven games of the season, Ekwonu saw action in all 12 contests and earned Freshman All-American honors from the FWAA and All-ACC Second Team honors from Pro Football Focus. The Queen City product will be one of Garrison's top players and another flexible cornerstone to the offensive line heading into 2020.
"Ickey is so darn physical," Garrison said. "He could be a guy that gets down inside. At the end of the day, for me, it's about putting your best five out there. The thing that he brings is physicality. I'd like to keep him at tackle because he obviously has success at that, but if it comes down to it where the best matchup is moving him to guard to get another tackle on the field that's one of our top five, we'll do that."
Garrison's biggest focal point on the offensive line is his center, and redshirt junior Grant Gibson has been a major boon for State in the trenches. The only player to start all 12 games on offense last season, Gibson led the team with 895 snaps. With Gibson in the middle, Garrison is confident in the whole group's ability to remain strong as a unit.
"Our centers set everything," Garrision said. "You've got to be a verbal guy. You've got to be a leader, and Gibson did an outstanding job with that. He just needs to clean up some of the small things with his game. He can only get better."
The 2020 football season is slated to begin in just over five months. The Wolfpack is prepared to refurbish and retool its offense, and with a team philosophy centered around winning in the trenches, Garrison is primed to ensure his linemen are ready for the grueling challenges ahead.
"There are going to be guys that are going to step up," Garrison said. "We'll get these guys back healthy, and a lot of them are going to start getting healthy toward the end of spring. I'm excited about the group we have. We've got guys that can step in any role."
Never miss the latest news from Inside Pack Sports!
Join our free email list