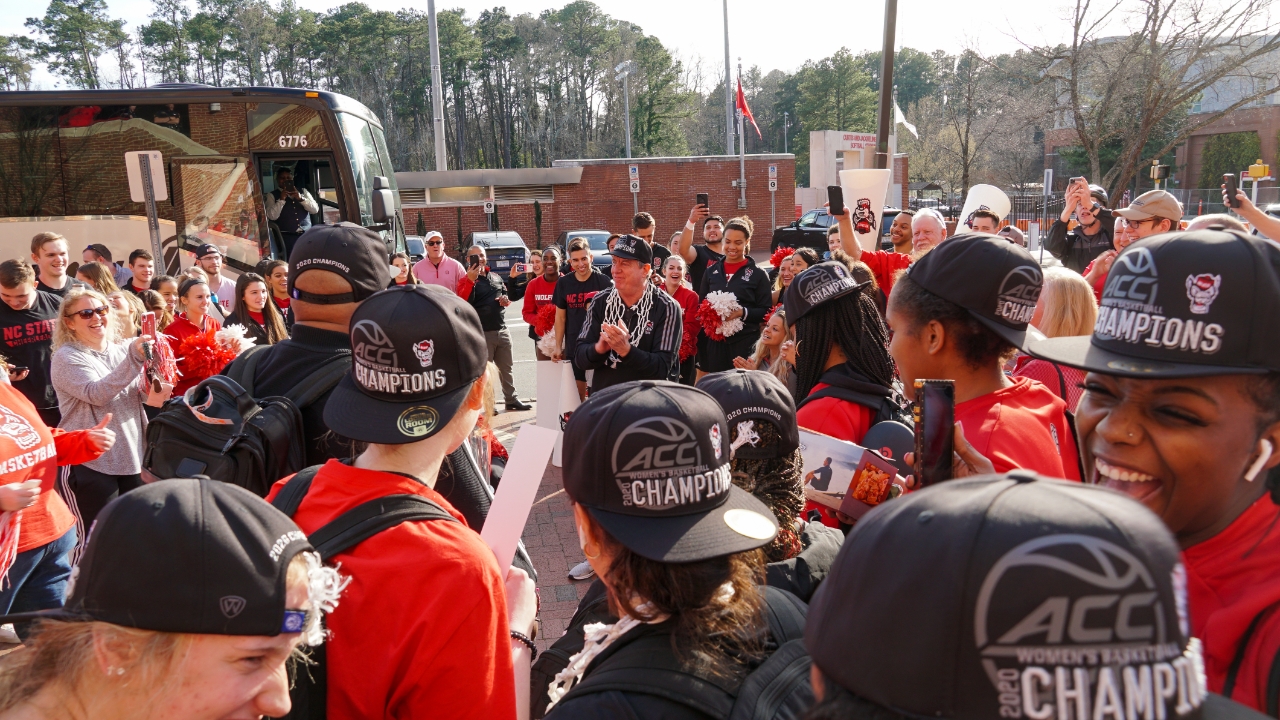 Photo by B.P. Cox/Inside Pack Sports
NC State Football
MCLAMB: The Pack Has It In Them To Endure
---
Life is fleeting. Life is unfair. Life is to be cherished.
Tomorrow is not promised and the purpose of college is prepare its students to be well-rounded in an ever-changing world of unpredictability. And yet here we are, dealing with something unprecedented.
NC State was poised to have a close to its 2019-20 campaign that would have potentially placed the Wolfpack Athletic Department in a different stratosphere.
The women's basketball team along with the wrestling program each won conference titles in a span of hours, and there was legitimate hope for a solid finish nationally. The gymnastics team won its league title also.
The men's basketball team was fighting for an NCAA Tournament berth, with a matchup against Triangle-rival Duke set for Thursday's ACC Tournament quarterfinals in Greensboro.
The softball team is undefeated in conference play. The baseball team as well as both the men's and women's tennis squads are ranked in the top-10 nationally. The swimming and diving program at NC State continues to dominate the ACC.
The comprehensive success of NC State's athletic department has been an ongoing effort that is starting to provide tangible benefits. Eight ACC schools were in the top-15 of the College Directors' Cup on January 16th standings with the Wolfpack being one of them.
Not only is NC State's athletic department succeeding, the Pack is doing it in a league that is providing the toughest competition by a wide margin.
The situation with the Coronavirus is in its earlier stages within the United States, so it is unknown where it will go. The uncertainty is frightening. It has led to sports being put in its rightful place within society.
Cancellation of spring sports means the Wolfpack has a lot to lose but there is much more that has been gained.
There are 'championships' in everyday life. Spending time with family and loved ones, the peace of mind that comes when it is known that those who are cherished and loved are healthy, and simply being able to interact with others in a world that is as interconnected as ever are just some of the joys that don't merit trophies or banners but have a underrated value that always supersedes any athletic endeavor.
It is a tough time and human nature means it is only natural to lament the lost opportunities but it is also important to remember the chance that can be gained if only one life is saved.
Perhaps someone on the NC State's men's basketball team may one day get an invitation to an event that opens doors in his life. Members of the Wolfpack tennis teams could become a parent one day and tears will well in their eyes when they witness their own healthy child achieving its goals in life.
The students who play for and follow the Pack can use this experience to improve the lives of others in many different ways, and they have the successful pedigree that it takes to do it.
When school returns, and it will at some point, most of the student-athletes that excel in their sport will get to show off the underrated skill-set that allowed them separation in the recruiting process; their academic ability. It is sad that many seniors may not participate in collegiate athletics again (depending on their circumstances) but the degree they can earn from NC State is a tangible achievement that will endure.
'The strength of the wolf is in the pack' is the Rudyard Kipling quote that NC State students, alumni, and fans are often reminded of. It is written inside Reynolds Coliseum, which is the closest thing to an athletic holy site at the university.
'Survive and Advance' is the phrase coined by Jim Valvano, the man the arena inside Reynolds is named for. Almost 27 years after his passing, Valvano continues to battle the good fight against cancer. if he were alive, he almost certainly would want the same effort to be applicable to contagious viruses.
Now is the time for the Pack to stick together, survive, and then advance. Don't give up, don't ever give up.
This is a tribulation, but sports will one day return and NC State can continue to make gains while also creating memories for its own large family.
North Carolina State University will be alright. It will not be easy, but the Wolfpack is going to make it through this.
Never miss the latest news from Inside Pack Sports!
Join our free email list