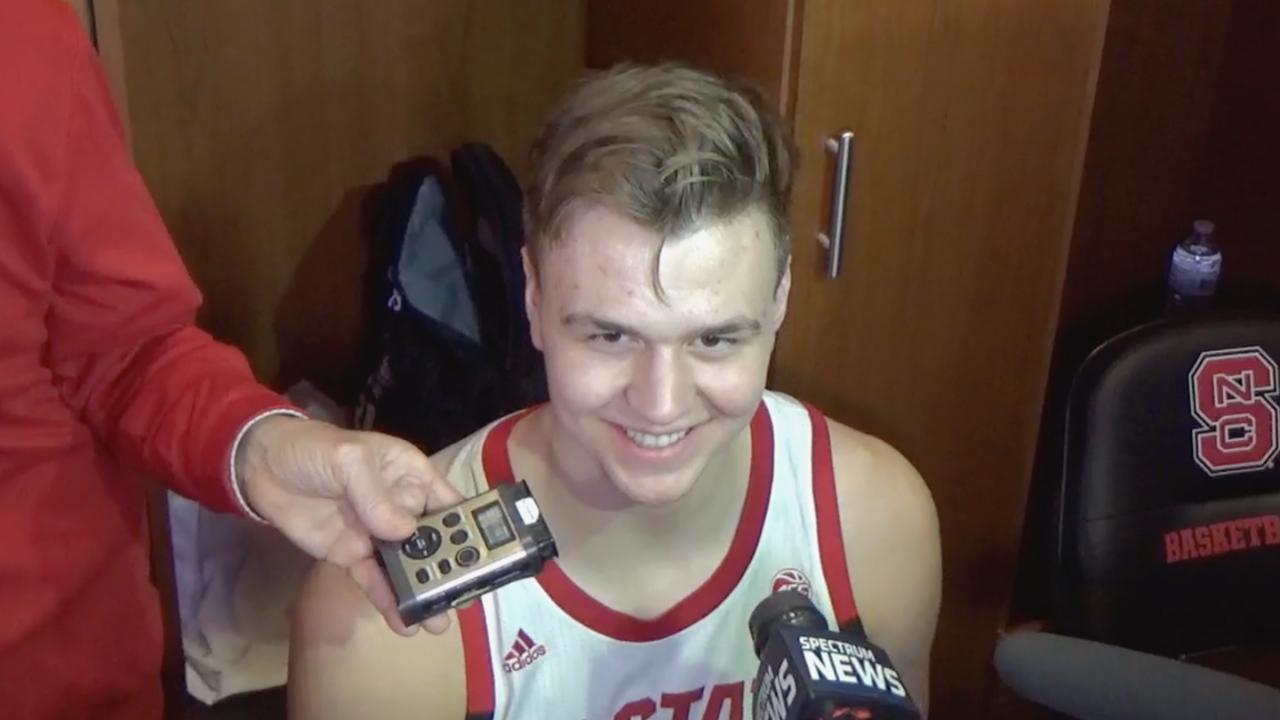 Braxton Beverly
C.J. Bryce
Danny Dixon
Markell Johnson
NC State Basketball
LOCKER ROOM REPORT: Wolfpack Players
---
Several NC State players met with the media following the Wolfpack's 84-64 win over Wake Forest Friday evening.
NOTE: Click on each respective thumbnail to watch each interview.
---
Braxton Beverly
"It's the same thing. It's the same effort everyday. It's all about winning the day."
"It's very important, especially for the seniors. It's about sending them out on a good note. At the same time, it's a big win for us moving forward."
"It kind of keeps the confidence high."
"It felt good. I've been constantly working, trying to get back to the hill. […] It felt good to see them go in."
"It's probably more mentally just because it hurts not getting everything to go in, and it's basically just knowing that there's a problem."
"I just kind of made it a little worse. […] With that big hit I took, I just kind of aggravated it."
C.J. Bryce
"It's very special, especially coming off that loss to Duke. For our seniors and for the team, it's very special. We just want to build off of it and get ready for Greensboro next week."
"You could say that this team's matured. We got a good lead going into halftime, and we came out with the same mentality and stayed aggressive. We played very good defense tonight, and like I said, we just want to build off of it."
"We have momentum going into the tournament. I'm not sure when we're playing or if we get a bye or not, but whenever we play, we'll be ready. We've seen everybody in the conference, and we're going to make a statement."
"[Dixon] was great. Danny was great for us tonight, and that's the player he can be. He took full advantage of his minutes tonight, and we look forward to him doing even more for us."
Danny Dixon
"I stay ready in practice, and when I get my opportunity, I try to come ready."
"I'm a basketball player. I try to take advantage of the opportunity."
"I'm just trying to stay ready when I have the opportunity to come in. This was a big game for us, so I knew it was important for me to come in and play hard, so I just did what I could."
"That was an awesome moment."
Markell Johnson
"I just want to shout out my teammates for sticking it out through the ups and downs. They made a run to get back in the game, and we pulled away. I congratulate my teammates for that."
"Definitely. I remember last year when Torin [Dorn] went out. I'll definitely remember this for a while."
"I want to say it was the first Duke game."
Never miss the latest news from Inside Pack Sports!
Join our free email list