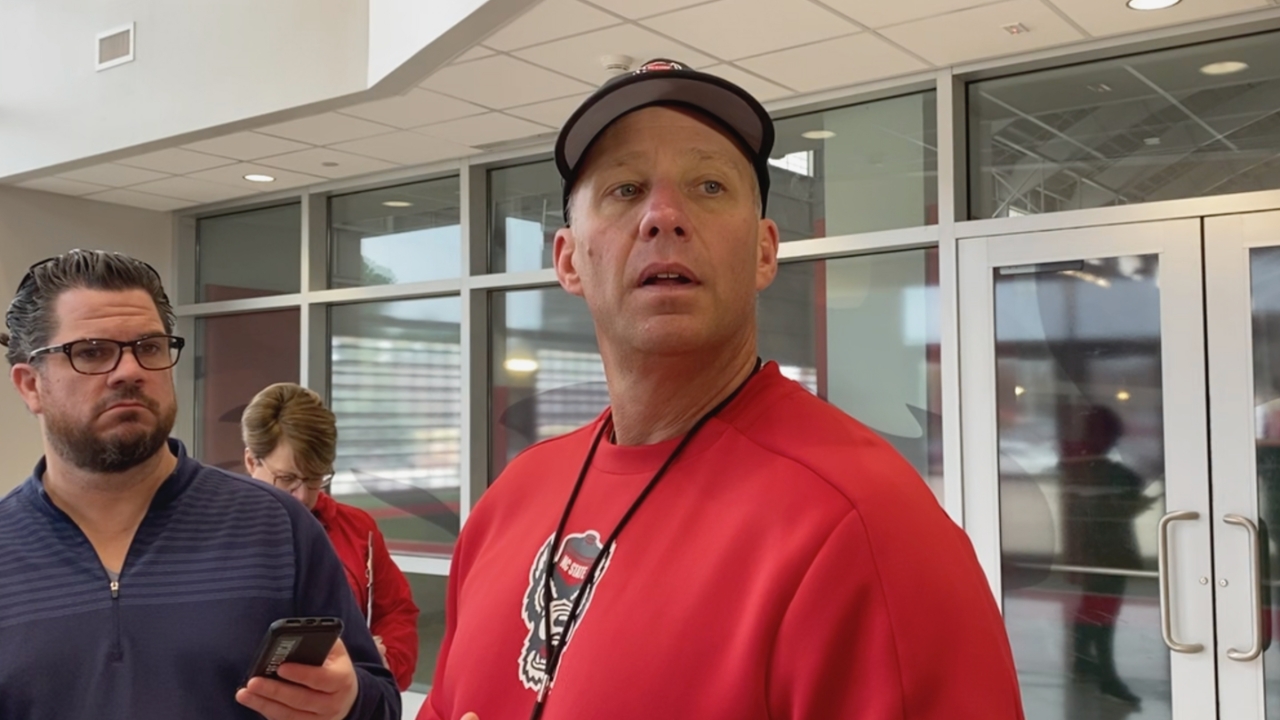 Photo by Daniel Wilson
NC State Football
DOEREN: "We're Seeing A Lot Of Growth"
---
NC State head coach Dave Doeren met with the media following the Wolfpack's football practice Thursday morning.
NOTE: Click on the video in the player above to watch Doeren's interview.
---
"You see a lot of growth in the guys that took a lot of reps, and you see the brand new guys going through 'Oh my God' situations. Josh Harris matched up on a freshman at times, and that's a big mismatch at times with his weight. It's been fun. Their attitude is really, really good. There's good leadership from the guys. There's good recall. Guys are learning day to day. I think the best thing is that if you see a guy make a mistake, the guys coach him and talk to him about it, and the next day, it's off the film. That's the best thing we're trying to get done right now: take those little improvements day by day."
"Good. The guys that are out are out, but they're getting better. All we've had is cold and flu type stuff here, no coronavirus."
"Yeah, the surgical guys from last season are not back yet, but they're doing well."
"[Justin] Witt, Tyrone [Riley], C.J. Riley, Chris Ingram… Teshaun Smith will probably be back at some point during the spring, but everybody's progressing really well."
"In today's offensive world, you need depth. You need to be able to play as hard and as fast as you can and rotate guys to stay fresh. It used to just be a D-line-type thing that you would do, but I think it's good for your 11 starters to have a true guy that can go in there and give them a series of three or four plays and, if you have injuries, be able to not have a drop-off. It's critical."
"I think the biggest thing is they're experienced. They're all talented. They're all a little different from each other, so it gives you a little diversity with your different play calls. There's competition. Those guys compete, and they want to be the best back we have, so it's bringing the best out of each other."
"We're really hopeful that that's what [Dylan McMahon] becomes. He played his butt off in his only college start. He's out this spring, but he'll be back as a center and guard. He won't play tackle for us, but he's a guy that can play any of the three inside spots."
"Porter Rooks and Devan Boykin have made plays early. I think Ethan Lane and Sean Hill are getting reps with our twos because of the linemen that are out. They're doing a good job. Ethan really plays hard, and it's fun to see him on the field. Those are the four that come to mind."
"[Thayer Thomas] redshirted in baseball this year, so he's full-time with us."
"I wouldn't say [Savion Jackson] has grown as a leader yet. I think he's working hard to do everything right. He definitely is a positive influence around the guys around him. He's an encouraging guy, but he's not stepping out and giving speeches yet. He's not there. I think he's just more comfortable. I think he's learning. Last year, everything was fast, and he was processing. He didn't want to make mistakes, and now he's just playing. He's just a little bit more free because he understands what's expected."
Never miss the latest news from Inside Pack Sports!
Join our free email list