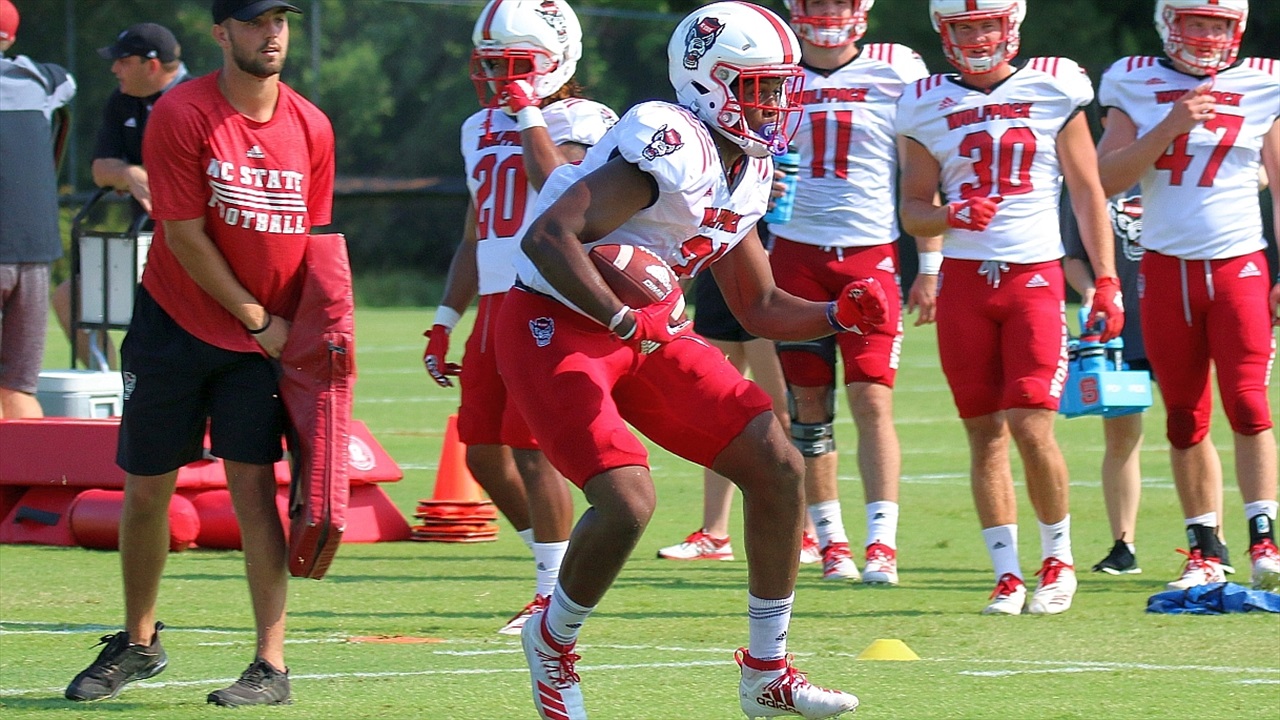 NC State Football
Vi Jones: "I'm Really Excited To Be Back Out There"
---
Redshirt junior Vi Jones enrolled at NC State last January as a mid-year transfer from Southern California. A highly-regarded prospect out of high school, Jones played sparingly his first two seasons as a Trojan and knew he had to use a redshirt year at NC State.
In his year on campus Jones has seen the Wolfpack's defensive scheme go through multiple changes.
"Well, honestly it's changed quite a bit," Jones said of the scheme. "When I got here coach Huxtable was the defensive coordinator, and we ran a little bit different defense in the spring than we did in the fall. I learned that playbook pretty well.
"We changed to a 3-3 front, and we had some new stuff put in so I adapted to that. I wasn't able to play this year so I just did my part. I tried to be a great teammate and be there for them, as well."
Jones referenced the change at defensive coordinator, but Huxtable was also his position coach who played a major role in Jones picking NC State. Huxtable actually coached his father, former NFL standout Robert Jones, at East Carolina.
However, Vi has already started to build a relationship with new defensive coordinator/linebackers coach Tony Gibson.
"Coach Gibson, he's awesome," Jones said. "He was with us last season, so it was cool. I got a chance to be around him, and I really like what he's doing. I like what he's installing in our program. I'm really excited to get back out there."
If Gibson chooses to, he could likely ease Jones into the rotation given the depth returning at linebacker. With contributors Isaiah Moore, Payton Wilson, Louis Acceus, Drake Thomas, Calvin Hart, and Jaylon Scott all returning, it might be the Wolfpack's deepest position once you add Jones into the mix.
"Everybody is coming back," he stated. "It's great to have depth in the position, and knowing all of us are very talented, we like to take pride in being the best position group on defense.
"Having the depth is really good. We can all play and all be there for each other."
For Jones, he now has to simply turn the switch back on. Last season he had to sit out and practice knowing he wouldn't play all of 2019. Now he's competing for valuable reps and a spot on the depth chart.
Is it a different feeling for him now at practice?
"Different in yeah, I get to play, but my mentality, no," he said. "I'm still trying to get better. I'm still out here celebrating with my teammates and working hard... having fun.
"This time I get to play, so I'm looking forward to finally getting back out on the field and putting on a show for the fans."
Never miss the latest news from Inside Pack Sports!
Join our free email list