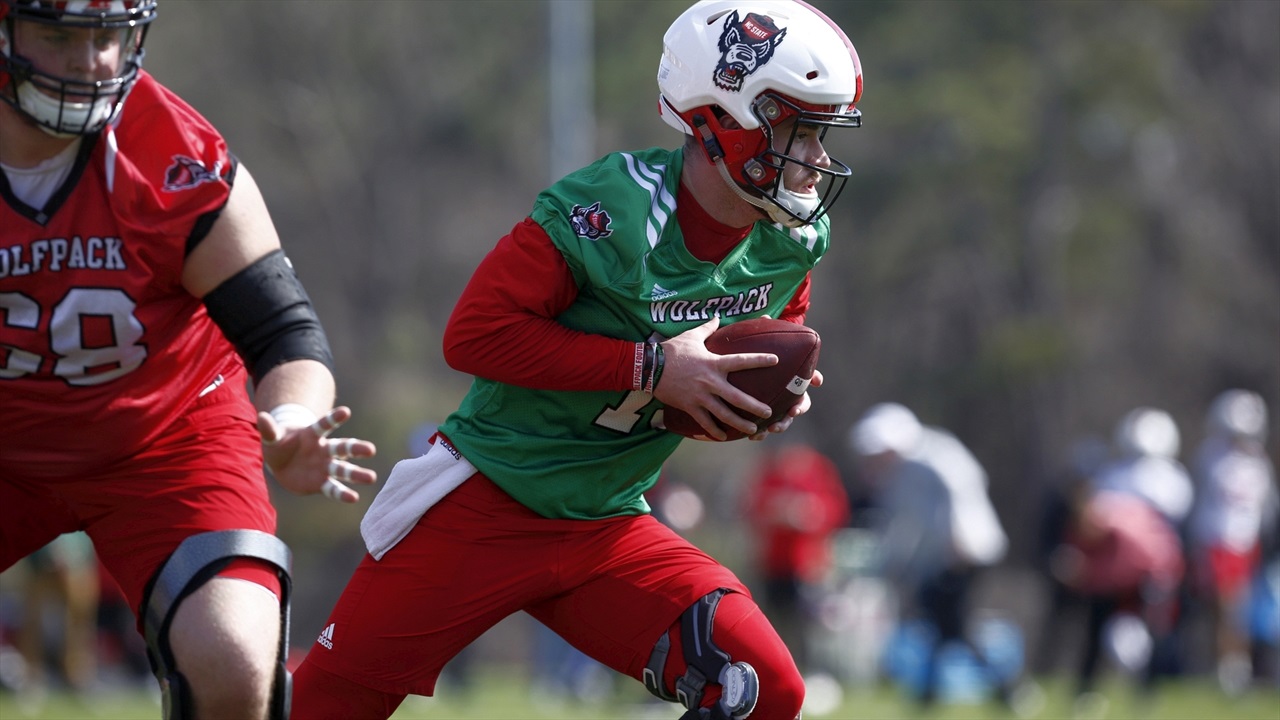 Photo by Jeff Reeves/Inside Pack Sports
NC State Football
TRI-PARTISAN: Doeren Confident In Leary Heading Into Spring Practice
---
Each week I submit a Tri-Partisan column to WRALSportsFan.com, and here is today's feature where I tell you why this spring it is important for NC State to try and develop Devin Leary at the quarterback position.
---
WRALSportsFan.com: Doeren Confident In Devin Leary Heading Into Spring Practice
Basketball season is winding down, but this week has been important for NC State football with spring practice starting Thursday morning. Normally the media has been granted access to the first practice in the fall or spring, but that wasn't the case this year, so there isn't a ton of scoop to pass on from that workout.
Why would State limit access? Well, it could be due to the amount of turnover on the coaching staff. Just one assistant remains from NC State's 2018 coaching staff, wide receivers coach George McDonald, meaning Dave Doeren has had to replace nine of 10 assistants over a two-year period.
With so many new faces on the staff Doeren could be limiting access to insulate his new coaches. This could provide them with security to build relationships with players and instruct without flashing cameras or outside media coverage. Seriously, there has been so much change, you can expect an awkwardness to start the spring between players and coaches.
It doesn't change the big question that Wolfpack fans want to know an answer for: will NC State be better at quarterback in 2020?
Tim Beck has taken over as offensive coordinator and quarterbacks coach, arriving in Raleigh with a reputation for developing strong offenses while producing high-level quarterbacks at Nebraska, Ohio State, and Texas. He's certainly going to play a major role in deciding what direction the Wolfpack goes at quarterback, but it sounds like right now there isn't much up for debate.
According to Dave Doeren, redshirt sophomore Devin Leary is the guy.
"Devin [Leary] is our returning starter right now," Doeren stated following the opening practice. "The other guys are trying to take the job from him. It's going to play out how it plays out, but it's his to lose."
Leary played in eight games in 2019, making nine starts. He completed 48.1 percent of his passes while throwing for 1,219 yards and eight touchdowns with five interceptions. Click the link to read the rest of the story: LINK
Never miss the latest news from Inside Pack Sports!
Join our free email list