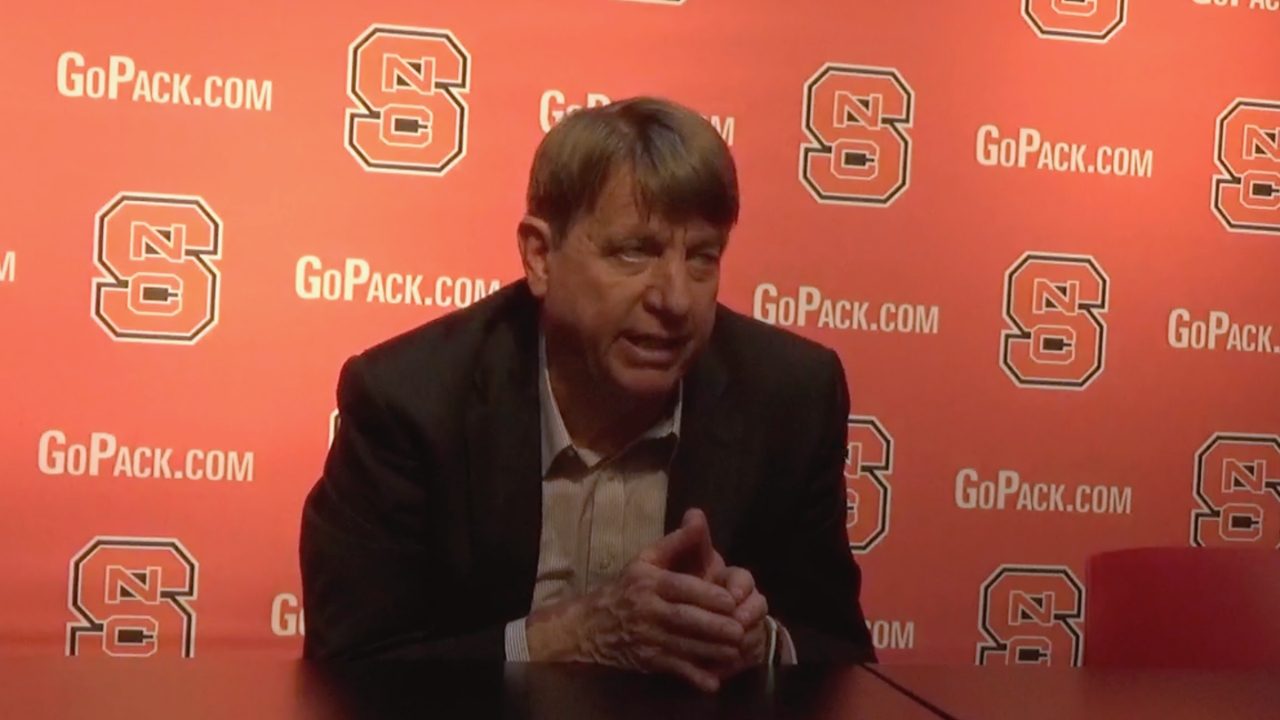 Wes Moore
Erika Cassell & Aislinn Konig
NC State Women's Basketball
LOCKER ROOM REPORT: State Squeezes Past Syracuse On Senior Night
---
No. 8 NC State head coach Wes Moore and seniors Erika Cassell and Aislinn Konig met with the media following the Wolfpack's 69-60 win on Senior Night versus Syracuse Thursday evening.
A transcript of Moore's comments is posted below.
NOTE: Click on each respective thumbnail to watch each press conference.
---
"Well, what can you say? It's Senior Night. I'm really happy for those seniors. I'm sure you all have heard already, but that class has the most ACC wins of any class in this program's history, and that's pretty great history with Coach [Kay] Yow and what the program did in her days. I'm really happy for them for putting the program back in the rankings and on the map, so to speak. We made a decision to start them. We hadn't been getting off to great starts, so I didn't think we had a whole lot to lose, and sure enough, they give us a big lift right off the bat. I always say, 'If you're playing well, I'll leave it alone.' I hadn't planned on them playing as many minutes as some of them did, but they're playing well, so we rode with it. Again, we needed that. We needed a win. Syracuse had been playing well, so it's a big win for us right now at a time when we were struggling a little bit."
"I just want leadership out of anybody, but I think it's natural for your seniors, especially with all the success they've had. It's tough with three of them coming off major knee injuries from a year ago. It's been tough to know exactly how to mesh everybody together. I don't know what I'll do Sunday, but we'll worry about that in the next day or two. Hopefully, we can figure it out and gain some momentum from this. Virginia is playing really, really well right now. I know we wrapped up second place tonight in the ACC, but you're playing for seeding and hosting, and all of those things are on the table. It's going to be Senior Day for Virginia. Two of their seniors, a game or two ago, scored 29 apiece in the same game, so we're going to have our hands full."
"I don't know. It's tough making some of these decisions. We'd felt like Camille Hobby had been playing really well, practiced well, and put a lot of time in, and we thought she was deserving of an opportunity to play in the game some. Tonight, we decided to start the seniors, and Erika played really well and did a lot of good things, so we stuck with her. She and Elissa [Cunane] both are going to have to slow down a little bit when they get the ball inside, chin the ball, see if there's help, see if there's a double, and cut down on the turnovers and those sort of things. She almost had a double-double which is pretty impressive against a team like Syracuse, so I think she definitely warrants some more opportunity as maybe some of these others do, too. I'm happy for her, and I'm happy for them. I knew it was a no-win situation. If we played well, everybody'd say, 'Why didn't you play them?' If we got off to a bad start, everybody'd say, 'Why did you start the seniors?' I'm all right; I can live with that. I'm happy for them."
"Kaila Ealey has had three major knee injuries in her time here. She'd had an ACL early, maybe her freshman year. She tore her meniscus last year, had it operated on and repaired, and sat out a good while. Then when she came back in the summer, she was released, ready to go. We sent a group to USA Basketball's 3-on-3 Tournament, including her, and she got hit when playing Connecticut and tore her other ACL. She'd been through a lot. She's a kid from Raleigh who wanted to State. She had other ACC offers. She always wanted to go to State. You hate that she's had to go through all those things, but you can see what she can do for us against the press and guarding the other team's point guard and things like that. She did a great job tonight. Erika Cassell has always had some good offensive skills and does a good job defensively even though she may be a little undersized. She really understands our scheme and what we're trying to do and is able to go out and do those things. She's a great rebounder. Last year, her injury came really late in the season at Florida State. Because of that, it's probably taken her a little bit more time to get back. Grace Hunter came in after a couple of years but had two years left. Last year, she led us and scoring, was second in rebounding, and did everything for us. Against Duke, she tore about everything up in her knee that you could tear up. It was a devastating injury. She's a kid that's really passionate about basketball. It's been hard on her going through that. You can't help but wonder 'What if' if she'd stayed healthy what we could have done last year and this year, for that matter. And Ace, it seems like yesterday recruiting her. I remember the night she called me and told me that she was coming to NC State. It was down to us and Stanford, and she was from Vancouver which is on that West Coast also. She was a big get for us at that time in our progression toward building something. She's done so much for us. It's going to be hard to watch all four of them, but at the same time, I'm proud of them. They've done a lot for NC State, and I don't have any doubt that they're going to continue to represent NC State unbelievably as they go out into the world."
"I'd never been there before. It's tough. I don't want to get into it a whole lot, but we've been struggling to shoot the ball. What we did was we pulled up February's numbers which was our last six games. We had some people shooting 17 percent and 18 percent from three. We've struggled, so what do you do? Those kids also helped us get off to a 17-0 start and beat Maryland who's ranked top-five in the country. They were doing pretty good, and I don't doubt they can again. It's hard. I'm bad about 'dancing with who brung me,' so to speak as Darrell Royal used to say down in Texas. Those kids have done a lot for us. These seniors had done a lot for us before they were hurt. Now, this other group had done a great job, but we were struggling, so you don't know when to switch gears. It's a tough call. Like I said, I don't know what the heck I'm going to approach Sunday, how I'm going to approach it, but we'll sit down, analyze it, and try to figure it out."
"We knocked down some shots. Kayla Jones knocked down a couple of threes. Ace knocked down three threes. Grace Hunter knocked down a couple. KJ and Ace are two kids that had not been shooting the three well this month. For them to get going, that's encouraging. If we can keep that bottled up and keep it going as we head into the postseason and all, that's a big plus for us. When you're not shooting well, now every defensive possession gets scrutinized and magnified. We still had 18 turnovers tonight. It's killing me, but tonight it didn't seem as bad because we were knocking down shots when we didn't turn it over. When you're only getting a few possessions and you're missing those shots, that's when it's really bad. As a coach, when you're struggling, you second-guess everything and wonder, 'What if I'd done this or that, we would have won that game.' I'm looking forward to getting a good night's sleep tonight hopefully."
"I thought we got out and ran a little bit in transition and got some buckets off that. We've been stressing that. The terminology we've been using: 'How quickly can we get the ball across half-court? How fast can we get the ball across half-court?' When they're scoring and pressing, it isn't going to be real fast, but hopefully we can do a better job of getting stops. We try to hold people to 30 at half, so 60 points is our magic number. Of course we'd like for it to be maybe 59, but that's right in our wheelhouse. It turned out to be the magic number for us tonight as well."
"I think it says a lot about how much these players care for each other. They wanted the seniors to go out right. Even though some of them didn't get a lot of playing time tonight that normally have, I don't think they care. I really don't. I think they are so happy for the seniors. I think that was definitely a factor, and hopefully we realize what's on the table here. We've got to maintain it, and this is a big game. It's going to be big for Virginia as well. It's going to be really big for us."
"I just walked by [Cunane] in the hallway and said, 'Well, you've got to be well-rested.' We knew coming into the game that Syracuse post players do a great job of burying you. When they come down in transition, they're going to nail you, they're going to duck in the paint, and I don't know what you do unless you can somehow jump out of the way and let them fall out of bounds because they're expecting contact. It's hard to guard them. You've got to tip your hat to them, and they do a great job."
Never miss the latest news from Inside Pack Sports!
Join our free email list