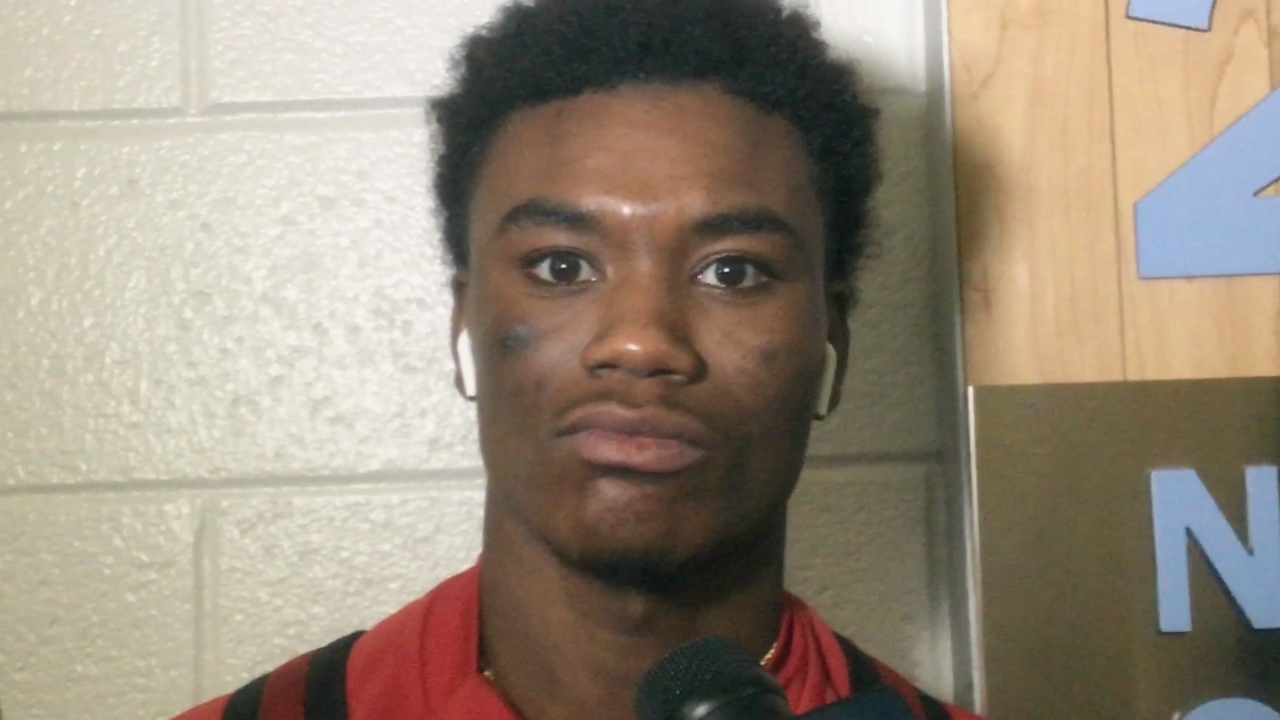 C.J. Bryce
D.J. Funderburk
Markell Johnson
NC State Basketball
LOCKER ROOM REPORT: Wolfpack Players
---
Several NC State players met with the media following the Wolfpack's 85-79 road loss to North Carolina Tuesday evening.
NOTE: Click on each player's respective thumbnail to watch each interview.
---
C.J. Bryce
"I can't answer that question, but it's all in the process of the game. We're playing as hard as we can. There were a couple of things that didn't go our way down the stretch, but we'll get back to practice and fix them."
"We just weren't paying attention to details. Like I said, I feel like we played hard on defense but let them get a couple of easy baskets. It's a game of runs, but they had more runs than us tonight."
"I'm not sure; I didn't guard [Garrison Brooks] tonight."
"Not necessarily. We're not looking at it long-term. Obviously, we will at the end of the season, but we still just want to take it one game at a time. We've got a big one coming up with Pitt at home, and that's the one I'm looking forward to next."
"We wanted to come out and put pressure on their defense. I feel like, with a couple of calls down the stretch, we could have gotten that I don't think we got. We stayed aggressive. A couple shots for us didn't fall, but it was a great win for UNC. We'll get back to work and get ready for Pittsburgh."
D.J. Funderburk
"A few players made some plays. It's a game of runs. I really don't know."
"[Brooks] had 26 [points] the first time and had 30 this time. It seems terrible in my eyes, but it's on to the next one."
"We just try not to come out flat. The majority of the times when we come out flat, we're in a dog fight for the rest of the game. We try to prevent ourselves from doing that and tiring ourselves out later on in the game after we try to come back from a loss or something like that. We came out ready to play, and unfortunately we let it slip away again."
"Honestly, I thought we played hard all the way through, but a couple of great players made some great plays at the end of the game. That's all I can say about that."
"Yeah, just don't let this one affect the next one. We can't let the next game slip away, and then we've got another game after that and then finish the season at home against Wake Forest. We've got to lock back in. We get back in the gym Thursday to get ready for Pitt."
Markell Johnson
"I'm sick. We came out. We played well. We just didn't come out with the win. We did everything that I feel like we wanted to do on the offensive end, but we just couldn't get a stop on the defensive end."
"The game's all about runs. We had a run. They went on a run. As soon as we got out of halftime, we made our run, and then they made their run. […] We've got to get back in the gym and work."
"It's very frustrating, but with everything going on, we just can't dwell on it. We just have to keep moving forward. That's really it."
"It was just a driving kind of night tonight. I just saw the lane was open, and I took the lane."
"Not on me. It's college basketball; you win some, and you lose some."
"We've just got to lock in from here to treatment tomorrow to getting back onto the court. We've just got to lock in mentally and physically."
"Definitely. We've got three games left. We just have to go out and win all three."
Never miss the latest news from Inside Pack Sports!
Join our free email list