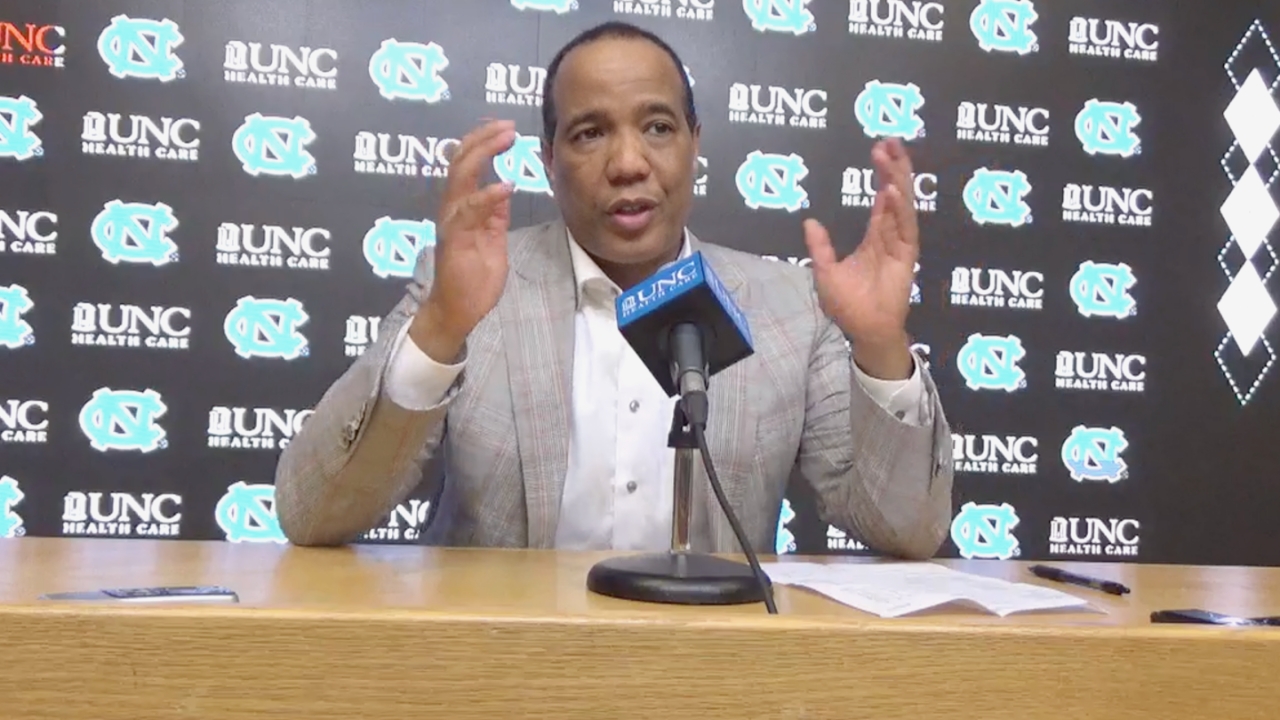 NC State Basketball
KEATTS: "I'm Proud Of How My Guys Fought"
---
NC State head coach Kevin Keatts met with the media following the Wolfpack's 85-79 road loss to North Carolina Tuesday evening.
NOTE: Click on the video in the player above to watch Keatts' press conference.
---
"I told my guys after the game that we played extremely hard tonight. The unfortunate thing was [that] we came up with the short end of the stick. Give Carolina credit; I thought they finished the game much better than we did. They'd been in a couple of games, to be exact, four out of their last six, which could have went either way. They lost by two points, and the other game was a five- or six-point game. I thought we did a lot of good things, but I didn't think we played particularly smart. We turned the ball over at key spots of the game that I didn't like. For example, I thought, at halftime, we should have gotten the last shot. We had two turnovers under 30 seconds which certainly didn't help us because all the momentum was to Carolina when we went into the half. There was one possession that I thought defined the game: free-throw block-out. They got four rebounds in a row that I certainly wasn't happy with. I'm proud of my guys in how they competed. I'm proud of my guys in how they fought. We've got to do a better job of playing a lot smarter. For the second or third time in a row, I've had key players on the bench with fouls in the first half, and it kind of changes us because we don't have a lot of depth. We've got to do a better job not fouling and obviously learn from this and move on."
"I got asked that question on the radio a few minutes ago. I know you're going to look at the score and say that [Garrison Brooks] had 30 [points] and nine [rebounds.] I thought our guys did a better job considering 14 of his points came from the free-throw line. I thought we did a really good job on [Armando] Bacot, obviously negating him from getting offensive rebounds. Don't take away from [Brooks'] performance. He was good. He was certainly much better than I anticipated after sitting out the Louisville game after being sick. I thought he played well. I thought we did a better job with him. Obviously, the score won't reflect that, but a lot of those were from the free-throw line. I think we gave him six or eight at the end, and give him credit; he made them."
"Very disappointing. Like I said, my guys competed. We played, but we didn't do all of the right stuff at the right time, and that's deflating because of the fact that we knew coming in how good of a rebounding team they are. They did a good job with 13 [offensive rebounds]. They beat us on the glass again. That one possession was really frustrating to me."
"Yeah, [Christian Keeling] is a good player. He was a really good scorer in the Big South, and I knew he was capable of making shots. He gave them a tremendous lift when you look at him: 7-for-9. I thought he got to his pull-up and made more threes than he normally does: 2-for-4."
"I wish I knew that. We got off to a great start. Maybe I should get down 10-0 and see if we can figure it out. We played well early, but obviously, the other team… they're at home, and they're going to make runs. I'm a coach that always feels like early leads never hold up anyway. Basketball is a game of runs. We started off hot. We made shots. At times, the way we started the game, the way we shot the ball early, affected us toward the end of the first half because we settled for those shots that we made early instead of driving the basketball."
"Devon Daniels thought he heard a whistle, and he stopped. They got a break, but obviously we can't get it back."
"To your question, it's not frustrating at all when it's phrased that way. Listen, this is still North Carolina. They still have McDonald's All-Americans. They're still a great program. They're not dead. They won on their home court, and our guys played well. We've got a lot of basketball left in us. I play for the guys that are in the locker room, and those are the guys who compete. I play for NC State, and if anybody doesn't like it, that's their problem. We'll figure that out, but we compete for us. Unfortunately, we lost a game tonight. It's not going to define us. We've got plenty of basketball to go, and I like where my team is right now. We'll bounce back, and we'll move on. To your question, I don't know how to answer that in any other way than: 'I've got a team that's fighting, and we lost a game.'"
"I went into the game not knowing if I was going to play [Pat Andree] a lot, but because of foul trouble, we played Jericole Hellems a lot, and I needed a guy to get in. I probably wouldn't have played him had we not had foul trouble, but I needed him. I thought he came in for the four minutes and did a good job for us."
"We decided to drive, and when we drove, we got in there. I think our guys got a little discouraged. We drove in the first half, and we got bumped a couple of times, and they didn't feel like we got the calls. I told them, 'You can't rely on your outside shot.' We started driving the basketball, and we got to the free-throw line more in the second half."
Never miss the latest news from Inside Pack Sports!
Join our free email list