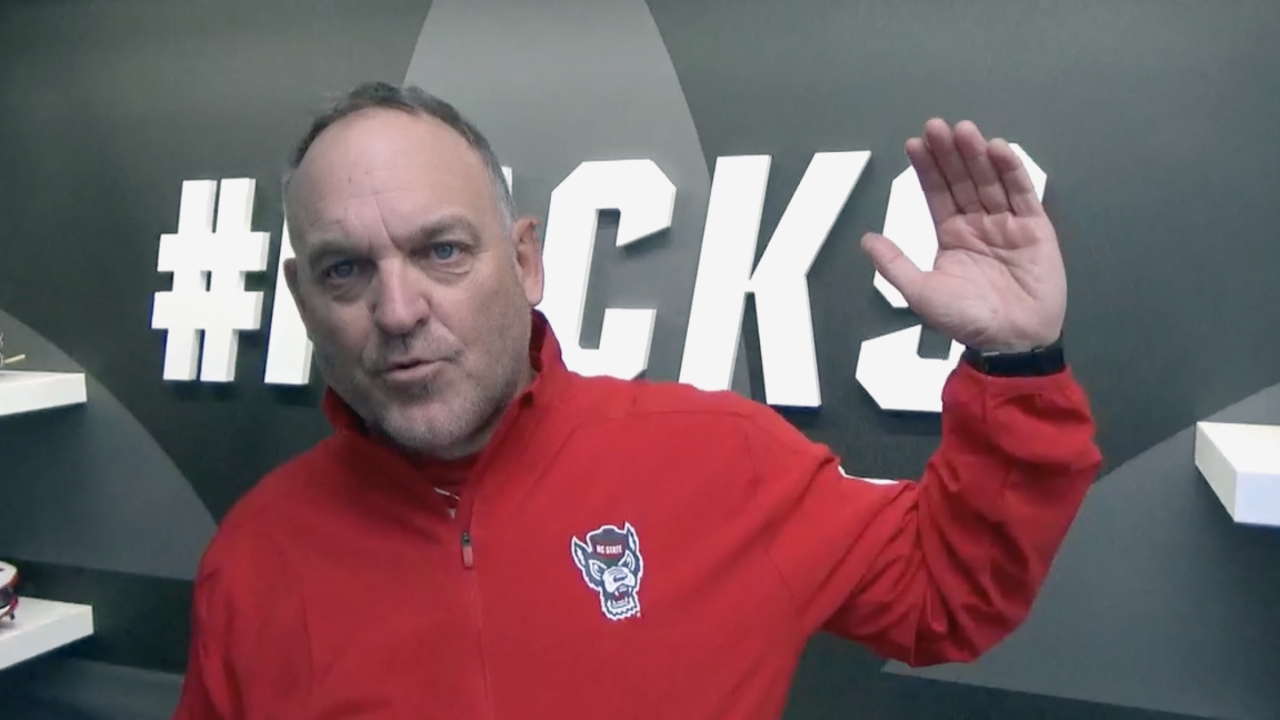 Elliott Avent
Soles, Villaman, Brown
NC State Baseball
DUGOUT REPORT: Pack Pulverizes Golden Eagles
---
NC State head coach Elliott Avent, freshman designated hitter Noah Soles, freshman left-handed pitcher Chris Villaman, and junior third baseman Devonte Brown met with the media following the Wolfpack's 15-1 win over Tennessee Tech Sunday afternoon.
NOTE: Click on each respective thumbnail to watch each interview.
---
Elliott Avent
"[Villaman] was himself [today]. He'd just not seemed himself [versus James Madison]. We had some guys with a lot of sickness early on. Reid [Johnston] was out for a week with the flu or whatever went around. I got it, and a lot of guys got it. It sets you back. When you take a week or 10 days off from pitching, you don't get it back in a week or 10 days. We're taking it easy with him and Reid Johnston. Like I said, I didn't think he was himself last weekend, but he was today."
"[Soles'] work ethic has been tremendous. He's just worked so hard in the fall. He's always down here in the cage hitting. He's done a great job adjusting to college. He came in this summer, and he's had a lot of growth in things that he's done. It's all been because of his work ethic that he's chosen to take on. He works hard. He got in there today, and good things happened for him, so good for him."
"Scoring first is one of the things we talk about. It's a good thing to do. It relaxes the pitcher a little bit. Scoring first is one of the things we talk about that we need to do to be successful, and we've done a pretty good job. We've done a good job in a lot of things."
"I thought Austin [Pace] was outstanding. He was another guy that got set back by sickness, so we had to bring him along slowly. I thought this was his best outing of the spring in any intrasquad or anything he's done. He was outstanding. He's got a big upside, and it was good to see him go in there and do what he did."
"Our goals are all about ourselves. We're just trying to get better everyday. We're playing a lot of guys, trying to see where the pieces fit, and trying to figure things out. Everything's about us right now, and it's not about who we play."
"[Luca Tresh] broke his hand. Losing him was a devastating blow. He's still not able to swing the bat yet, but we hope soon that he's able to catch. We want to get him in a game and get him behind the plate. He was excited. He might be the most excited guy in the locker room right now."
Noah Soles
"I think it was all in my preparation and just having confidence going up to the plate."
Chris Villaman
"Just believing I can throw strikes and command my fastball. I felt like I had the ability to pitch better with people on base, and I'm getting a better feel of the game."
"It feels good. Knowing the chemistry we had together, it feels good to represent our high school, and helping State right now is a good thing for us."
"Yeah, I could have, but I knew, pitch-count-wise and trying to get healthy and get back going again, that it was good that I went out."
Devonte Brown
"Yeah, I did. I knew it was gone off the bat."
"I think the main thing to remaining consistent is me going into the box, looking for a pitch to hit, and trying to hit it hard. Trying to keep this up for the rest of the season and trying to stay consistent is probably the main key not just for me but for everybody."
"I think it's just to keep winning, keep playing hard, come into the field everyday practicing with the right attitude and mindset, and just going about our business."
Never miss the latest news from Inside Pack Sports!
Join our free email list