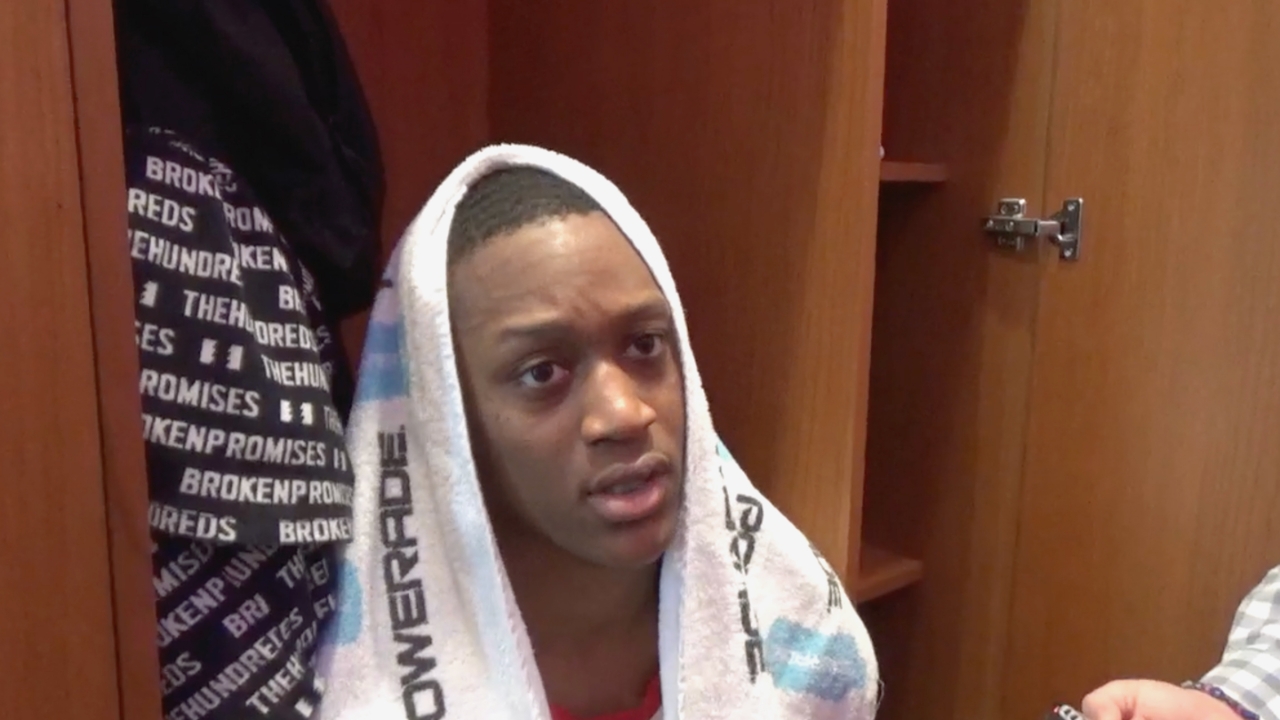 C.J. Bryce
D.J. Funderburk
Jericole Hellems
NC State Basketball
LOCKER ROOM REPORT: Wolfpack Players
---
Several NC State players met with the media following the Wolfpack's 67-61 loss to No. 8 Florida State Saturday afternoon.
NOTE: Click on each player's thumbnail to watch each interview.
---
C.J. Bryce
"I don't think it was our effort. I feel like we played hard into the last second. They went to that zone there for a couple minutes that slowed us down for a couple of minutes. We didn't get as many transition buckets and things like that, but we can't let that stop us. It hurt us on defense, and I feel like that's where we gave them the opportunity."
"We didn't expect to see too much zone tonight. I'm not sure we were up at the time they went into it, but it slowed us down a little bit. We have to continue to be aggressive."
"They're a very hard-fought team. It's a good game for them, but we can't allow that to affect the way that we play, so we have to get back to practice and get back to work."
"Yeah, they're a really good team over there, a very well-coached team. We're coming off a very great win against Duke a couple of days ago. I feel like both teams played hard up until the last second. We obviously didn't come out on top tonight, but we've got a couple more games coming up in the conference so we can finish strong."
"I feel like we're going to continue to play harder every single game. You can't worry about what's happened in the past. You have to continue to move forward, and we're going to do that with this game also."
D.J. Funderburk
"Florida State liked to spread the floor, deny passes, get out on the breaks, and look to their key players. Duke is more so a point-guard/big-man style. They're great teams, but Florida State came out with the win today."
"We know personnel at the end of the day, so we don't worry about faces or anything."
"I feel like, as much as we run in practice and in games playing in the best conference in the country, you're going to see that. It's the biggest level under the next level. You're going to see that day in and day out."
"We don't necessarily start over. We've just got to move onto the next game. Like I've said plenty of times, anybody can be beat on any night. I'm sure they've lost some games before, and they've lost some games in conference, but they came out with the win this time. I've got to respect them for that."
Jericole Hellems
"We lacked intensity coming out in the second half. We were kind of lackadaisical on the defensive end, and I think we could have pressed them a little bit more. They're a good basketball team, and I think we did some good things. All we have to do is learn from it and get onto the next game."
"[Funderburk] has been playing well for us and has been a big factor in our team on the offensive and defensive ends, especially rebounding. He does a lot for us. It was a big hit, but we have some people to step up."
"It's a tough stretch, but when you're in this league, I believe it's one of the best leagues in the country, so you just have to be willing to be ready to play and go onto the next game."
"There's always a little frustration when you're not getting the calls that you should have and calls that are going against you, but it's about playing and finishing the game strong."
"For us, it's a next-game mentality. We've just got to handle our business."
"It's part of the game of basketball. It's hard for certain players, but we've just got to block it out, just know what you've been working on, try to improve on it, and move onto the next play."
Never miss the latest news from Inside Pack Sports!
Join our free email list