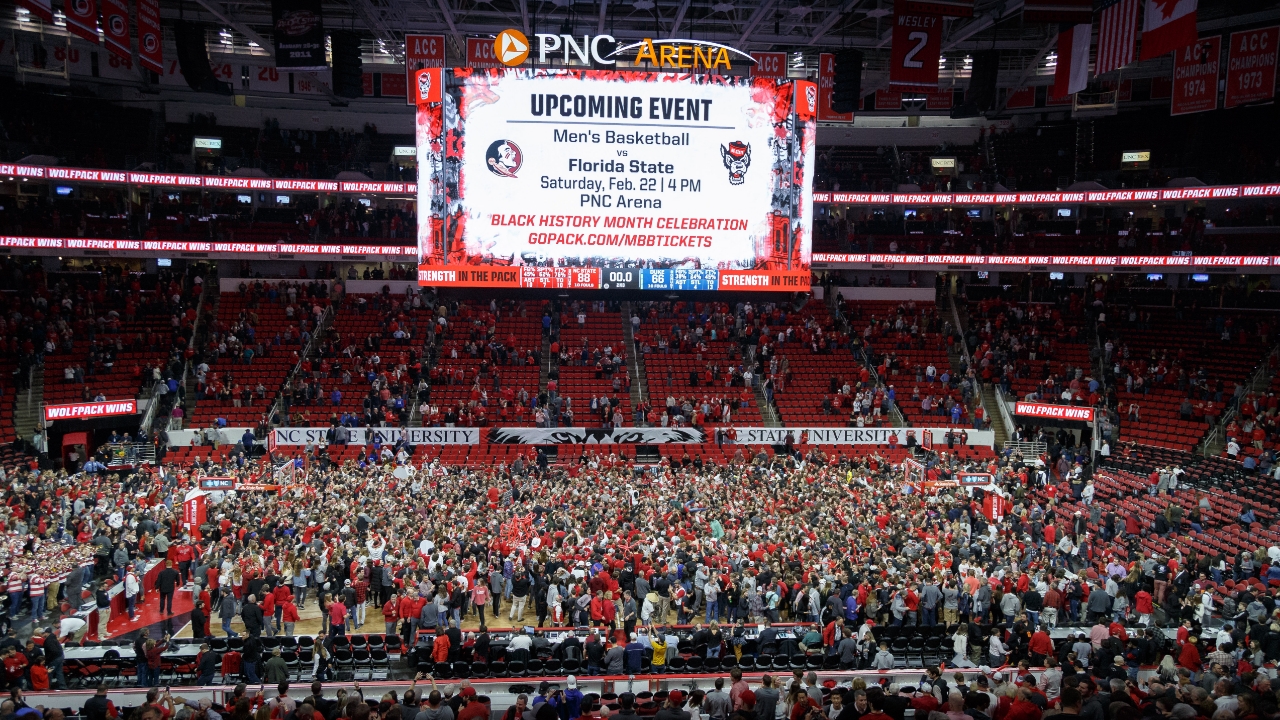 Photo by Photo credit: Steve Murphy
NC State Basketball
TRI-PARTISAN: One Down, One To Go For NC State
---
Each week I submit a Tri-Partisan column to WRALSportsFan.com, and here is today's feature where I tell you why Saturday's matchup with No. 8 Florida State could be the biggest game left on the schedule for NC State.
---
WRALSportsFan.com: One Down, One To Go For NC State
We all knew this was going to be a big week for NC State basketball, and it didn't get off to a good start with the Sunday night loss at Boston College (yes, Sunday is the first day of the week).
State couldn't make 3-point shots, hitting just 10.5% of its attempts, and senior Markell Johnson was in a major funk. He didn't seem engaged, as he wouldn't attack or even look to shoot the basketball. The team's engine? Johnson stalled out against the Eagles, and that disappointing defeat left a lot of Wolfpack fans concerned with the current state of the squad.
Checking in at 16-9 overall and 7-7 in ACC play, the Pack had completed the recent three-game road stretch 2-1 but still lacked a signature win. Is Wisconsin at home or UVa on the road a big win? Q1 victories, sure, but eye-catching results that could impress the NCAA Tournament committee? Probably not.
Because of that, following the BC debacle, most felt NC State was on the outside looking in regarding the NCAA Tournament. However, back in the friendly confines of PNC Arena, NC State would have a major opportunity with No. 6 Duke driving over to Raleigh on Wednesday and No. 8 Florida State in town on Saturday.
Still, most were skeptical that the team could rally and get up for Duke. The Blue Devils were riding a seven-game winning streak and were playing at a high level both offensively and defensively. Of course, if you're reading this column, you know what happened on Wednesday night.
The Wolfpack outplayed the Blue Devils in virtually every facet of the game en route to securing a blowout 88-66 win that caught everyone's attention. NC State played aggressive, fast, and physical. Markell Johnson was dominant, totaling 28 points, nine rebounds, and four assists. He hit 5-of-6 three-pointers to lead the way as the team shot a blistering 61.5% from long range. Redshirt juniors Devon Daniels and DJ Funderburk chipped in 25 and 21 points, respectively, and when you get 20+ points from three different players, the outcome is likely going to be in your favor.
Students packed Hillsborough Street and made their way to the Bell Tower, where head coach Kevin Keatts and several players joined them. It was certainly a glorious night for Wolfpack Nation. Click the link to read the rest of the story: LINK
Never miss the latest news from Inside Pack Sports!
Join our free email list