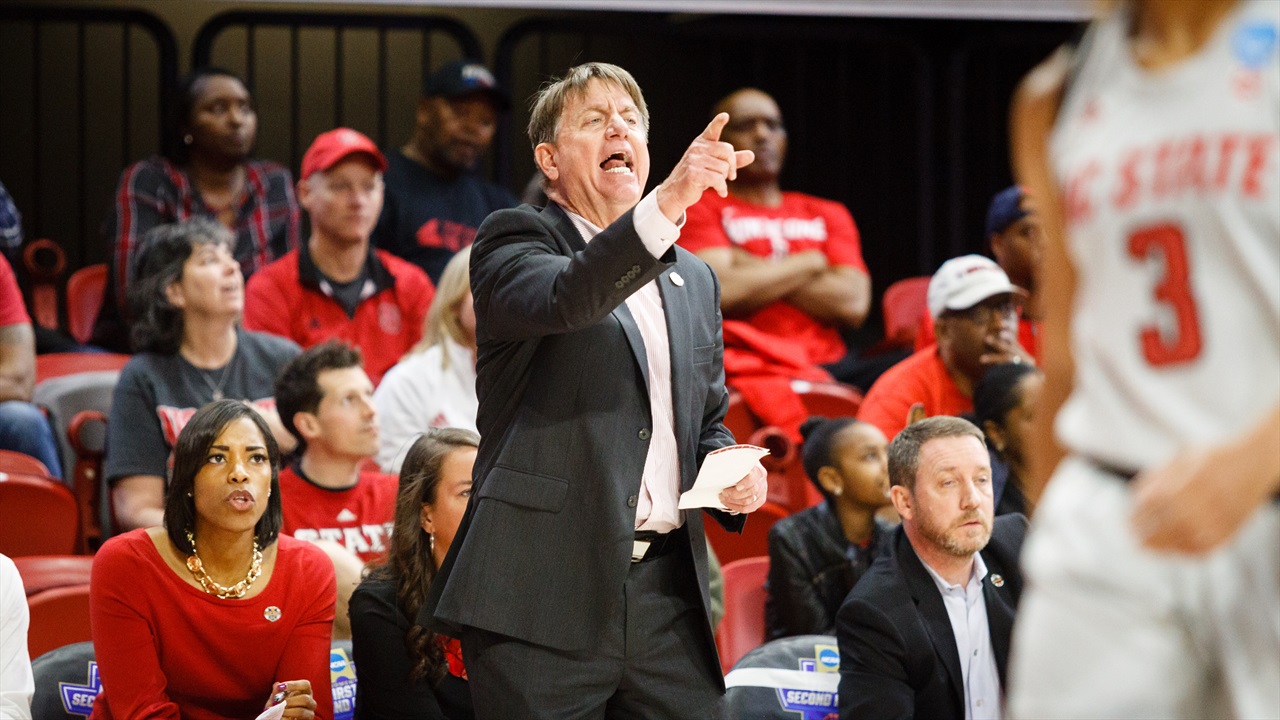 Photo by Steve Murphy/IPS
NC State Women's Basketball
Wes Moore: "We Have To Shoot The Ball Better"
---
NC State head coach Wes Moore discussed the Miami win with the radio crew after the game. Here are some of his comments from the victory.
---
Opening Statement...
I don't know how much, I know we were down... so I'm just really proud of the way we hung in there. I told them the same thing. It wasn't a pretty baby, but it's our baby, so we'll take it and get the heck out of here and go back home.
It was ugly. We had too many turnovers. We didn't shoot the ball particularly well, and give them credit for that, as well, but we hung in there and found a way.
How did things get turned around in the fourth quarter?
I don't know. We went with a big lineup. We had a KJ and Jada Boyd in there together, of course with Elissa most of the time there. I thought Camille [Hobby] did a good job. A lot of people contributed and did some good things for us when they got in there and had the opportunity.
We're struggling right now offensively. We're struggling to make shots, and I don't care what you do, at some point you have to make some shots, in this league, especially, and at the level that we want to compete at.
We'll have tomorrow off, the girls will because we don't play until Monday night.
Like I said, gutsy performance.
You had Jakia Brown-Turner at point guard late in the game to give Ace an opportunity to get off the ball.
We had KJ at the point on a few of those.
Obviously Ace was able to get to the rim that one time and hit a big bucket for us. We just thought maybe moving her on the wing could create something, but we still wanted to keep the big lineup out there.
Who knows, sometimes a blind squirrel finds a nut every now and then.
It was pretty desperate times, but let's focus. We did a pretty good job defensively against a pretty good team. We did a great job on the boards. Miami is a great rebounding team, and we won that battle.
We had I think 20 turnovers. I'm looking forward to seeing every one of those and see if we can digest that and find a way to fix it.

Brown-Turner made the shot late in to win it. What were you trying to do there?
We wanted to obviously hold it and get the last shot. What we were trying to do didn't develop.
So just being real honest. Don't tell Dr. Woodson or Boo, but it wasn't any great deal on my part. Jakia created a shot and hit a big shot for us.
We wanted to make sure we got the last shot and at worst go to overtime. We were trying to get Elissa a touch, to be honest, but they did a good job of taking that away.
What about on Miami's last offensive possession?
We decided just to switch everything. We were supposed to be switching [on the previous three-pointer], and we didn't quite get that done.

Jakia ran into the pick, we didn't switch, and we gave that up, but the next time we did a good job and got it done.
Cassell didn't get in there and Cunane was out to start the fourth quarter.
I'm trying to sub some, and I think Camille's been playing well. Erica will get another chance, I'm sure. She just has to hang in there. It's tough, but Camille's somebody that's worked her butt off every day and I just felt like she deserved an opportunity in a game situation. I think she's done okay.
I don't think Erica, Ealy, or Grace are back to 100%. If they were they would really be impacting this team. All of them are still trying to recover from those injuries somewhat. I know it's tough on them because they were starters and very prominent players. I know their roles now are not as big, but hopefully they can stay ready when the opportunity presents itself.
On getting the offense back on track for Duke...
We have to shoot the ball better.
Part of it is we got to set picks up and then actually pick the defense. It's just little things. I used the analogy earlier, it's like football, you can have the greatest scheme or play called, but if you don't tackle, they are going to score. If we don't pick well and if we don't use the pick and set those, we're going to struggle.
It's tough. People are getting after us and making it hard for us to run our stuff. We'll go back to the drawing board.
Kayla Jones, a great player for us. People were saying maybe we ought to take her out, but I had to leave her in. She's a winner and so I left her out there.
I grew up in Texas watching Texas football and some of you may remember Darrell Royal, and he used to say, "We're going to dance with the one that brung us." The people that have earned our trust, we're going to stick with them a little bit more than somebody maybe that's younger and hasn't quite earned their wings yet.
We did go to the bench and some kids stepped up and played well.
More on the upcoming Duke game Monday night...
Duke is playing really well right now and obviously they probably feel like they should have won the game over at their place. We're going to have our hands full, and hopefully we can get on track offensively.
I felt bad for the fans. We sold out the last two games, and we laid an egg. I'm sorry. When we get those people in there, we gotta take advantage of it and earn their loyalty.
Hopefully they'll give us another chance, and I hope that we can do a better job Monday night in our Play for Kay game. That's a big night at NC State when you're representing Kay Yow and her foundation. So hopefully people will come out and help us keep this thing going the right direction.
Never miss the latest news from Inside Pack Sports!
Join our free email list