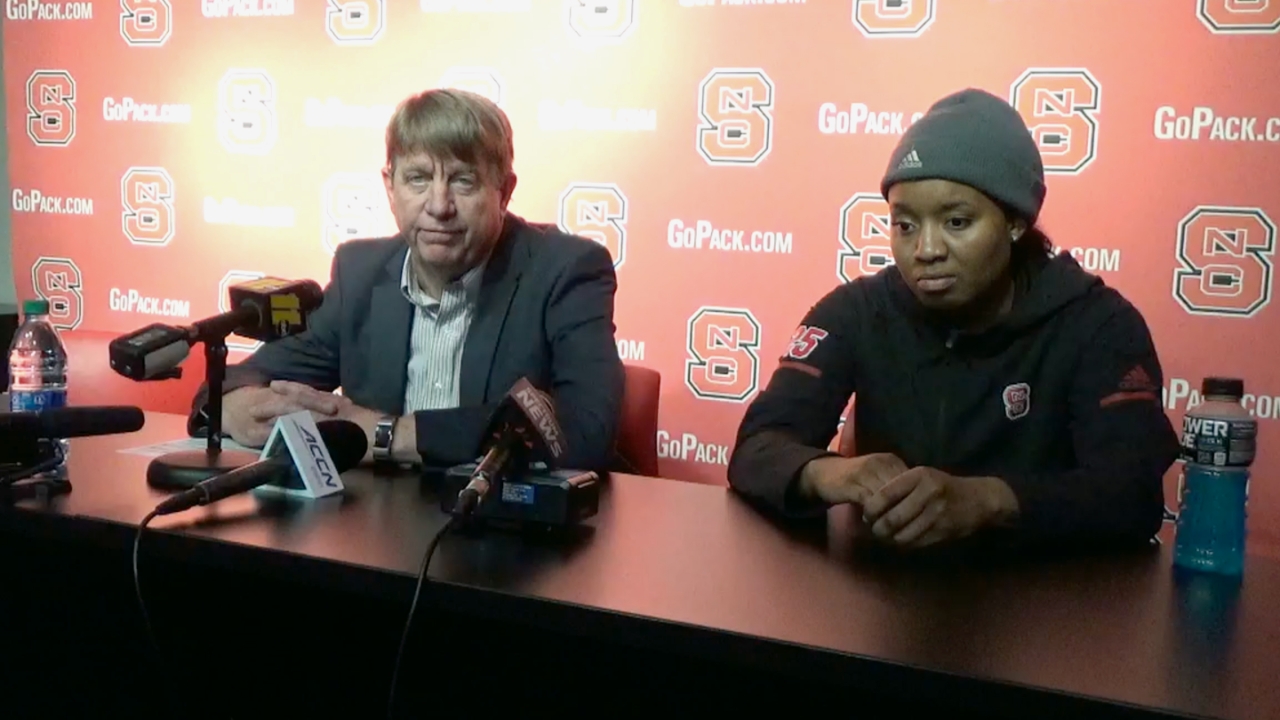 NC State Women's Basketball
WATCH: Moore, Jones Discuss Louisville Loss
---
No. 4 NC State head coach Wes Moore and junior forward Kayla Jones met with the media following Thursday evening's 66-59 loss to No. 9 Louisville.
NOTE: Click the video in the player above to watch the Wolfpack's press conference.
---
Wes Moore
"You have to give Louisville a lot of credit. They came out ready to play. They'd lost back-to-back games. Obviously, one of their best players missed those two games, but they came out ready to play. They took it to us, and we dug a hole. I thought we took some bad shots in the first quarter in particular. We forced some things. Maybe we were a little nervous or whatever, but we weren't in attacking mode. That's one of the last things I told them before we stepped on the court. I love this group of young ladies. They're awesome people, but when you step between the lines for a couple of hours, you've got to go to battle. You've got to compete and be aggressive. Louisville did that, and we didn't in the first quarter. All night long, we were trying to dig ourselves out of that hole. They came ready to play and did a nice job. [Jazmine] Jones had maybe hit eight threes all season and hit three out of four tonight. She can shoot it, but we were hoping we could get away with playing her a little differently, and she made us pay for it. [Yacine] Diop hit two threes. Normally, [she's] not a three-point shooter. They hit some shots, we didn't do a really good job defending, and they did. They made it tough inside all night on the block and tried to make us rush some shots on the perimeter. You've got to give them a lot of credit."
"I don't know if they denied [Elissa Cunane] that much, but when she did get it, they did a nice job of bellying up on her and making it tough in there for her to move. She's got to do a better job of maybe taking an extra dribble or being more explosive with the dribbles she takes and create some space. When you're six-foot-five, a lot of times you can get away with not doing that, but [Kylee] Shook matches her up size-wise and did a good job. She made it tough on her."
"If you would have told me coming in that we were only going to have eight turnovers and out-rebound them by five, those were the two main things we were looking at, so I would have felt good about it. Again, I thought they really defended us well and got after us, and we didn't do a good job of keeping them in front of us. It's pretty simple. They attacked the basket and got what they wanted, and we ended up, a lot of times, settling for a tough shot."
"Again, they took it to us. We looked nervous, scared, whatever. We also had a bye. You wonder sometimes, 'Are you better off just keeping the rhythm you've got going and the routine?' This time of year, it's great when you can give them a couple of days or the weekend off, but I don't think it was so much that. Like I said, their backs were to the wall. They'd lost back-to-back games, they came in hungry, and they've been on this stage before. We're trying to get to the elite level, so you've got to give them credit; they came in here and took it."
"Like I said, [Cunane has] got to continue to work on trying to get some separation and using the dribble. If you're only going to take one dribble, at least push it out in front and make it an explosive dribble. If not, can you take two dribbles? There's a lot of contact in there, and it's a physical part of the game. She's got to slow down a little bit. She's got a good left hand; she needs to use it more probably so they can't sit on her left shoulder where her right hand is. We might should have gone with a little bit more smaller lineup, a little bit more athletic lineup, maybe a little bit sooner. We did late in the game there, but it's hard to get away from somebody like Elissa who you've ridden with all year long. It's a tough night, but like I said, you've got to give credit to Louisville for making it that way."
"Really, in the recruiting process, it came down to us and Louisville. We were fortunate enough that [Jada Boyd] chose to come here. I think she was probably a little more motivated and focused. She's got unbelievable potential. She's going to be a great player. There are just times where it's a big jump from high school to the ACC, and her high school program was not quite as strong as some. There are a lot of things that she's still trying to grasp, but she's so doggone athletic [that] you've got to try to live with it some and let her play. She did a great job. I probably should have gotten her out there more."
"I think we were down seven, and we could have taken the last shot and maybe cut it down to five or four, but they were on the other end of the floor, and she couldn't hear me. I've got to do a better job of making sure we understand those situations. There were 24 seconds left, which now with the new [shot] clock, it resets at 20. You still could have done a pretty good job of taking the last look. Like I said, it was a big play because we failed to score, and they came down and hit a three in transition, and now you're down 10 at halftime. It was a little bit of a demoralizing blow there to end the half. It was frustrating and disappointing, but you've got to try to bounce back and learn from it."
"It doesn't change anything. We're still tied for first. It's disappointing; don't get me wrong. I understand how it works, and we really could have taken a great step tonight, but we're still tied for first. We've got five games left, and it's a quick turnaround. We come back Sunday against Georgia Tech. We've got to be ready to play. We've got all tough games coming up here at home and going on the road to Virginia and Miami. I'm focused on one game at a time. We've got to worry about Georgia Tech, and we've got to be ready to play Sunday and try and get this taste out of our mouths."
Kayla Jones
"Like Coach said, we took some tough shots. They can run. They're a team that can score off transition, and our tough shots are basically like turnovers. We probably should have taken better shots and attacked the rim, and we probably could have cut those points out."
"No, they just made tough shots at the end. We had some defensive breakdowns, and that changed the momentum. I think it was with three minutes left, and they were up by 10 again, so it was kind of quick shots in transition, and the lead was back up."
"Coach told us when we came down at halftime, 'You need to attack them.' We were settling, and we knew that if we attack them off the bounce, we would either get them in foul trouble again and go to the line or get an easy bucket."
Never miss the latest news from Inside Pack Sports!
Join our free email list