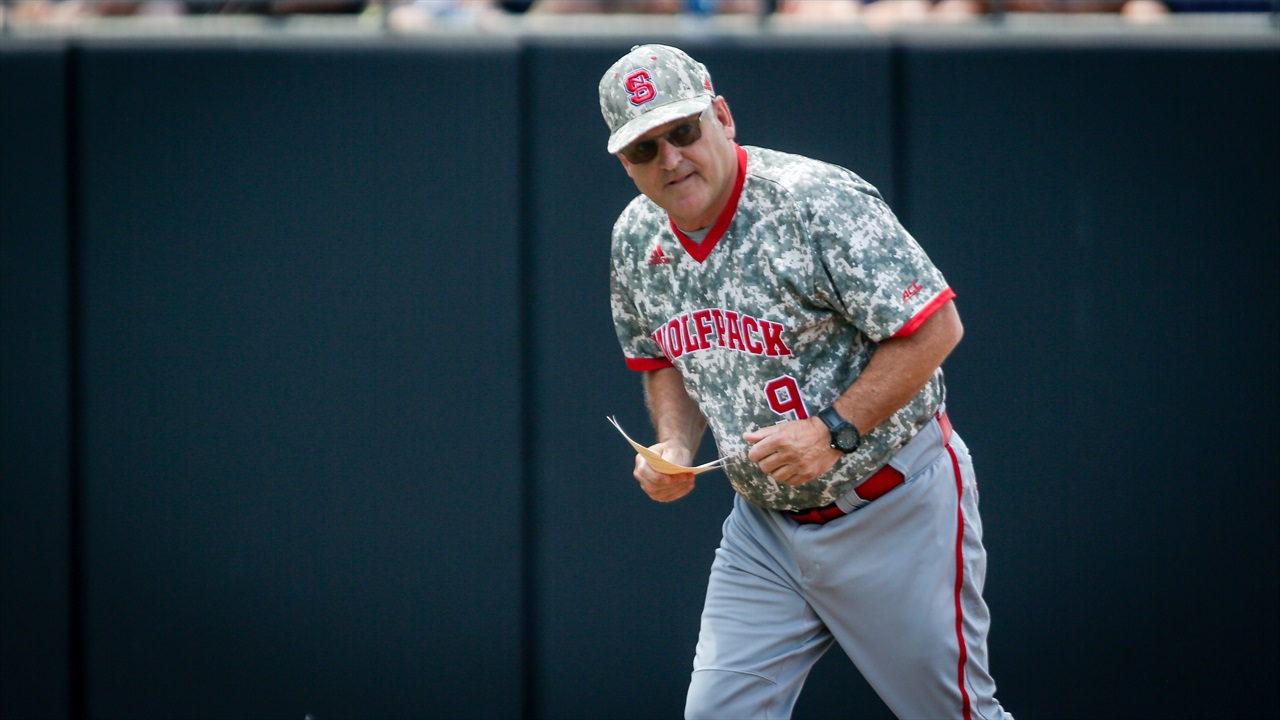 Photo by Steve Murphy/IPS
NC State Baseball
AVENT: "The Game Is What We All Live For"
---
NC State head coach Elliott Avent met with the media ahead of the Wolfpack's season-opening series against James Madison this weekend.
NOTE: Click the video in the player above to watch Avent's interview.
---
"Going into the season, we haven't lost any games yet. We haven't lost a few in a row. You know how that goes. Things can change in a hurry with emotions and attitudes. Sometimes, what you want at the beginning of the year, through losses, you decide you don't want that anymore. It becomes too difficult. Right now going into the season, I really like the attitude of this team. I like the way they get along, and I'm talking about throughout the team. Some teams have a lot of cliques, especially in their classes. You come in with your guys, and as you get older, freshmen look a little younger to you, and you don't like to hang out with them much anymore. The way the older guys on this team adapt to the younger guys and vice versa, I like the attitude in the way this team gels together. If you're winning, that stuff becomes a real plus, and when you're losing, it takes something special to make sure it stays there so you have a chance to be successful at the end."
"Not really. No surprises. There have been good practices and practices you wish were a little better, but at this time of year, players are ready to play. It's like going through Christmas as a kid, and you thought it would never get here, and as a parent, you wish it were way down the road, and we've all been shopping on Dec. 24. These guys have been ready to open for a week, and I just want to keep practicing. I'm excited about the games, too. The games are fun for everybody whether you're a coach or a player. The game's what we all live for, but as a coach, you'd always want to prepare a little more, and everybody else is ready for it to get here."
"Pitching's the name of this game. Are you ever going to pitch enough? There are so many programs out there that acquire the top pitchers in the country that dodge the draft and go to college, and they give those guys an upper edge. Pitching is always your concern, and that's where you start, but the game hasn't changed in 100 years. You've got to play good defense, and you've got to be opportunistic when you get a chance to score runs. I like the makeup of this team. Obviously, your biggest concern is losing two big weapons from last year in Will Wilson and Evan Edwards. You don't trade two players like those and expect to not have some concerns. I like this ball club, but we're going to have to score some runs."
"That's a baseball philosophy. You've got to be good behind the plate, and we have one of the top catchers in the country [Patrick Bailey]. I just mentioned you have to be good on the mound. At short and second, they handle everything. They're the quarterbacks along with the catcher. At center fielder, you've got to have a guy that can run it down in center field. It seems like he makes a lot of plays. That's been a baseball adage for 100 years, and I think we're pretty good up the middle."
"[Tyler McDonough] can do both. In a perfect world, you can do both. We're not limited to what he can do, and we'll probably switch him back and forth."
"Talking to them about it, those nerves exist. Opening day is special. Your opening conference game is special. The first game in a regional, the first game in the ACC Tournament, and hopefully the first game in Omaha… they're all equally special, and there are going to be nerves associated with all of them, but if you have truly prepared the way you should prepare every day, then it really is something you live for. You want the games. Who would play this if all you did was practice? If you couldn't play the games, who would do this? You live for the games. Just make sure you've prepared well enough to be ready for those games, and they'll be fun. Expect some jitters. Expect some opening-day nerves, even from me. When you stand here at Doak Field, a place I love so much, and hear that national anthem, I can't tell you it's going to be the same as it was my first year here, but it's still going to be awfully special, and I'm going to have some jitters inside."
"It's going to be Nick Swiney on Friday, and then it's going to be Matt Willadsen on Saturday and Chris Villaman on Sunday, so we've got two freshmen out of the chute."
"Jose Torres is a great player, and we're very lucky to have him because he's a guy that everybody had going in the draft, and they didn't think he'd ever get to NC State. It's an opportunity for all 30 clubs to have another shot at his ability, and he's a great player, but expecting too much out of a freshman, he's still 18 years old. He's still got to grow into this game and understand how it's done in college when you play 60-70 games versus playing those 20 high school games twice a week. It'll be a different thing for him, but he's a great player. He'll adapt and get better as the season goes along, and we're fortunate to have him here."
"[Vojtech Mensik] just keep getting better, but his work ethic is going to get him better everyday in whatever he does in life. His work ethic is so off the charts that he's going to continue to grow, and he's better than he's ever been. He's nursing a little bit of a hamstring right now, so I'm not sure he's going to be ready for opening weekend, but he's a really good player."
Never miss the latest news from Inside Pack Sports!
Join our free email list