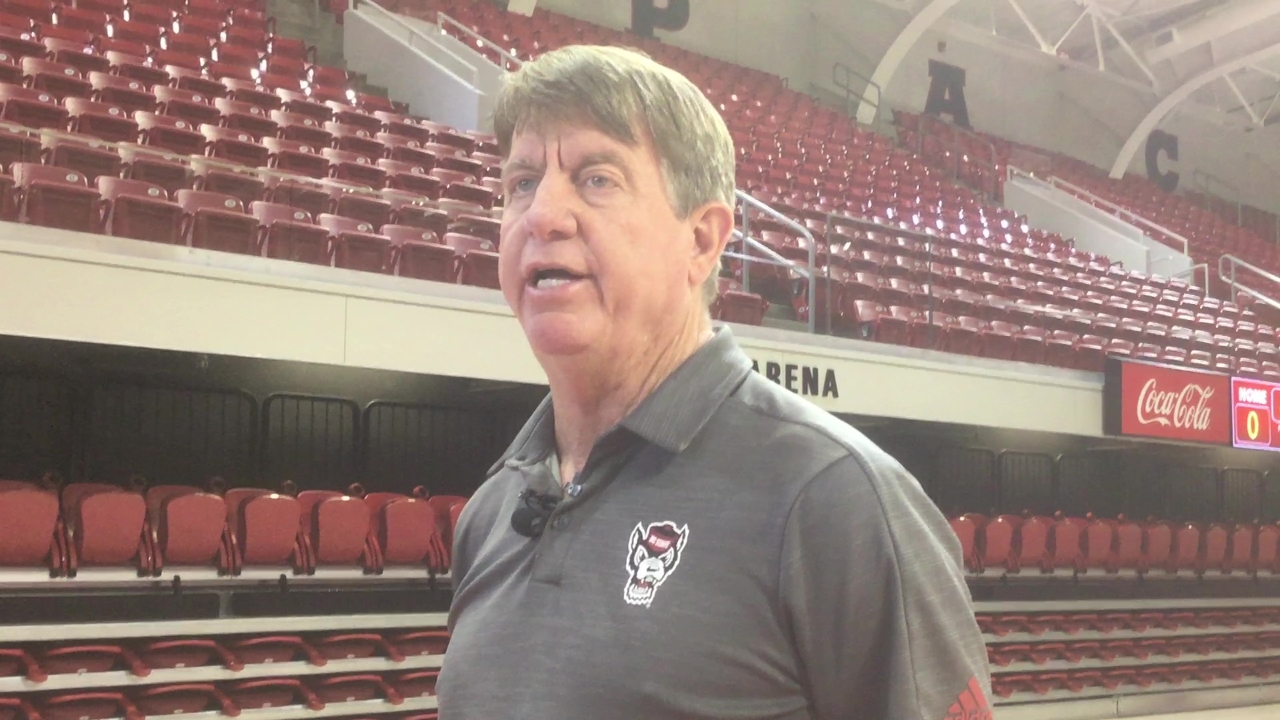 NC State Women's Basketball
Wes Moore: "We Have An Opportunity"
---
No. 4 NC State head coach Wes Moore met with the media to discuss the huge upcoming game against Louisville.
NOTE: Click the video above to watch the interview.
---
"We have had too many turnovers and this team will press you, so I'm concerned about that. Rebounding... we've been a pretty good rebounding team but they are a great offensive rebounding team."
"There will always be things you can do better and fix, but that's what makes it fun. That's what makes it a challenge."
"We have an opportunity. I told the team they've put us in a good position, but we're trying to get into a great position."
"I'd love nothing more for these players, obviously, and our staff – but also our fans. They've been great. Season ticket sales have grown. I think we took seven or eight hundred people over to Duke. I'd love to do something special for them, and that's what we've talked about all year... let's do something special."
"We sold out our last game. I know Sunday's game is sold out. Sometimes Thursday night games, especially with an 8 o'clock tip can be a little tough, but I think we're really close. I hope we can sell it out and it's a great atmosphere in Reynolds. A real homecourt advantage."
"We try not to focus on that stuff. I wish they'd have waited a week or so before putting us up there, because you know Louisville is going to come in here with a chip on their shoulder."
"It's nice. I love the recognition for our players and program, but it doesn't really mean a whole lot right now."
"We focus on the next game, and that's boring for some people, but really your preparation has to be the same every game. This league is brutal. I don't care if you're playing No. 1 or No. 15."
"We know this will be a great challenge. Louisville has been there, and we're kind of the new kid on the block trying to nose our way in. We have to step up and play at a high level."
"I feel good about our team and playing at home, but the things I mentioned. We have had a tendency to turn the ball over. They will press us. Jeff Waltz is a good coach. He'll gameplan for us."
"We have to come up with the rebounds and loose balls... take care of the ball on our end so it doesn't create offense for them."
"We have to control the things we can Thursday night if we're going to have a chance."
"Some of these programs are making it tough, this neighborhood. Wrestling, swimming have been right there the last couple of years... I think it sets the tone for the whole campus when people are winning and people are happy."
"NC State is a great place to be right now. We have a lot of momentum and it's really fun coming to work everyday."
Never miss the latest news from Inside Pack Sports!
Join our free email list