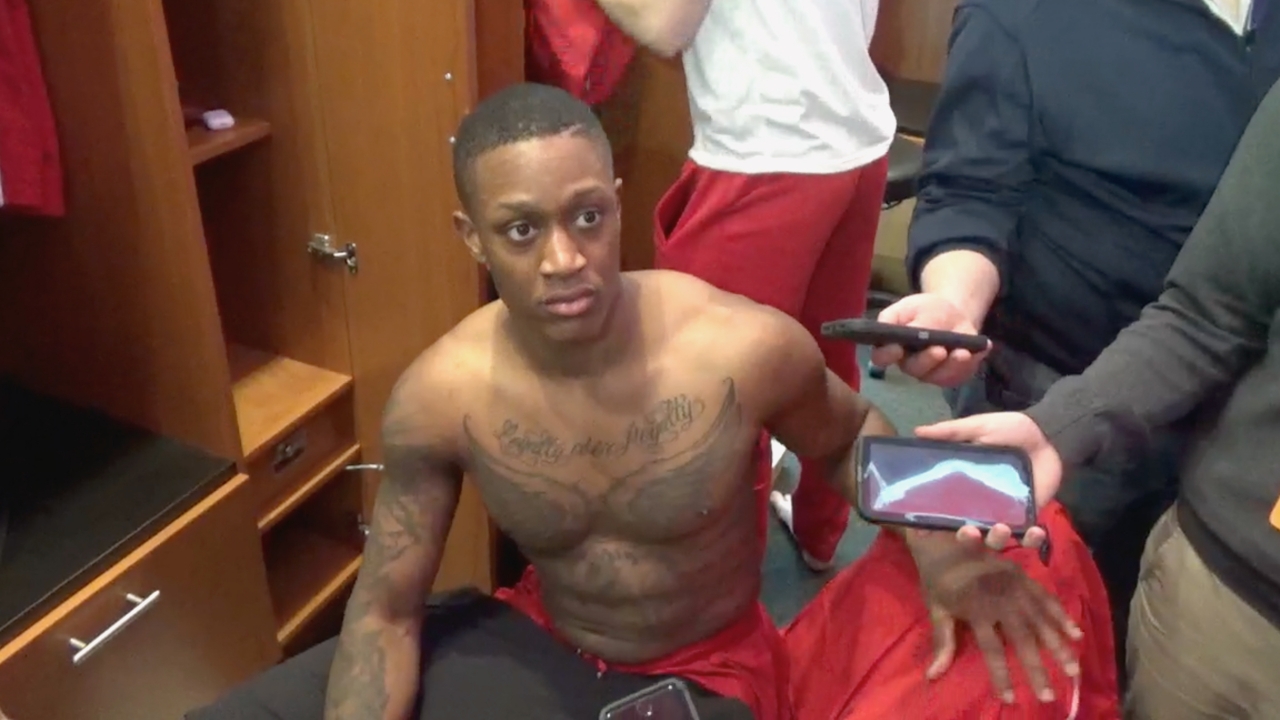 C.J. Bryce
Devon Daniels
D.J. Funderburk
Jericole Hellems
NC State Basketball
LOCKER ROOM REPORT: Wolfpack Players
---
Several NC State players met with the media following the Wolfpack's 75-65 loss to North Carolina Monday evening.
NOTE: Click on each player's respective thumbnail to watch each interview.
---
C.J. Bryce
"I'm not sure, but everyone goes through slumps. I just need to get back in the gym and get myself back ready."
"We've got to keep our confidence going. We're still a really good team with a lot of talent. We've just got to capitalize down the stretch better. I feel like, as a team, we looked a little fatigued down the stretch. We gave up a lot of offensive rebounds, especially the one that [Garrison] Brooks got going into halftime. Those are things that we have to work on to get better."
Devon Daniels
"Definitely. Every game is important. This is a very tough league, so we can't just drop games. They came out and played hard. We knew who they were, but we weren't ready."
"We didn't string enough stops. We'd maybe get one stop, but if we would have gotten three stops in a row or something like that, we would have had a better chance. I feel like we had to get one of those in the second half, but we made too many mistakes."
D.J. Funderburk
"We're 5-5 right now. Like I told the guys, if we keep letting them slip, we're going to get the NIT. We need to lock in now, like right now. We're going to get back into the gym and try to focus on those things."
"It's a game of runs. I don't really ever worry about the first run a team takes because the game can go either way after those first couple of minutes. I feel like that was the momentum we should have had the entire game. We lost it at some point, and they took over."
"Yeah, definitely. I still feel like we're in the thick of it. It's a great league we play in. Hopefully, we can get these last 10 wins in the ACC season and focus on what's next."
Jericole Hellems
"I feel a little bit down because I felt like we were the better team. We just made some mental errors throughout the game that we can fix. I feel like we're going to fix them. It's just a tough one."
"Throughout the game, it was just mental errors that, like I said, we can fix. It's just a tough loss for us, but we'll be back in there Wednesday and do what we have to do for the next game."
"Mental stuff, mental errors, and being physical down in the post. First, we've just got to be a little bit stronger down low, and that's partly on me too. Also, finishing plays and capitalizing."
Never miss the latest news from Inside Pack Sports!
Join our free email list