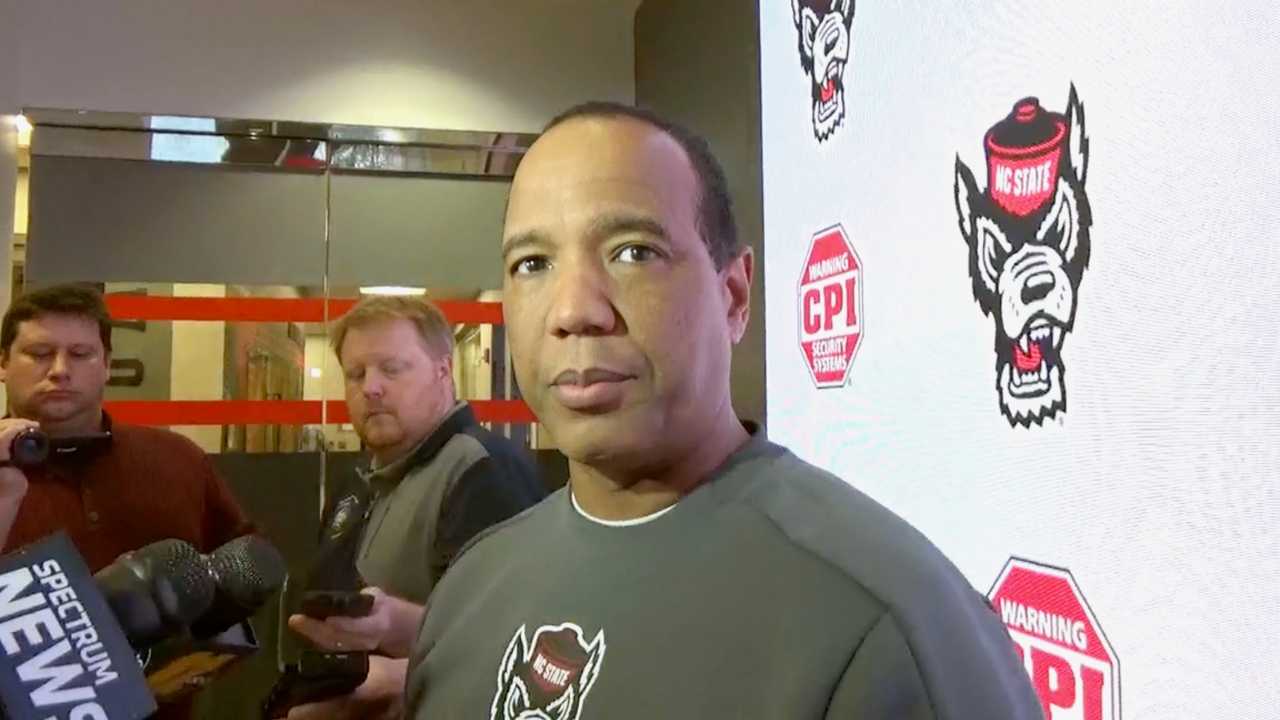 NC State Basketball
WATCH: Keatts Meets With Media Ahead Of Miami Matchup
---
NC State head coach Kevin Keatts met with the media Tuesday afternoon ahead of the Wolfpack's matchup versus Miami Wednesday evening.
NOTE: Click the video in the player above to watch Keatts' press conference.
---
"C.J. Bryce practiced yesterday. He looked pretty good. He will be a game-time decision. He is trending the right way. I'm hoping that our doctors will see what they like and that he feels like he's good enough to go tomorrow after shoot-around. It's completely up to him and our doctors whether he's going to play or not, but he did have a good practice yesterday."
"He has not been 100 percent cleared. He's been cleared to be able to practice, but in order for competition, that's going to be one of those things that he and the doctors are going to have to decide on."
"Our depth is the biggest thing. If you look at my time here, we've had probably over 80 games, and there's probably been two or three games only that I haven't been able to play eight or nine people. We're playing seven or eight guys. In the last two out of three games, I think we played seven guys because Danny [Dixon] didn't play in one of those games. The way we like to play, the way we like to press, the way we like to run, I think the biggest thing that's hurt us is that we don't have another sub at the guard spot. That's the obvious. The other thing is that it's tough, I don't care what sport you're in, to have one of your better players who's also a senior in the locker room not to be there. We're missing some of his production, 16 points [per game], and he's our leading rebounder. Those are the two obvious things. I think our depth is the biggest thing because we haven't been able to press the way we love to press in any of the games he's been out."
"It allows us to be able to do it a little bit more. We will never be, with this year's team, 100 percent in, but it'll allow us to be 75 percent. If you look at the Virginia Tech game, not what hurt us that we didn't have another guard, but when Braxton Beverly ended up getting his third and fourth foul, in my opinion, it completely changed the game. We just don't have depth. With this year's team, with four guards with C.J. Bryce, everybody's got to be on the same page. We can't have guys in foul trouble, but when you look at it, without him or any of the other guards, there's a chance that it changes the way we have to play."
"I think [D.J. Funderburk] is getting better. Initially, where he struggled at was the defensive scheme. Because we're switching one through four, he's really struggled, but he's been very productive. He's been a bright spot. I've been able to play him at the four with Manny [Bates] and not drop off a little bit, and I think that's a good part about it. I like the way D.J. is trending. He's certainly helping our team in a lot of positive ways."
"I'm like every other coach. I wish we'd won every game that we played, but when you look at our conference, there's so much parity. If you pull up the rankings of our conference and even, I'll take it a step further, most of the Power Five conferences throughout the country, everybody's right there. We've got four or five teams sitting right at 2-3 then a couple of guys at 3-3, and then there's a couple like Duke and Florida State that are playing well. Then you've got three or four teams that just have one win. I think, on any given night, everybody can beat everybody. It's one of those things that I've told everybody. There's not one team that's dominant. If you had to say, Duke is playing really good basketball, and you'd say the same thing about Florida State and then add Louisville to it. Most of us are playing kind of similar to each other right now. Every game is important. Every game is going to come down to the wire. We've got two games this week at home. We've got to take care of home-court advantage, but even as crazy as that sounds, I think I saw a stat yesterday that most of the wins this year have come on the road. It's been a different ACC season than it's been in the past."
"[Bates] has been great. I don't know if I could have asked for anything better from a guy from a defensive standpoint. I didn't think we would get that, especially a guy who's had a couple of surgeries and coming off of a couple of injuries for him to be as aggressive as he is on the defensive end. He's starting to play better. He's starting to feel a little bit more comfortable with his arm. At the beginning of the year, I was on him about rebounding. If you ever watched him early in the season, his left arm would only go to about right here because I think he was afraid of getting hit on it. Now, he's starting to rebound with two hands and get his arms above his shoulders. I'm happy with him. I know his offense will come, and it won't be this year. It'll be in the next coming years, but he's a really good basketball player."
"The press is certainly the first thing off the table, and we've had to mix in some pressure. We've had to do it out of timeouts at times. We've had to do it out of the free throws instead of us pressing every time we score. We don't have the bodies. That's not an excuse. We've had to be a little bit different. A lot of coaches in our league can play with eight guys, but they're not the type of system that will press and get up and down. We've had to be a little bit more creative in our situation."
"I will just tell you that I had three great years at UNCW, and I'm the coach at NC State. That's all I can say to that."
"No, players love it. You have to talk to the guys when you're about to cut their minutes, but if you're going to play them more, none of our guys want to come out of the game. They could be dead tired and not want to come out of the game. I haven't had to have those conversations. I think all of those guys that are playing know they're going to play. I look at it the other way. We've had to live with some of the guys' mistakes or if some guys are not playing well because I don't have anybody to sub for them. That becomes a problem at times."
"I just think [Pat Andree] is missing shots, and I think he'll have a short-term memory. When you talk about shooters, they can miss 10 in a row and then come back and make 10 in a row. I think he's not shooting the ball well, but I don't worry about it. I typically don't worry about guys who are shooters because they'll find their way, and I think he will."
"If you look at our stats all year, we've been a very good passing team, meaning percentage-wise as far as our makes. We just didn't shoot the ball well against Virginia Tech, and we played against a couple of teams, I would say Virginia Tech, Clemson, and also Notre Dame, that all set out to defend the paint. Obviously, Virginia is probably the best in the country at it, and you're going to get those shots. When you don't make those shots, it becomes a long night. We never envisioned coming into the Virginia Tech game that we were going to take 30 threes. As a matter of fact, I knew they would take more than us, but some of those shots were presented to them, and we just didn't make them. We've got to get better in those areas."
Never miss the latest news from Inside Pack Sports!
Join our free email list