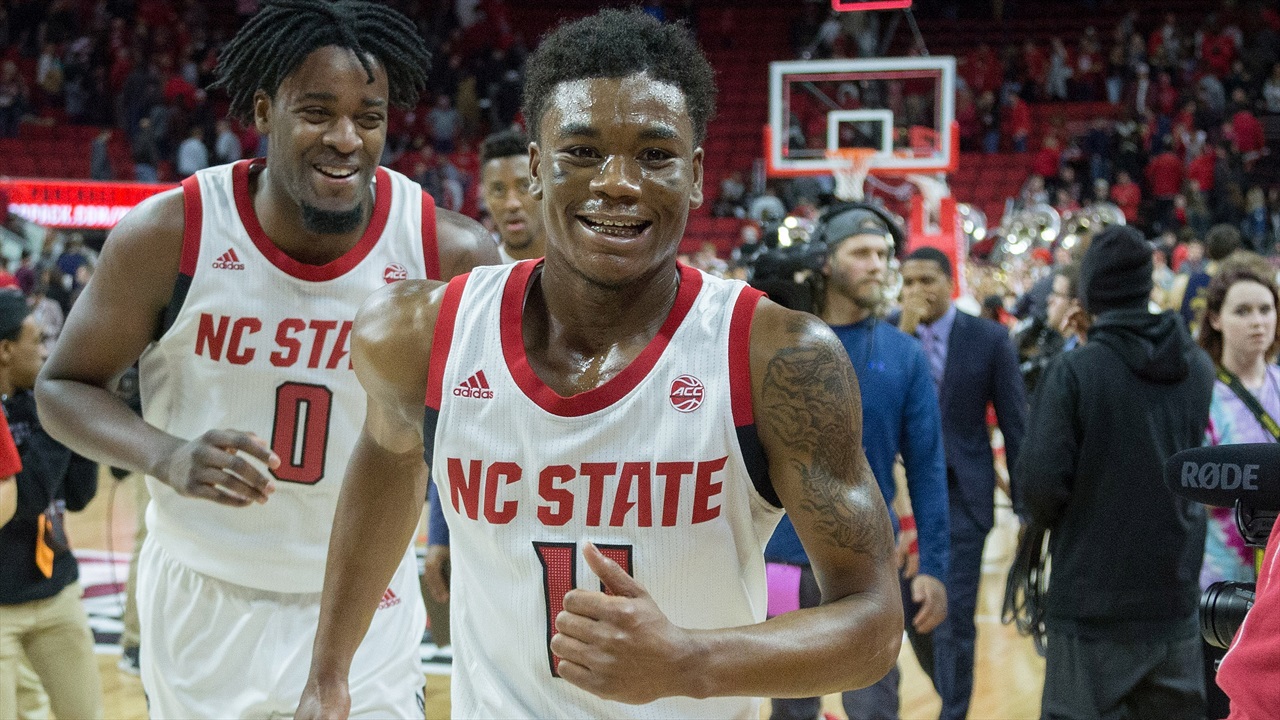 NC State Basketball
TRI-PARTISAN: Markell Johnson Silences Critics In Notre Dame Win
---
Each week I submit a Tri-Partisan column to WRALSportsFan.com, and here is today's feature where I tell you how Markell Johnson silenced critics with his big-time performance in the Notre Dame win.
---
WRALSportsFan.com: Markell Johnson Silences Critics In Notre Dame Win
Kevin Keatts probably didn't have to say much to Markell Johnson after the team's recent road loss at Clemson. Frankly, the Wolfpack's star point guard didn't play well. He settled for contested jumpers. He had multiple careless turnovers. He wasn't always engaged defensively. He didn't play with the urgency or confidence expected from a senior point guard.
What makes it worse is NC State really needed him to come up big because they were already playing without senior guard C.J. Bryce, the team's leading rebounder and scorer.
Johnson was just 5-of-15 from the field and had six turnovers. He missed all of his free throw attempts. Keatts seemed frustrated with Johnson's play afterwards.
"I've got to continue to watch film with [Johnson]," Keatts said to the media. "I need him to be a quarterback on the floor when things are not going well or, when things are going well, we need a basket. The basket may not have to come from him.

"I think, at times, Markell thinks that we have to have him to make the basket. I just need him to play like a senior and run the show. That being said, it's a lot of pressure on him right now. He's our only pure point guard on the roster. He's playing a lot of minutes. He will be fine, but we've got to get him better."
The social media coaches came hard after Johnson and Keatts, questioning what was wrong with him. Leading up to the season, the senior was billed as the Pack's go-to player, but his play had been inconsistent. For the geniuses online, that must mean he's lazy or doesn't care. He has to be thinking about the NBA and what he needs to show to get there, right?
"He's a young man and we forget about that," Keatts said. "We live in a world of social media, and as a coach here at NC State I don't get too high about when someone says something great about me, or I don't get too low. I stay even. It doesn't matter what people say about me on social media. But these are kids, and so they read stuff.
"The thing that bothers me sometimes is that sometimes it's your own folks saying negative things about your players. I know all the coaches in our program have said some things about that, and that bothers me because look - we're all in this together. We're going to fight together. That's what NC State's about." Click the link to read the rest of the story: LINK
Never miss the latest news from Inside Pack Sports!
Join our free email list