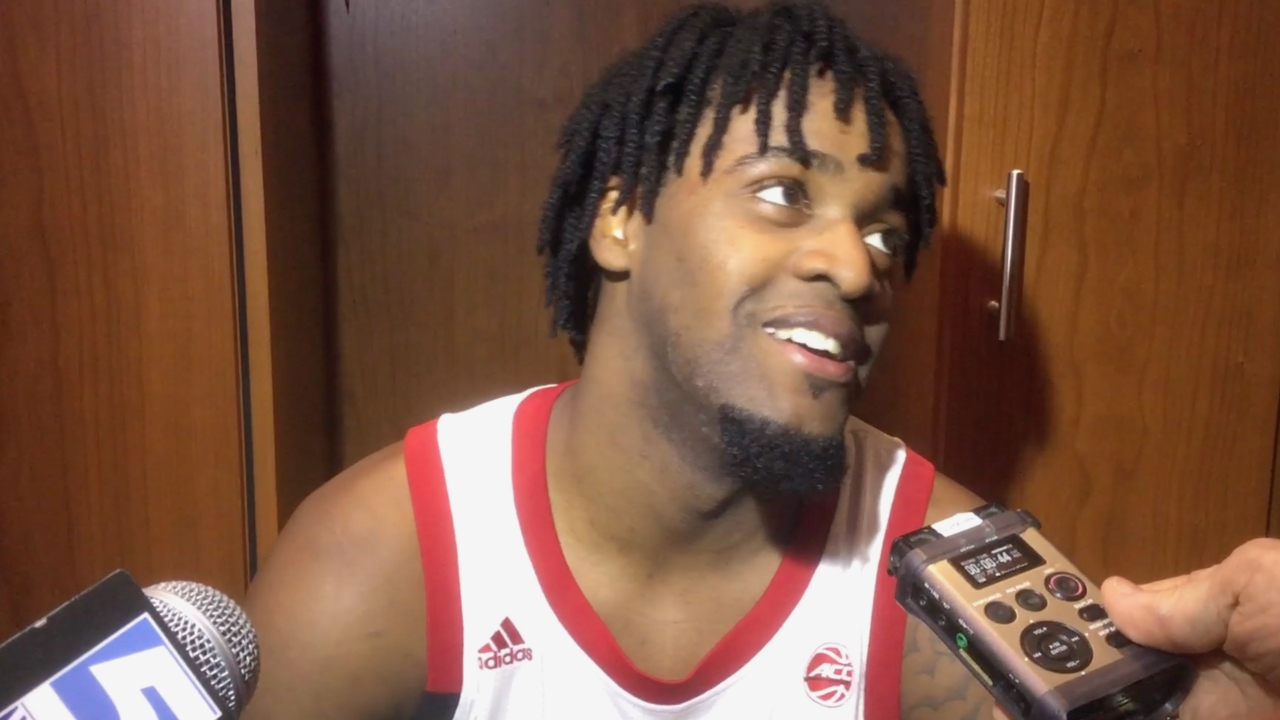 Manny Bates
Braxton Beverly
D.J. Funderburk
Markell Johnson
NC State Basketball
LOCKER ROOM REPORT: Wolfpack Players
---
Several NC State players met with the media following the Wolfpack's 73-68 win over Notre Dame Wednesday evening.
NOTE: Click on each player's respective thumbnail to watch each interview.
---
Manny Bates
"Our game plan was to take [John] Mooney out and try to bring him out of his averages. He's averaging a double-double, so we wanted to lower that."
"It definitely feels great. I feel like any win in this league is a great win, and to lose a game like that at Clemson then come home and win a game like this feels good."
"I feel honored. It's truly a blessing for me to come this far in my career and break that record. I'm honored."
Braxton Beverly
"To get a big win like that on our home court is huge for us."
"We did. Markell and I actually talked about that. We've been here with Keatts the longest. We've through it. We've been to the tournament. We know what it takes, and we need to make sure that we stay accountable for ourselves and for the rest of the team."
"Exactly. It's a lot more like our basketball team."
D.J. Funderburk
"It was a huge win. We were down by 12 points, and our coaches told us to keep chipping away. We came out of the first four minutes of the second half, and we were just playing terrible. We tried to pick it up a little bit more and get our energy up, and we came out with the win."
"Energy, really. Energy and staying together when they were making runs. We were just telling each other they were going to make some threes and to just try to get the ball out fast and just come back down and get the score."
"He went crazy. That's normal for him, but for everybody to see him and experience it is a great time playing with him."
Markell Johnson
"I think I played terrible at Clemson. I turned the ball over too much. I let those guards beat me up too much. I just wasn't focused. I'm just getting back to myself, and I've got to stay locked up and keep working."
"It felt great. Coming off a loss on the road, to get back and play at home in front of a home crowd was great."
"We talked about it right after the Clemson game. We wanted to move forward and focus on this game. That's what we did, and we came out on top."
Never miss the latest news from Inside Pack Sports!
Join our free email list