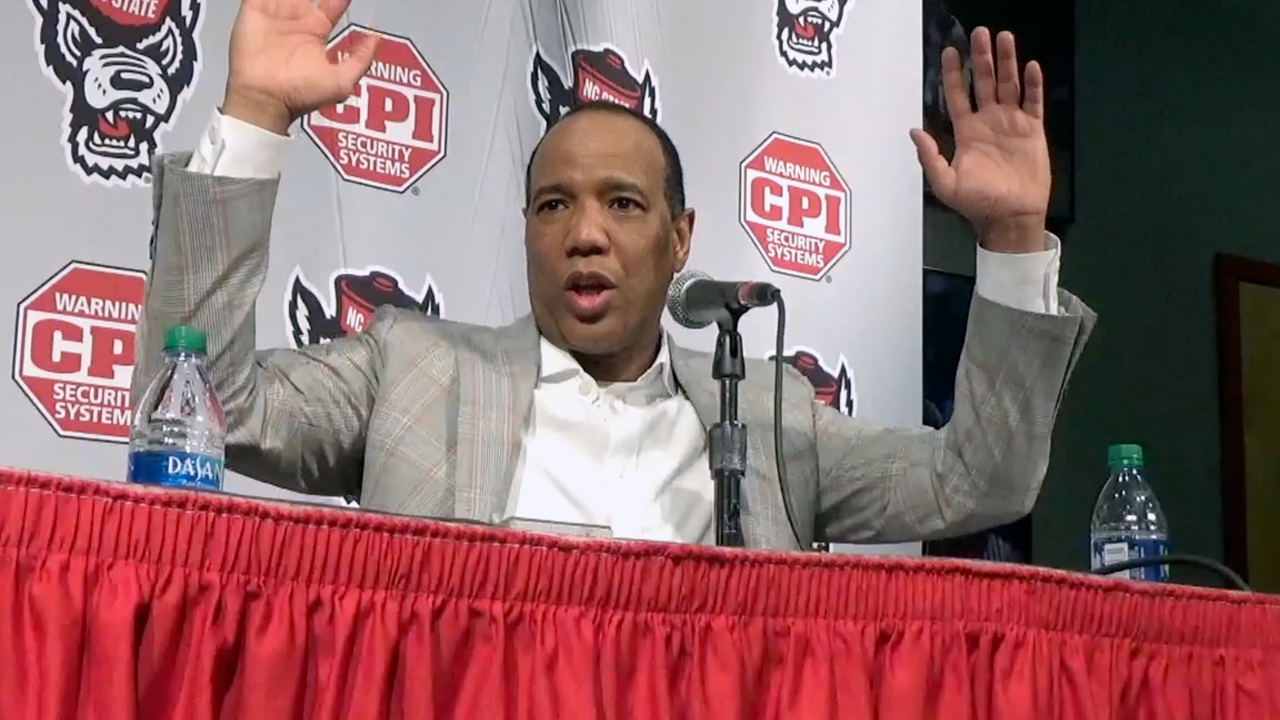 NC State Basketball
KEATTS: "We Fought Through A Lot Of Adversity"
---
NC State head coach Kevin Keatts met with the media following the Wolfpack's 73-68 win over Notre Dame Wednesday evening.
NOTE: Click the video in the player above to watch Keatts' press conference.
---
"Guys, I'm excited tonight because I thought that was a great team win, and the reason being is that we fought through a lot of adversity. When you look at the fact that we were without our leading scorer and rebounder - and throughout the game we had so many obstacles we had to overcome. Markell Johnson had back spasms at halftime. I didn't even know if he was going to be able to play the second half, and then of course Braxton Beverly may be the most beat-up guy in the country, but he always responds. I thought we did a tremendous job. I did not like the way we defended the three-point line in the first half. They were five-for-seven. We knew coming into the game they're an elite three point-shooting team. They average 10 a game and made 16 against Syracuse, and I thought we came out in the second half and did a good job with that. D.J. Funderburk was tremendous in his activity. He was flying all over the place and kept a lot of balls alive. Very proud of Markell Johnson. He's taken a lot of criticism over the last three or four days and for him to come back and play and tie his career high - and most importantly make some free throws down the stretch - that makes me happy as a coach. Proud of it. Notre Dame is a good program. Mike Brey does a tremendous job there. He's built something straight. I thought we did a great job on John Mooney until I looked at the stats sheet, and I saw he was 14 points and 14 rebounds, so I've got to do better in that area. But, excited for our guys. It's a program win, and in my three years I can point to a couple games that are program wins, and this is one of them because of the adversity, and we showed a lot of fight."
"We sat down on the plane when we got back. We sat there on the tarmac when we got back, just he and I, for about 20 minutes. He's a young man and we forget about that. We live in a world of social media, and as a coach here at NC State I don't get too high about when someone says something great about me, or I don't get too low. I stay even. It doesn't matter what people say about me on social media. But these are kids, and so they read stuff. The thing that bothers me sometimes is that sometimes it's your own folks saying negative things about your players. I know all the coaches in our program have said some things about that, and that bothers me because look - we're all in this together. We're going to fight together. That's what NC State's about. But, to his credit, he bounced back. He was going through some things - he's on a rollercoaster ride. I told him he's our point guard, and he has to deliver. To his credit, he had two great days of practice. Later on today before we got over here - there's a little video that Inky Johnson put out - and I sent the entire group the video and the video was about staying together. You can't do anything without a team...no matter what walk of life you're in - whether it's business, whether it's parenting if you have to or in sports - you have to do it together. It was an inspiration to me. It was on my heart, and I sent it to them. I talked to them right off the shooting range, and I told him, 'You've got to be the player you can be,' and I just want him to build on it. There's going to be ups and downs with him, but at the end of the day he's done a lot of things for NC State and I'm proud that he's here and hopefully he can continue to build on it."
"Yeah, they're playing great together because D.J. Funderburk is starting to learn the floor a little bit. You know, early on he struggled with any time we would switch a screen, he still has the mentality to run into the paint, so he wasn't guarding the three-point line. But those guys alone, they're athletic. They do a tremendous job. They block shots, and DJ was great - I mean, he did a great job with keeping a lot of possessions live for us, and more importantly, I think he made four free throws in the stretch. I think that was good. Maybe it was two. I don't know."
"We didn't anticipate that Prentiss Hubb was going to go off that much, and he did a great job, so we made an adjustment and we took Braxton Beverly off of him and put Devon Daniels - who probably isn't going to get a lot of credit for the win because he didn't score a lot - but he did a tremendous job in that area. They are so good because they pick you apart. This is one of, if not the best, passing team we have played against. They pick you apart. If you take away the three, they hit the guy on the inside. I thought our guys did a great job. Probably we might be the only team this year who's turned them over 14 times and only had 11 assists. I thought our pressure was very effective in the second half. I think they got a little tight once the score got tight. I knew once we got the lead we could put some game pressure on them and I thought it worked for us."
"Well, in a perfect world I would have 10 or 11 guys that can go. We are different. We have had to adjust. I have had to adjust as a coach because - as you guys know me - I am a, 'We press all the time,' so we kind of pulled our press back a little bit just to soften guys, but we are more aggressive half court, trying to deny, not getting into the passing lanes, but they're good, man. They know how to play. They are smart, but they can play with six or seven guys, because they don't play the style we play, and they rarely foul you. We didn't have a free throw in the first half, and then the second half we drove and were able to get to the free throw line 17 times."
"It was a tight game, and it just turned our way there. D.J. Funderburk made great plays. It was a back and forth game. At the end of the game, I just wanted us to really defend the three-point line. We actually gave up a shot, but they missed it and we got the rebound."
"It was funny. We tied the game and Markell Johnson took a step-back three. He did a great job listening, didn't he? Overall, I thought Markell Johnson was great getting in the paint and distributing the ball. He had 27 points and made his free throws - he was four for nine from the three-point line. That was a Markell Johnson that we have seen in the past, so I will let him take that step-back three every now and then."
"That kid is what everybody should be. He didn't play two years of basketball, combining his senior year of high school and last year. To see him come back and play the way he has played is inspiring. I never anticipated he would play like this. I knew when I recruited him out of high school he was maybe one of the best shot blockers I had ever seen. But with his shoulder injuries, I didn't think that he would be that aggressive and he would take some time. The first time I let him practice, I told him not to try to block any shots and to just wall up because I was nervous. He probably blocked eight shots that practice. I am excited. He is a tremendous kid that does a lot for us and does everything right."
"There are a lot of people celebrating in Cleveland tonight because of the way the two Cleveland boys played. I have thought that D.J. Funderburk was the only guy on our roster that hadn't had a huge breakout game that we could say that he made a huge difference for us. Tonight he made a huge difference for us. Markell Johnson and D.J. Funderburk have been playing really well together. Markell Johnson has done a great job of finding him down low. It is exciting basketball to watch when D.J. Funderburk is flying around. He is already 6'10", but he did a really great job tonight. He didn't force anything in the middle of the zone, he made the right plays, and he distributed the ball. I have been on him because coming into this game, he has four assists and 16 turnovers. Tonight he had one assist, so he improved."
Never miss the latest news from Inside Pack Sports!
Join our free email list