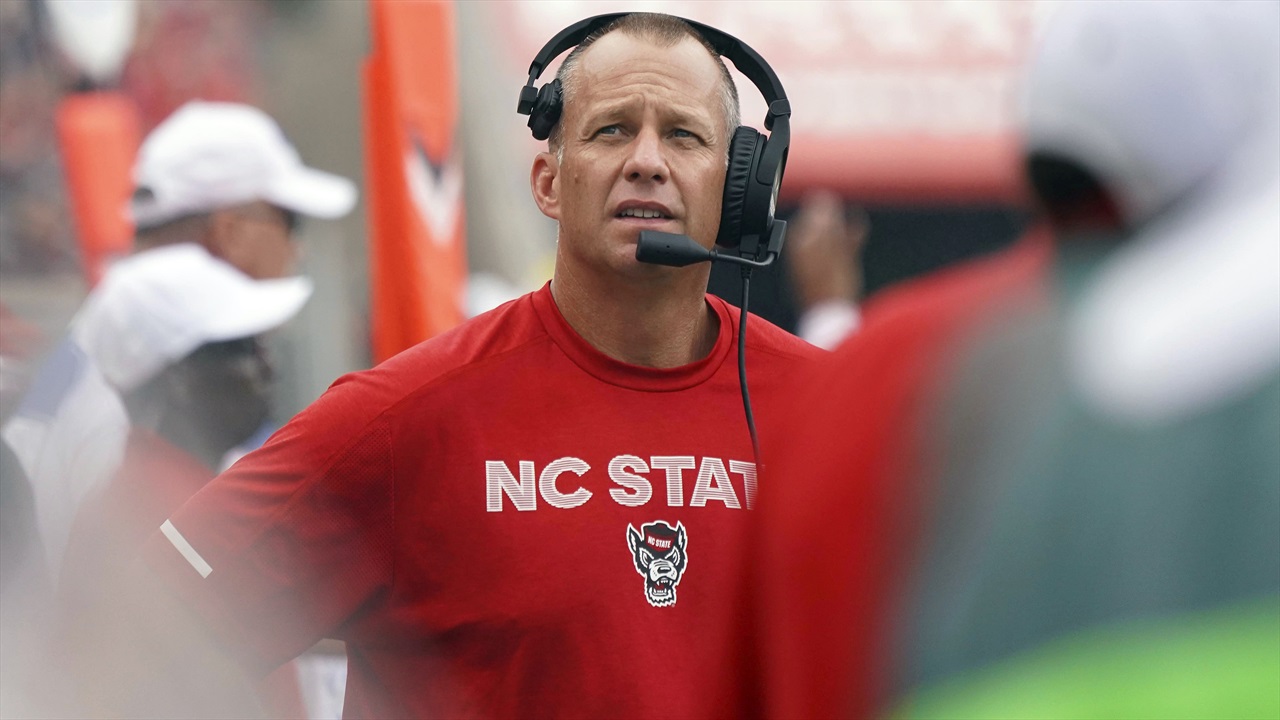 Photo by USA TODAY Sports
NC State Football
MCLAMB: A Lot Of Needs
---
The postgame scene was interesting.
NC State head coach Dave Doeren gave his opening statement following the Wolfpack's loss to North Carolina, and after only one question there was a long pause before anyone else in the media offered up another query – which came almost seemingly out of some type of embarrassment or awkwardness at there not being a more inquisitive nature from those who were paid to be there.
Later, Payton Wilson, a one-time UNC commitment who had an interception against the Tar Heels, gave a remarkably succinct answer to a question that did not probe nearly as deeply as his response merited when he said, "We have got a lot of work to do. We have got to put in a lot of hard work and the people who don't want to be here, put in a lot of work, they have got to get out. We have got to get a lot better."
In comparison to the 2017 and 2018 teams, NC State dropped five games in the standings this season both in conference wins and total overall record. No one seriously thought the Wolfpack would reach or surpass the heights of the last two seasons, but the opportunity did exist to sustain the bowl streak and get some leverage in the replenishing of the program following the exodus of several players currently playing on Sundays.
The ACC is not a strong football conference this season. There is one elite team surrounded by a slew of average or below-average ones. Syracuse, the lone conference team to lose to NC State, must be kicking itself at falling to the Wolfpack on a trick play. That led to the Orange ultimately finishing 5-7 and will cost the team a significant amount of money this bowl season.
The title of "second-best team in the ACC," a mythical mantra some had used to describe the last two NC State squads, lays unclaimed and will almost certainly be awarded to Virginia, who will be a heavy underdog in the ACC title game and probably face a stern test in its eventual bowl matchup. The Cavaliers could finish 9-5 overall with potential losses in their last two games. There is no shame in that, and UVa, a team within an athletic department that tends to be one of the better ones in the nation, has every right to be proud.
In football, Virginia is now where NC State was.
There will be local excitement for North Carolina reaching a bowl game, also deservedly so, but the truth is the Tar Heels beat only one team of significance – Miami – and that is relative to won-loss record only. At 6-6 overall, the Hurricanes do not strike fear in the hearts of anyone.
There is plenty of good football being played in the Carolinas, but none of it is in the Triangle.
UNC won six games, Duke won five, and NC State won four. The separation between North Carolina and Duke is essentially a bizarre play call near the goal line -- a million-dollar mistake for the Blue Devils that puts them in the same boat as Syracuse. Appalachian State could probably line up the three Triangle teams and Stooge-slap them all senseless.
One of the biggest questions NC State faces is figuring out why average ACC teams dominated them this season. The opportunity for a fluff six wins and bowl berth was there, but other teams in the league took advantage instead.
North Carolina did not reinvent the wheel offensively in the second half of its matchup with State, but somehow the scheme became much harder for the Wolfpack to figure out in the third quarter. NC State did not value the ball, and turnovers are lethal when a team suddenly cannot stop the opposition on defense.
It does not take much for the Triangle schools to quickly flip, either upward or down.
The Coastal teams can have a high ceiling of winning a division title and getting a solid bowl. The Atlantic teams can move up by not letting Clemson destroy their will while also knocking all the other games out of the park to pull up to December with nine to 11 wins. The Wolfpack was close to that in the last two seasons. No one in the Atlantic was in 2019. The second-best team was a 7-5 Louisville squad, and NC State led them at halftime – just as they did Saturday against UNC.
Where will the Wolfpack go in 2020? It is an interesting question. The offseason projection would have NC State going 3-1 in the non-conference portion of its schedule with a home loss to Mississippi State. The league crossover game for the Pack is a home contest against Duke. The team will bring back almost all of its main players, but they cannot have another season of struggles. Growth has to occur. If it does, a return to postseason play will likely happen.
Dave Huxtable has been dismissed. Matt McKay is leaving. Xavier Lyas is gone. Bailey Hockman has a choice to make. Dave Doeren has plenty of decisions this offseason, both in terms of player personnel and his staff.
The Wolfpack needs a quarterback, needs a pair of dynamic receivers, needs to find stability in its secondary, and needs to discern why a program that had four starting defensive line players selected in the NFL Draft in 2017 must use an odd front only two seasons later.
NC State needs to decide which coaches fit the system it seeks or if there are coaches out there who can implement a new style that better fits what the program has. The Pack needs to assess where they are in recruiting and if they are picking the right kids to push for double-digit wins and major bowl berths.
That is a lot of needs.
But as Wilson said, "There is a lot of work to do." NC State is not in the Coastal, but besides Clemson, the rest of the Atlantic is essentially akin to the other ACC division: a landscape crowded with average teams that show no inclination towards being elite anytime soon while also being courted by bowl executives begging to give seven-figure payouts to schools with mediocre records.
The chance to flip it back as quickly as it fell off is there. Wilson was right. If someone can't put the work in, that individual will need to go. As a program, NC State better start soon. A repeat of 2019 would likely mean more of a reboot is warranted. In that scenario, almost everyone has to go.
Never miss the latest news from Inside Pack Sports!
Join our free email list