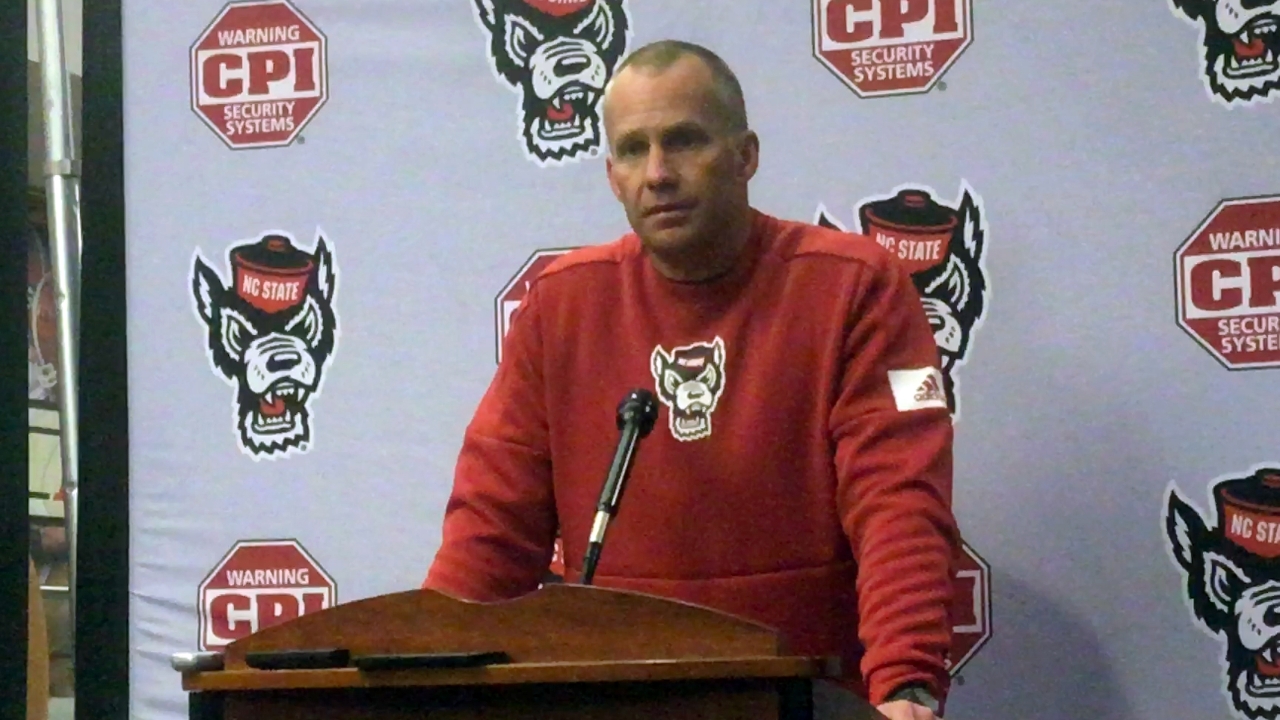 NC State Football
DOEREN: "We Need To Have A Tremendous Offseason"
---
NC State head coach Dave Doeren met with the media following the Wolfpack's 41-10 loss to North Carolina.
NOTE: Click the video in the player above to watch Doeren's press conference.
---
Opening Statement
Without a doubt, we fell apart there in the third quarter. There were three straight drives with turnovers offensively, and we did not stop them defensively. The first half had a lot of good things happen, and in the second half, no good things happened. We didn't make anything good happen. We've got a lot to fix. Injuries fires-- obviously, we have to get these guys healthy. We need to have a tremendous offseason. We need to get these younger guys better, and we need to get our other guys back. We need to look at it all. I thought our guys played with a lot of heart in the first half. We did absolutely everything possible to lose that game in the third quarter. It started with penalties in the first drive that we got the football and it went downhill from there.
Are changes to your staff a possibility at this point?
I'm not going to talk about that right now. It's been a long year for all of us. First thing I need to do is get out of here and watch film and then come in and watch a lot of film. I need to look at our players, how we coached, our offseason, our summer program. I have to look at it all. The last thing I'm going to do is make an emotional decision. I need to make the right decision for our program, our players, our staff. That's what I'll do.
Was the move to Hockman because Devin Leary was hurt?
Devin hurt his foot, so he was out.
Are you going into the offseason thinking you're good at quarterback?
I can't answer something like that right now. I'd love to say we don't have anything going on, but we didn't play good there tonight. I can't sum up an entire season in two bad quarters. He did a lot of good things. There's a million things I have to look at. I'm not going to have any answers tonight.
What positives do you have from this year? Did you expect this to happen?
I didn't expect it to end like this. You saw the first half; I thought we'd play a four-quarter game, and we didn't. What can I take from this season? I've been through a lot with these guys. Our guys hung in there through 14 weeks of different lineups. A lot of guys played played who we didn't expect to play. A lot of valuable reps. It was a strange year: only one home game in 54 days, four Saturdays we didn't play, all these injuries. It was a lot. I was proud of the resiliency of how our guys prepared every week. Obviously, we didn't play well enough to win. I am excited about what could be coming up. Take these guys who are injured, and bring them back: all these guys who have game experience and are angry as heck about not playing well. I have a lot of hope, but I can't tell you where it's going right now.
What's the main reason for not playing four quarters?
I can't blame youth on all of it. I talked about it in the locker room. The only reason they had success was we jumped offsides on third down. We had stupid and undisciplined penalties. We need to play clean and execute. We had three penalties on our first five plays on offense. That's not good. That's not executing. That's not maturity. That's not the type of football team we can win with. We have to get that fixed.
How much have turnovers changed the course of this season?
Going into this game, we were 28-8 when winning the turnover margin. Obviously, we were -3 or -4 tonight. We aren't going to win games like that. Last game, we didn't turn it over on offense, but before that, we had 10 turnovers in three games. We'll never be a good football team doing that. A lot of them are freshman or redshirt freshman, but we can't do that. We have to play smarter football.
Never miss the latest news from Inside Pack Sports!
Join our free email list