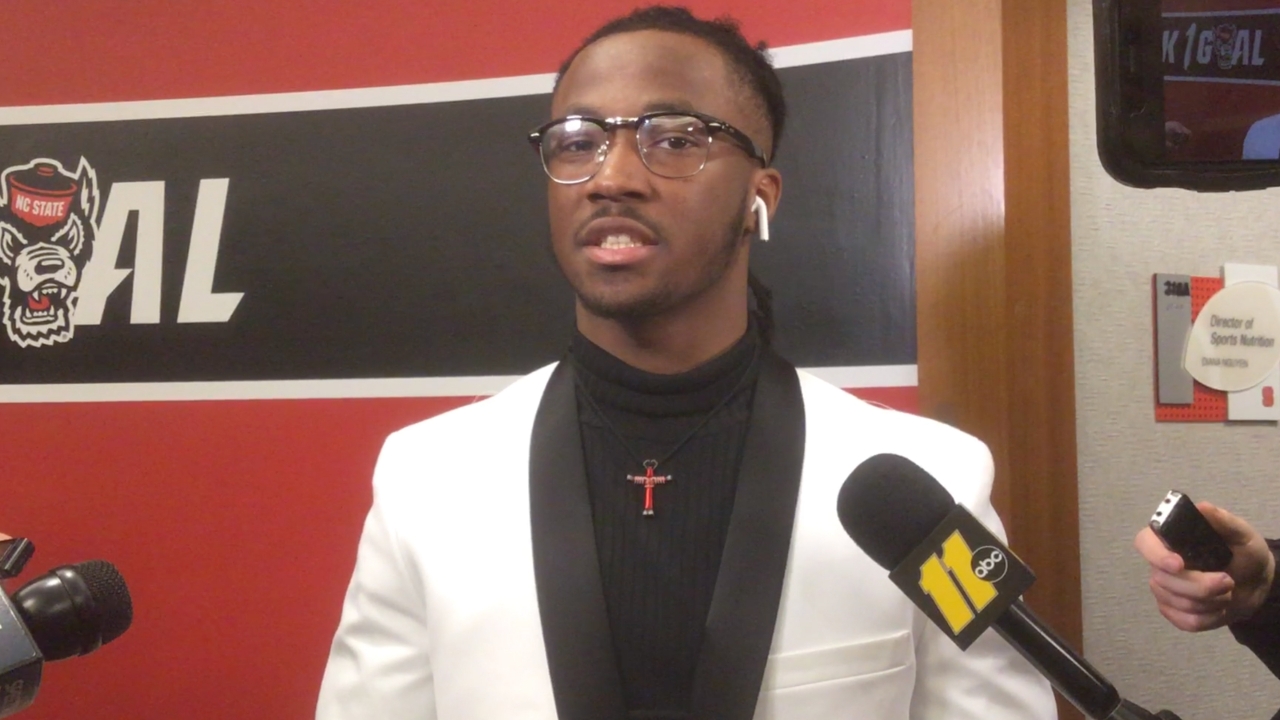 Tabari Hines
Larrell Murchison
Payton Wilson
NC State Football
LOCKER ROOM REPORT: Wolfpack Players
---
Several NC State players met with the media following the Wolfpack's 41-10 loss to North Carolina.
NOTE: Click on each player's respective thumbnail to watch each interview.
---
Graduate Student Wide Receiver Tabari Hines
"It is definitely tough. Obviously it is tough for the senior class but just everybody in general; the fans, the people who support us, this is a big rivalry here, and I just think in the first half we did good and we lost our energy in the second half. Hopefully we live and learn from this and the team next year will come back and get a win."
"I will definitely remember that moment. I try to finish everything I start and it was a good way to finish it. Obviously, I would rather have a win."
"When adversity hits, we kind of look at it a different way and I just think over time, being a young team, that comes with experience -- learning that anything is possible and you can come back from any score. I think because they have got the experience towards the end of this year next year they will be better."
"Once adversity hit it kind of shocked a lot of us because a lot of us are young. Teams that play the most freshmen in the country, they do not know because they have not been there."
"I have been on a 3-9 team before and I know how the offseason is, how serious the coaches take it, then the next year is way better. I just keep telling them guys, regardless of how the season ends, it is going to be way better. You are going to be way more experienced. You are going to feel how you felt last year and you are just going to make sure you play with that passion every game, so I just think next year will be way better."
Graduate Student Defensive Tackle Larrell Murchison
"The message is really for the younger guys. They have just got to get back to work. The season we had this year won't be replicated next year. I feel like they are going to step up. The younger guys that got a lot of playing time this year are going to be better off next year. Best of luck to them."
"It is like one things happens. Some people don't know how to take adversity, including me sometimes. I try to do too much. We have just got to stay fast and stay strong to get better."
"It is really tough because, obvious, coming into the season we had big hopes -- to go to a bowl game, to always beat Carolina, but we just couldn't get it done this year. I apologized that as a player that I couldn't get it done but, as I said, best of luck next year."
"We can blame it on injuries but at the end of the day we are D1 players and me, as a leader, I have to step up and I have to lead the younger guys that don't know about how it works."
Redshirt Freshman Linebacker Payton Wilson
"It sucks, for the seniors especially. We wanted to send them out with a win against our rivals. It sucks losing to our rivals but it sucks mostly for them."
"We have got a lot of work to do. We have got to put in a lot of hard work and the people who don't want to be here, put in a lot of work, they have got to get out. We have got to get a lot better."
"I am not glad the season is over. I love football too much not to play but we need to get in the weight room, we need to get healthy, and we need get a lot better."
"I don't really know what happened. It just got out of hand really fast. We didn't give up but it was too far out of reach after a while."
Never miss the latest news from Inside Pack Sports!
Join our free email list