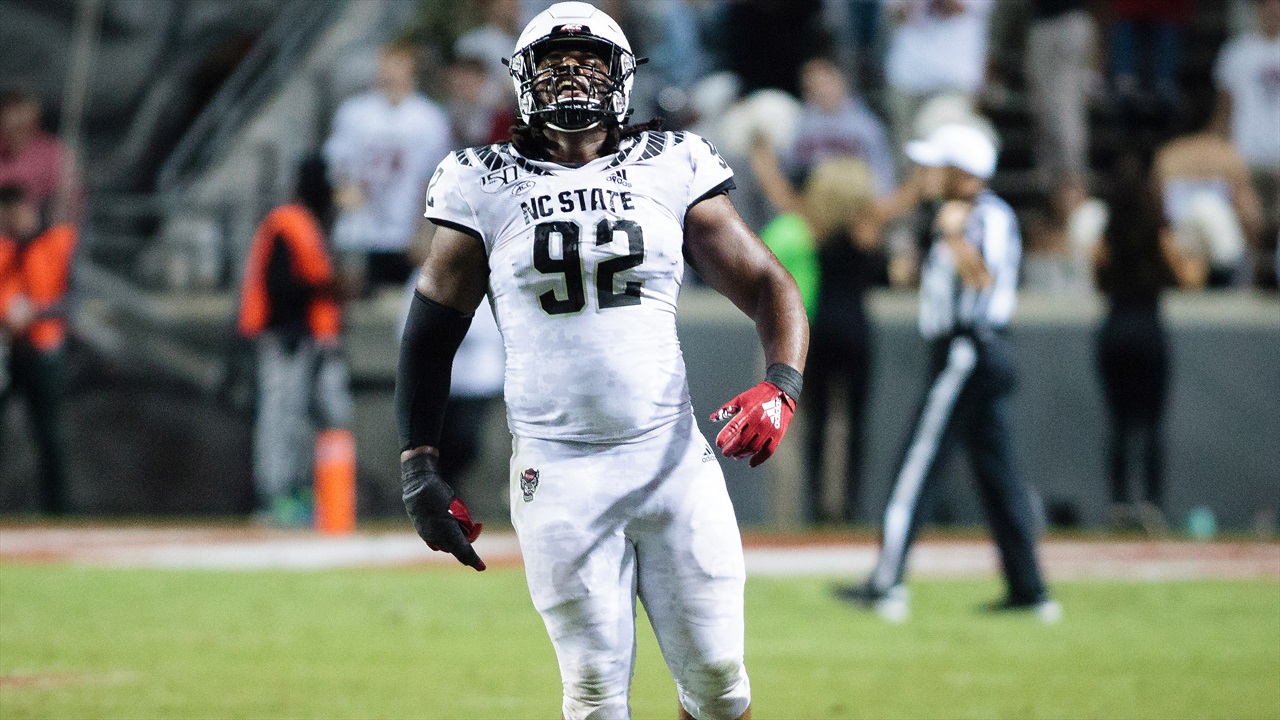 NC State Football
Murchison Craves a Carolina Crushing to Close Collegiate Career
---
In a turbulent season to say the least, NC State will finish the 2019 campaign at home versus bitter rival North Carolina. Several seniors on the team want to end the year on a high note, and graduate student defensive tackle Larrell Murchison is one of the most vocal about his desire to crush the Tar Heels.
"We know we can beat them," Murchison said. "We know that everybody's beatable, so we've got to play our best game. Everybody's got to be consistent at every position, and I have to do my best to be a leader vocally and physically."
The Wolfpack has suffered from brutal losses – not just on the schedule, but also from players falling into the injured reserve. With cracks having been formed, it's been a rough road for State, but Murchison has elevated his game and role to keep the Pack's foundations secure.
"As a senior, it's been frustrating," Murchision said. "We've been trying to get on the right track for a couple of weeks now. Personally, I've just been trying to be consistent every game, trying to stay focused, and push my teammates to their capabilities."
One of three defensive players to start all 11 games thus far, Murchison leads the team in sacks with seven for a loss of 40 yards, and also in tackles for a loss with 11 for 53 yards. The Elizabethtown native was honored for his play on the gridiron with an invite to the 2020 Reese's Senior Bowl, a goal he's had on his radar since arriving in Raleigh.
"This invite means a lot," Murchison said. "When I first learned about the Senior Bowl when Justin Jones and all of them were here, I instantly said, 'That's the one I want to go to.' I never told anybody. I just wrote my goal down and just kept at it. When I finally got it, I was really happy."
Murchison will look to aid the Pack in stopping Carolina in the visitor's quest to reach bowl eligibilty. With wins over the Tar Heels in each of the last three years, State should relish in the opportunity to keep them out of postseason play. Though dedicated to one last memory inside Carter-Finley Stadium, Murchison certainly has fond memories of last season's barn burner in overtime at Kenan Memorial Stadium.
"It was great," Murchison said. "It was my first victory actually playing, and it means everything to me. Being that it's an in-state rival right down the road, it was everything. That was one of my favorite victories."
No matter the result on Saturday, Murchison will walk off the field for the final time once the final buzzer sounds. After coming into the program from Louisburg College, Murchison will leave everything he has in the trenches. With a potent offense on the other side on Saturday and a strong corps of defensive linemen to follow in his footsteps, Murchison will need to set the tone as the Wolfpack closes 2019 and begins the path toward a more promising 2020.
"We've got to play with who we play with," Murchison said. "This is a learning step for this year, and hopefully, they're going to get at it next year. You just consistently work. Everything on the defense is designed to stop every play, so if we do our jobs, everything will land where it lands."
Never miss the latest news from Inside Pack Sports!
Join our free email list