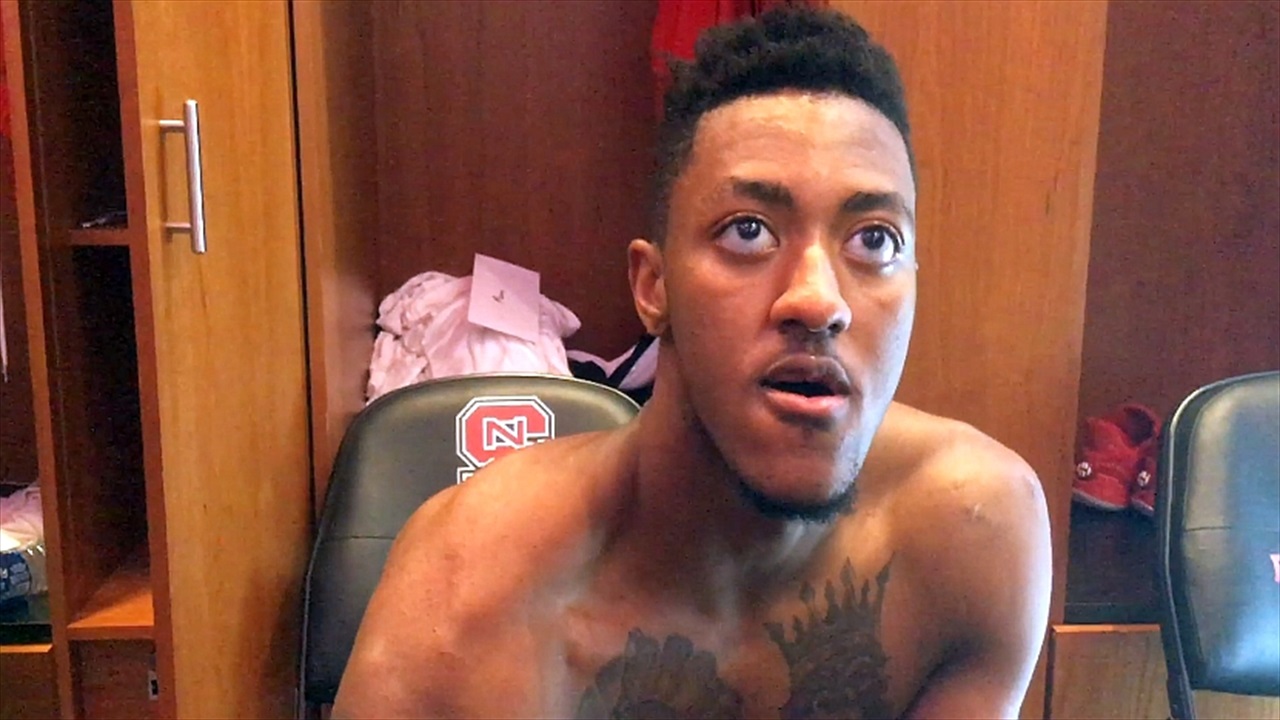 Braxton Beverly
C.J. Bryce
Pat Andree
Manny Bates
NC State Basketball
LOCKER ROOM REPORT: Wolfpack Players
---
Several NC State players met with the media after the 84-65 home win over Detroit Mercy.
NOTE: Click on each video above to watch a specific interview.
---

NC State Guard Braxton Beverly
On Markell Johnson's return..
"Just having his presence out there, the way he can drive, he can distribute. Even when he is not scoring, we all know he is capable of scoring whenever he wants to or whenever he is feeling it. Just having him out there running the one, running the show and finding everybody - it was good to have that back."
On getting off to a fast start...
"It feels good, especially in a zone like that. It is a good way to beat it. Once you find two or three, you get a kind of rhythm and you start looking for gaps to hit shots. Luckily, I had teammates who found me. It all worked out really well."
On rebounding from the Georgia Tech defeat...
"Coach (Keatts) said we were sick. When we lose, we are sick, and we have to get well. We have to get a win after coming off a tough loss to a good team like that. It was something on our minds the last four, five days or so. It feels really good to get our first win. Manny (Bates) and a couple of other guys got their first win in an NC State jersey. We have to get it on the board and just keep building from here."
NC State Guard C.J. Bryce
On how the team played...
"I feel like as a team we played really hard. First win of the season. We are very excited about that, and we just want to build off of that."
On how the team played defensively...
"We could have been better. (Antoine) Davis is a great player coming in. I feel like we did a great job making him take a lot of shots to get his points, and we have to continue to build off of that."
On if he's is trying to take on a scoring role this year...
"I can score the ball, but I was really doing whatever we need to win games. If that means scoring the ball, rebounding or assisting, I'm willing to do it."
On what dynamic Manny Bates is bringing to the team...
"He's a great talent, a presence in the paint that we really need with D.J. Funderburk being out right now. I'm going to continue to work with him and get him better defensively, but he's working, so that's all we need."
On what it would be like if Manny Bates and D.J. Funderburk played together...
"Having those two in a game adds to our depth and our size on defense, and I feel like that can definitely help us this season."
NC State Forward Pat Andree
On Detroit Mercy Guard Antoine Davis...
We knew he was kind of the catalyst for the team, so our job was just to making it as tough as we could for him. That's his game. He's a scorer. We knew that. We were trying to get him to be at 20-25 shots or something like that.
On the start of the season...
It's starting out pretty great. Obviously, we would like to be 2-0 rather than 1-1. Getting back to the ACC, we're excited. We've got a lot to accomplish in the non-conference as well.
On his transition to State...
I'm getting more confident, getting more comfortable playing in Coach Keatts' system, and playing against ACC competition.
It's a little different. It's something different than what I've done before, but I know we can pick it up, I know we're very good at it, and hopefully we can keep getting better and better at it.
NC State Center Manny Bates
On his play...
I feel pretty good. I feel a lot better now that we've got a win. We've got to get better everyday and progress.
More on his defense...
Possibly. I'm just wanting to help wherever Coach needs me to. If it's blocking shots or getting more rebounds, I'm here to help.
On playing with DJ Funderburk...
I would like to play with D.J. He's such a great player. Again, it's up to Coach, and I'm willing to help whenever I can.
On how he feels after the win...
I'm feeling great. I'm just glad to get a win. I hate losing. I'm the biggest loser.
Never miss the latest news from Inside Pack Sports!
Join our free email list