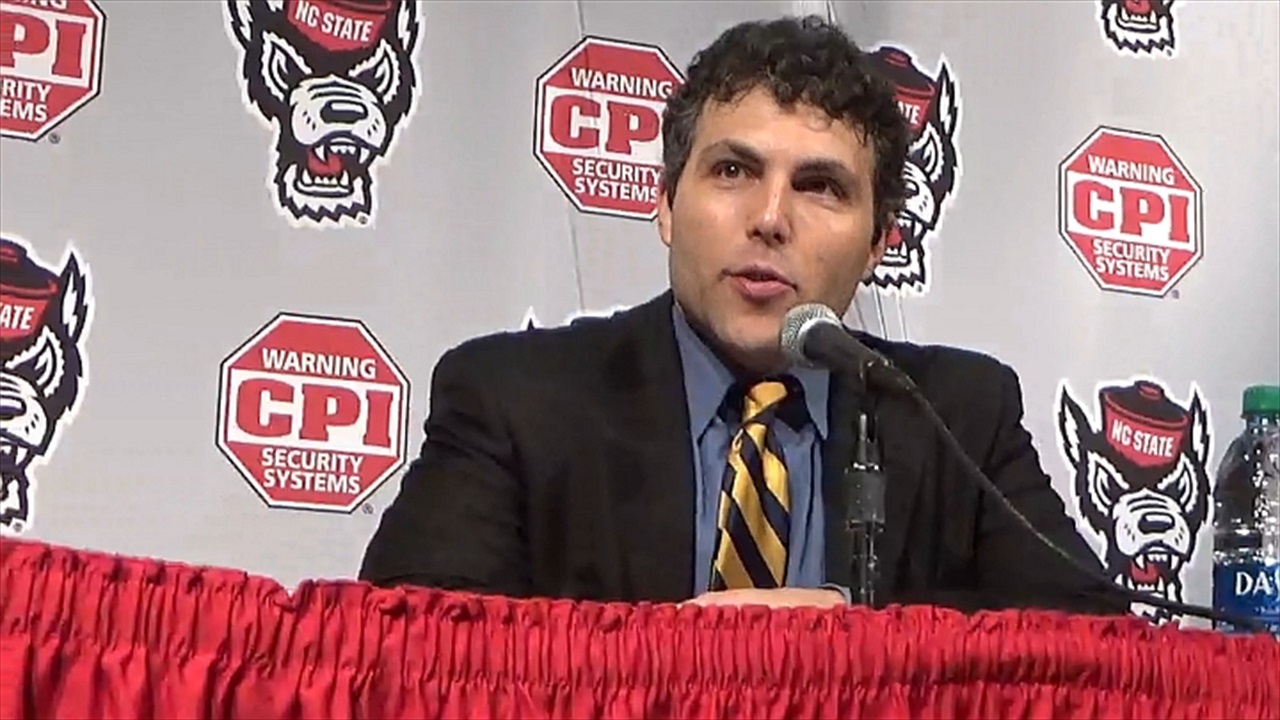 NC State Basketball
WATCH: Josh Pastner's Postgame Comments
---
Georgia Tech head coach Josh Pastner met with the media after the win over NC State.
NOTE: Click the video above to watch the press conference.
---
Opening Statement...
First off, great game and great win for us. I want to give a lot of credit to NC State. They're very good, very talented and well-coached.
They played very hard like Coach Keatts' teams always play, so you have to match that intensity or you're going to get beat. It's a really good win against a really good basketball team to kick off the season and ACC play. I am very proud of our young men who showed a lot of grit tonight. They got punched in the mouth early in the game being down 8-0, then we were down 15.
Eventually, we were able to get ourselves back to a more normal score, down seven going into the half, and then it was a seesaw battle in the second half. We use the motto "championship motor" that I stole from Coach Geoff Collins, our football coach, and the guys made a lot of those "championship motor" plays tonight.
Both teams played so hard for it being the first game of the year, and the intensity was so high on both sides. The young men on both teams tonight deserve a lot of credit for how they played. It was like a heavyweight boxing match of 12 rounds with both teams playing so hard where whoever had the ball last was going to win.
On James Banks III...
Yeah, a couple of things on James Banks III. First of all...I lead the country in stats for the coach who plays the most minutes of any player when he has two fouls in the first half and when guys get three fouls or four.
You can see I left Moses (Wright) in, I left James (Banks III) in and I left Jose (Alvarado) in. I'm not a big believer in saving guys. A lot of times you pull them out and they get cold, and you bring them back in and you've lost a lead. I'm not into saving guys, so James (Banks III) did a great job of protecting his final foul, but I was really proud of James (Banks III). He had five blocks, twenty points and fourteen rebounds but only one turnover.
We've really spent a lot of time on him being better about that. Moses Wright struggled the first half but he was really good the second half. Those two really got us back going into it in the second half. I thought Khalid Moore's effort - his championship-motor effort - was outstanding today. I thought obviously Michael Devoe was very, very good. Jose (Alvarado) struggled a little from three, but Jose (Alvarado)'s just your guy who's going to lead you.
He's just such a great leader for us. I thought Asanti (Price) hit a huge three for us in overtime obviously to give us the lead. Bubba (Parham) gave us good minutes and so did Evan (Cole), and the bench was great with all the positive body language and everything else. I'm really proud of our guys, really proud of James (Banks III) and each one of our guys.
Defensively, we were a little better in the second half. First half they just torched us with all those threes. It was a high-level game. Both teams - NC State and Georgia Tech - both played so dang hard and left everything on the floor and for this early season of a game, it was a great game to witness. Both teams really - even though the scoreboard shows Georgia Tech wins - both teams really left as a winner on this one.
On experience with scoring back...
We have shot 50% in our last four games dating back to last year's final three games. Once I got the job I said that it was going to take me about five years, because we needed to build old and stay old. We're finally in year four, so we're a little older which is how it should be in the fourth year. In my first year when we overachieved, we were an older team.
In these past two years we were a young team with Josh Okogie leaving us early. This year, we're a little older than the past two years so we should be better with guys having more experience. The second thing is we have to stay healthy, and third we need to hold the fort until Jordan Usher, who is a really good player, gets eligible Dec. 18 as he'll be a good addition to us.
So those are the three things that are big for us, but being older certainly helps and I believe that's the best way for us to be successful in this league.
Never miss the latest news from Inside Pack Sports!
Join our free email list