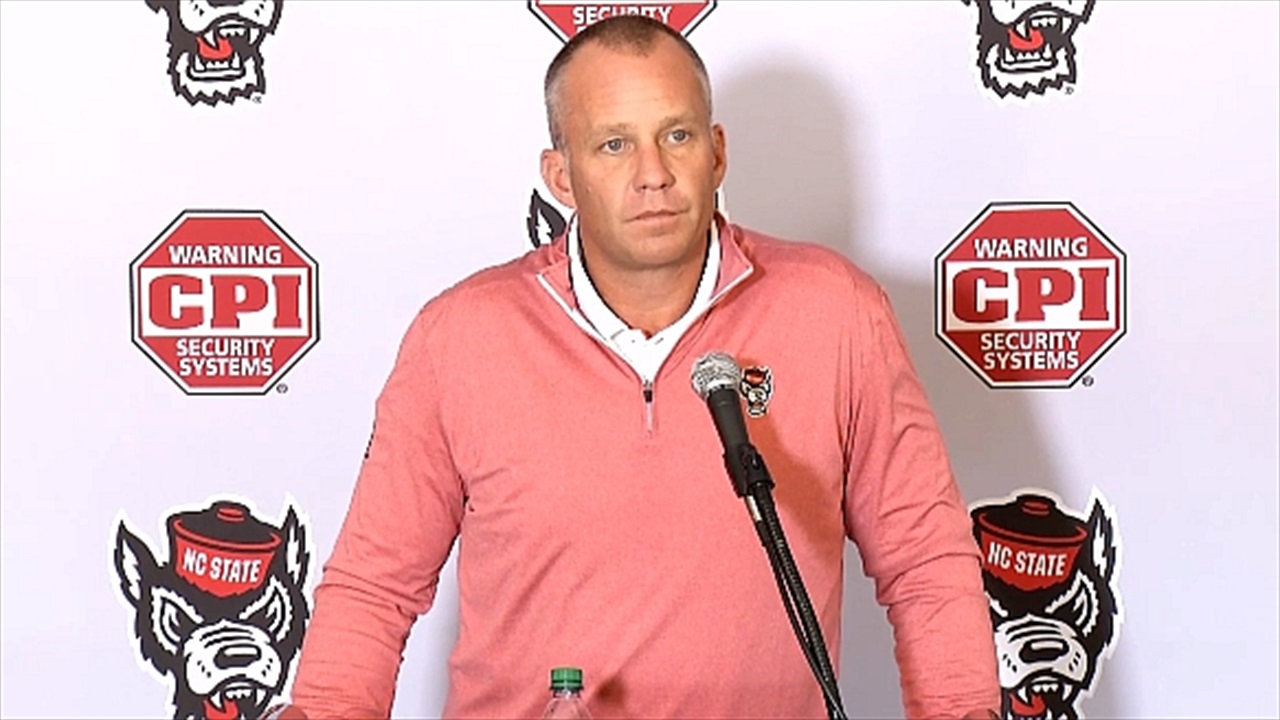 NC State Football
VIDEO + QUOTES: Dave Doeren's Weekly Quotebook
---
NC State head coach Dave Doeren discussed where his team is at heading into Saturday night's matchup against Clemson.
NOTE: Click the video above to watch the press conference.
---
Opening Statement...
We look forward to playing a home game. It's been a month since we've been back in Carter-Finley and excited for Homecoming. It's a night-game opportunity against a tremendous team.
It's what you play for, to play against such a good team, such a well-coached team, and to do it at home in a night environment at the Carter. It's been awesome to have those types of games. I know we'll have a tremendous crowd.
I'm excited to get back on the grass with the guys. As everyone knows, we're injured, young, all those things, and we're going through some challenges of what that is. But I love a challenge, and I love when my back is up against a wall. I know this: our guys won't flinch. They are going to fight, and we'll fight together as a program.
It's what we do better every day and how we play. That's what we have to continue to focus on each week, regardless of the injury report.
This week the challenge is obviously a great one when you're playing a team that's done what Clemson has done. I can go through their statistics, but you all know where they are at. They do a really good job... they are well-coached with good players, and we have to go out there and be the best that we can be with what we do.
It's really fundamentals. It's executing as 11 guys at the same time... it's catching, blocking, finishing... one more step on a block, getting your hand inside versus outside. How you leverage the football, how you tackle. I'm excited about that challenge.
It's a great week to be back at home because it was an interesting schedule... it was weird having that setup, so now it's nice to get into a rhythm and be able to put together some consecutive weeks of football.
Payton Wilson played a season-high in snaps against Wake Forest. Do you have him on a pitch count or not, but he's been reckless out there. How have you tried to let him go but keep him healthy?
He's fun to watch... he played his best game.

Early in the season there was a fatigue part with him. Early in the year our rotation at linebacker was good and as the season has gone on, his production has increased, so he's a guy that's making a lot more plays than other guys, and his stamina has improved which allowed us to play him more.
He and Drake played their best games last week. They were both very active, physical, with good spirit about them. I thought CJ Hart came in and did some good things when he had his opportunity.
The young linebacker core, the banked reps... that's one position group where they've been able to play in every game and you see the growth when that happens. That's the value of staying healthy.
I look forward to him for a while, doing what he's doing, and doing it even better as he gets more confident and comfortable.
What stood out to you about Devin Leary specifically from the film?
I think the thing you like, other than how well he can throw the football, is just how competitive, how into it, how coachable... the conversations you're able to have. The mistakes he makes are going to happen. You don't want them to happen, but it's his first start. He made some really good throws, I thought he had a great corner ball to Cary on the sideline, but he missed an out-route that he's
Getting him consistent, and they did a good job sitting on some routes, which probably made him nervous on some throws, and he has to learn how to get through that. That game will be a huge piece for him to grow from.
I just like how he comes to work everyday. When you're talking to him he gives you feedback, and he's never in a panic. Here's what I saw, here's what I did. There's a lot of things that I'm excited about. Obviously I'm not excited to throw a deep ball down the middle of the field with a post safety there... and the receiver has to try to break that up, too, if it happens.
He'll grow a lot from that game and get another team this week that wants to blitz every snap, so another opportunity.
Are you looking to stick with him the rest of the way or is it a week-to-week situation?
I can't give you 100 percent on anything in life right now. I can't do that.

I'd love to say he's going to grow and get better and better. I hope that happens for him, I do. He's worked himself into the place he's at for a reason. He's our starting quarterback right now, and I look forward to helping him continue to get better.
Coaches watch videos and it's rare when you come up against a team with no weaknesses. Do you agree with that?
They are really good. They have experience, they are well-coached, they have staff continuity. All those things. Their kids know how to win.

I also know anything can happen on a Saturday. That's why you put the ball down and play. We have nothing to lose in this football game. Just go play as hard as we can, be better than we were a week before, finish plays better than a week before.
Anything can happen, and that has to be our mindset. Each week just try to be better.
What impresses you the most about Clemson?
I don't know if I can give you an answer. They are good. They are No. 1 in the conference in everything, almost. They are good.
Talk about the big picture of the program right now, even with the adversity you're facing.
When you're playing the second-most freshmen in the country and you're seeing Drake Thomas get better, Payton Wilson get better, Josh Harris, Savion Jackson, Bam... I thought Jordan Houston ran as hard as he's ran in that game we just played.
That's exciting. It's painful right now because we aren't getting to enjoy the improvement, but it's exciting.
I've been through this. We went through it when Chubb and Fernandez were freshmen. It was a pain, but they all ended up being really good players for us because they went through it. You don't walk on hot coals and come out of it with nothing burned on your feet. It's going to hurt for a while.
I'm very optimistic, and we'll remain that way. We recruited two very good classes back to back that are now being forced into, not just playing time, but very important roles on our football team.
We have four seniors [starters] on the two-deep on the entire roster, so they are being asked to lead and play. It's unique, but it's awesome for the future of our program. Week-by-week, one day at a time, keep getting these guys better.
Bam and Trent are on the depth chart. Where are they at health-wise?
I couldn't tell you. We'll see.
What was it like last year to keep Wilson off the field?
He was hurt, so... last year was more about getting him through not playing. I think Levi and Jeffrey are going through that now, guys who really want to play but they can't because they transferred in here.
When you don't have the game and are watching the game and think you can help the team win, it's challenging, but I do think it gives you really good perspective on how much you truly love football so when you get back you don't take it for granted.
You're seeing that from him. He's playing relentless football; we just have to keep getting him to play smarter football.
You don't have a turnover forced in an ACC game. Any reason why?
[Laughing] Thanks for bringing that up.
I wish I could tell you why. When you watch the film you see really good hits, guys putting their face on the football, guys punch and rip at the football.
We had a couple of balls batted in the air Saturday that didn't bounce to us, and you turn on the film and sometimes you see the ball batted, dude's running, and touchdowns. Some of it's luck. We practice that skillset daily. We work it, we preach it, we talk about it.
I don't know what else to say other than it hasn't happened yet. Some of it's we're not making enough plays on the ball, not just picks but PBUs, we need more of those, as well.
It will come eventually. That's how it works.
Comparing this team to the team in 2016 that played at Clemson....
That team was different than this team. That team we knew who was on the roster. We were playing with a bunch of sophomores who were really good players. That was Chubb and those guys' sophomore years, and we didn't have 11 starters injured for the season that year.
We were able to get better, and we finished. We won three of the final four games that year because our young team got better over the course of the season. I've had a different starting lineup for eight straight weeks, so it's not even close to that type of team. It's not.
The thing that's similar is we had a talented group of guys on that roster, the same thing here, but we had almost the same lineup almost every game that year.
Is it difficult to get the message across, from a confidence standpoint?
I think everybody is different. I think some guys... Jordan, Drake, Payton, Jakeen Harris... those guys are getting better. They understand the value of their reps, and then there are some guys we need to get better now. They haven't matured as fast, but they are playing.
It's not a confidence thing. I think it's... a lot. You were in a high school classroom last year. It's the amount that has changed in their lives and the intensity of all that is different for them... helping them understand the grind.
It's different to have to do that your first year. I'm impressed with some of those guys and how they are dealing with it. Like you'd expect, for some it's harder.
Everyday it's not just coaching football over here... [it's] picking them up, getting them positive.
Jordan Houston was running hard; do you feel the running game took a step forward last week?
In some ways it did. It's really hard when you're down 21-0 to run for 300 yards, but when we ran the ball we ran it efficiently. We were 4.5 yards per carry in the game with some explosive runs.

I thought Jordan did some really good things. Bam was only in there for nine snaps, so he didn't get a chance, but Jordan and Trent had some good runs in the game. The line and tight ends protected, got hats on hats.
There were positives there. Some things we can definitely grow on.
Never miss the latest news from Inside Pack Sports!
Join our free email list