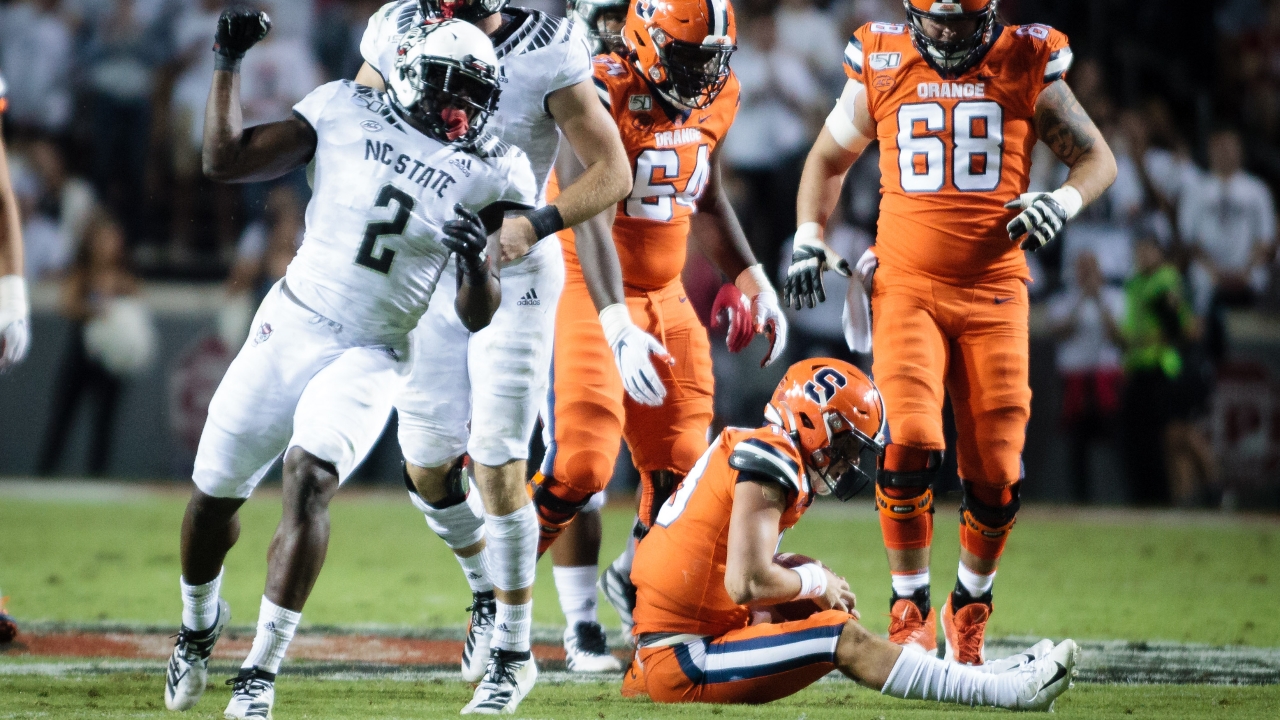 Photo by Steve Murphy/Inside Pack Sports
NC State Football
Louis Acceus Emerging Into Consistent Playmaker
---
Louis Acceus came into the 2019 season as the forgotten guy in the linebacker group. Isaiah Moore was the best returning player, Brock Miller was expected to be the guy to replace Germaine Pratt, and Payton Wilson and Drake Thomas were the coveted recruits playing their first season.
Halfway through the season, however, there's no doubt that Acceus has been the best linebacker – and arguably the best player on that side of the ball regardless of position. Thursday night's 16-10 win against Syracuse was simply his coming out party.
Acceus racked up 14 tackles and three sacks to lead a Wolfpack defense that totaled eight sacks for the second game in a row.
"It's all Coach Hux and his crazy scheming," Acceus said. "With these blitzes he's drawing up, everybody's crossing here, crossing there, crossing there. Somebody's going to end up open, so that's how that happens."
Dave Doeren knows how important Acceus has been for his defense.
"Lou has been very steady this year," Doeren said. "He's a very athletic guy... I think almost every game he's been first or second in tackles on defense with the linebacker core."
Through six games, Acceus is second on the team with 36 tackles, six tackles for loss, and 4.5 sacks.
"That's awesome for a kid from New York to be able to play like that against Syracuse," Doeren said. "I'm happy he's continued to improve because last year he didn't really play a lot. He's playing fast, he's playing hard. He's taking advantage of his blitz opportunities."
With the move from the 4-2-5 to the 3-3-5, one of the linebackers needed to step up, and Acceus has done that and more after backing up Isaiah Moore last season.
"I'm extremely excited," Acceus said. "I have to get better on not showing the blitz so early because I get so anxious to go. I just let it time up and let it develop, and when I see I'm open, I just take it. When he called my number, I just made sure I was ready to go."
After struggling mightily against West Virginia, the defense has been much better against Florida State and Syracuse. Acceus has a pretty simple explanation for that.
"Honestly, it's just the game plan," Acceus said. "Believing in the game plan, having a good week in practice, making sure we're flying around, having full confidence in each other that we're all going to do our job, and just having fun with each other out there."
Never miss the latest news from Inside Pack Sports!
Join our free email list