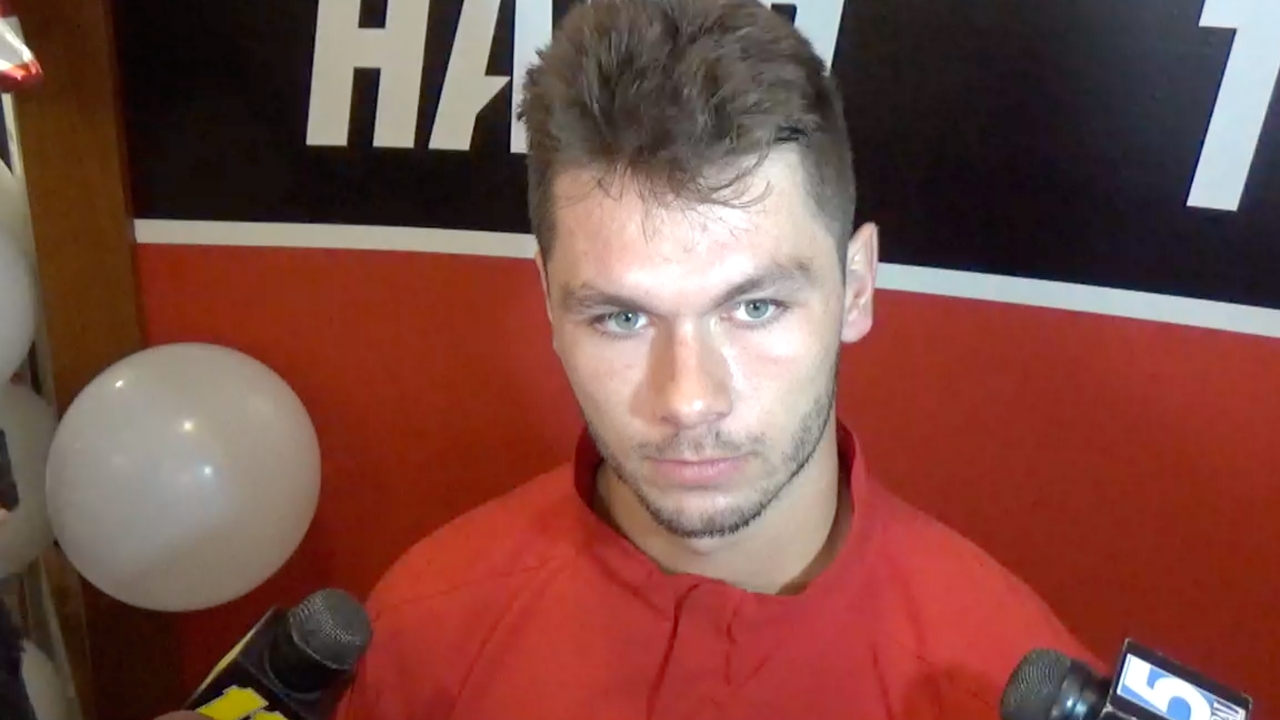 Louis Acceus
Bailey Hockman
Isaiah Moore
Larrell Murchison
Thayer Thomas
NC State Football
LOCKER ROOM REPORT: Wolfpack Players
---
Several NC State players spoke with the media following the Wolfpack's 16-10 win over Syracuse Thursday night.
NOTE: Click on each player's thumbnail above to watch their respective interviews.
---
Junior Linebacker Louis Acceus
"Honestly, it's just the game plan. Believing in the game plan, having a good week in practice, making sure we're flying around, having full confidence in each other that we're all going to do our job, and just having fun with each other out there."
"It's all Coach Hux and his crazy scheming. With these blitzes he's drawing up, everybody's crossing here, crossing there, crossing there. Somebody's going to end up open, so that's how that happens."
"It shows that we're able to go the long run. We can keep up with this team even down in the game, but not down and out. It shows we have that extra stamina to keep us going."
"I'm extremely excited. I have to get better on not showing the blitz so early because I get so anxious to go. I just let it time up and let it develop, and when I see I'm open, I just take it."
"Believing in the game plan. When he called my number, I just made sure I was ready to go."
Redshirt Sophomore Quarterback Bailey Hockman
"My first start… I think we played well. Like I said, it's the small things. We have to keep getting better, keep executing. The guys work really hard and did well in the trenches. I love those guys, and I'm proud of them."
"It comes down to execution at the end of the day. Everybody's got to do their job. When we start doing that, we're going to get this thing rolling."
"I've got to get better. That's the only thing that's on my mind right now: just working and just keep getting better. Whatever I can do for my teammates to get better…"
"Just staying in the pocket. I felt like I might have tried to scramble a little bit too much. I have to stay in the pocket, trust my O-line, and push the ball down the field."
"Syracuse had a great defense. They had a really good defensive line. They're playing hard. They're playing physical. I tried to escape a few of them, and I couldn't. They play really hard. They did a great job."
Redshirt Sophomore Linebacker Isaiah Moore
"My thing is just the mindset. When the quarterback drops back to pass, I think we've got to get to him and get up to our coverage. That's the mindset we've adapted in practice to get after the quarterback."
"Absolutely. When it's a tight game like that, as a defense, we all get tighter. That's the bond we have on the defense. If it's on us, it's on us. That's what we want, and we feel like we can shoulder it."
"I think it says a lot about the fight on our entire team. We're a hardworking bunch of guys that are going to fight to the end, and I think we showed that tonight."
"I think so. The last couple of games, it's felt that way. Once we get one sack, we get confidence, and our coaches get more confident in calling more blitzes. We get one, then we get two, and it keeps rolling off from there."
"It's huge. I think it's a big confidence boost for our team going into the last six games of our schedule, all conference games of course. Our ultimate goal is always the ACC Championship, and we feel like that's still achievable.
Graduate Student Defensive Tackle Larrell Murchison
"It's fun. We're all having fun as a team. When one person makes a play, we're not selfish. We're not saying, 'Aw, I wish I'd gotten it.' We're like, 'Let's go. Next person up.' We're having a lot of fun right now, and I feel like we've got to continue to have fun."
"We stay disciplined. That's our word of the week. We kept discipline. We knew that time was running out, and we knew they had to try to score, so we just had to play our best ball. That's how we called game right there."
"I'll put it like this: We just do our job either way it goes. We're going to cheer the offense on, and when we're on the field, we're going to step up to play."
"It felt great. We're going to move on from it, and we're going to build on it."
"We knew Syracuse is a tempo team, and especially with the amount of minutes they had to score, we knew they were going to go fast. It was all about staying the course and staying focused on getting the call and executing it to the best of our abilities. We were locked in, and we were ready to play."
Redshirt Sophomore Wide Receiver Thayer Thomas
"I don't think there's any chance of that happening. I'm a receiver. I do what they ask me to do when they give me the ball, but I'm not trying to do that. I don't think that's the best for the team."
"The play we actually took from Virginia Tech. It was the exact same play. We did it a lot in practice, so we had a feeling it was going to work."
"When he's that wide open, I just try to pull the line. The one thing I didn't want to do was overthrow him because that would have just been a wasted play."
"I think Bailey brings toughness to the table. He gets hit a lot, and he keeps battling. He brings the toughness for sure. I thought he did pretty good in his first start. When Devin came in, I think he passed to me and he did his thing when he was in there. I feel like they both did their job, but we've just got to try to sharpen them up."
"I'd say short-yardage. We had a chance to put the game away with three minutes left. On 2nd-and-3, we didn't get anything. Same on 3rd-and-3. I think that's something we need to do better to keep the chains moving. I feel like finishing games out. I feel like the first half has always been pretty good for us, but we continue to struggle in the second half. I feel like every game we're up, I don't think we're playing to win. I think we're just trying not to lose sometimes. That's just the player mentality. We need to have a better mentality."
Never miss the latest news from Inside Pack Sports!
Join our free email list