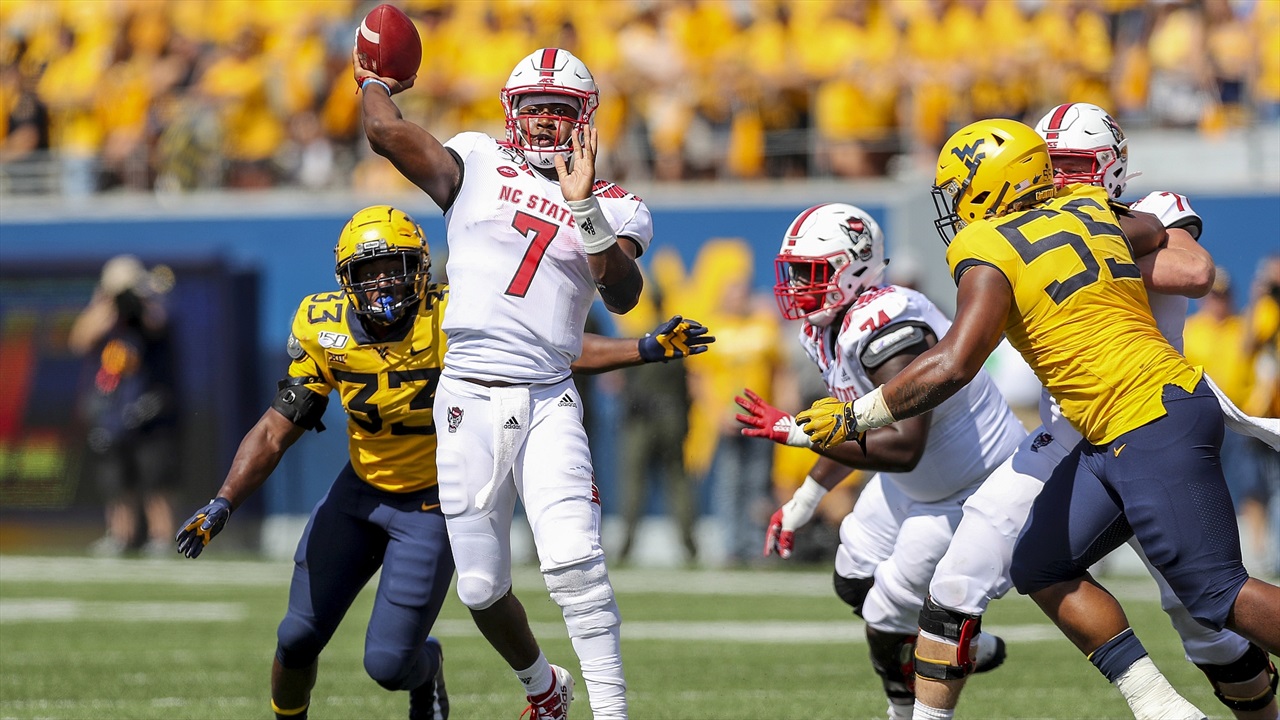 Photo by USA TODAY Sports
NC State Football
The Latest From Dave Doeren On NC State's Quarterback Situation
---
NC State head coach Dave Doeren has decided to make a change at quarterback, and although it's not a surprising move given the shift at Florida State, it's one he believed the team had to make at this point in the season.
"Bailey Hockman will start for us at quarterback," Doeren stated. "Devin [Leary], who also came in to the game at Florida State and did a good job, will have an opportunity. I feel like they are giving us more in the pass game.
"Matt [McKay] is doing a really good job in a lot of areas and needs to improve on his pass game. He will. I'm really impressed with how Matt came to practice the last two days. He'll get better. He's an incredible young man, but for us to be able to do more things from a scoring standpoint and push the ball down the field, that's where we're at. Those two guys give us a better shot with their arms right now, and Matt will continue to work on the things that he can."
McKay was named the starter prior to the season opener, and he had his good and bad moments. The redshirt sophomore started the season with a 308-yard passing performance against East Carolina, but he barely topped 200 yards in games against Western Carolina and West Virginia.
Doeren indicated that after the West Virginia game the staff felt there were concerns with the passing attack, and that led to an early look at backup Bailey Hockman.
"Going into Ball State we felt like we weren't throwing the ball efficiently enough," he stated. "That's where you saw us get Bailey a series at the beginning of the second quarter so that we could make a better evaluation of, would it be better? We hadn't given him real game reps, just mop-up reps. We felt like he did well there and was improving in practice.
"That's where we're at. Statistically, we're not explosive in the passing game right now, we're not getting enough explosive passes, we're not getting enough even pass interference calls against down the field plays."
McKay played three series at Florida State before being replaced by Hockman. McKay finished the game 3-of-7 for 20 yards while Hockman completed 21-of-40 passes for 208 yards and a touchdown. Redshirt freshman Devin Leary also received limited reps, completing 4-of-5 passes for 54 yards.
"I feel like Bailey came in the Florida State game and showed a lot of poise and guts," Doeren said. "He came into that game and competed. Devin came in cold at the end and threw it around well. I was proud of those guys."
Doeren left the door open for Leary to receive snaps against Syracuse, as well.
"He could," Doeren replied when asked about Leary playing Thursday night. "I don't think I should give you my gameplan today, but he could.
"Devin had been getting better in the things that he was doing. We got into the game and weren't moving the football. We gave him the opportunity, and we started to get some balls down the field and open up some things."
As for McKay, Doeren says he has handled the demotion to third-string with class.
"Matt is a tremendous teammate and a great young man to coach," he stated. "I worry about everybody who goes through things. I don't have to worry about how Matt will handle it, but I do worry about every kid who goes through adversity. My job is to tell the truth and then help them through it. To lose your job is one thing, to quit is another. Matt is a fighter. He's going to fight hard to get back, just like Devin and Bailey when they were backups. They didn't get in, they got better.
"He was disappointed, but understood, and asked what he could do... let's get a plan and let's go. We talked about being a great teammate to those guys... everything you'd want a young man to be. Nobody is going to be happy with that news, and if they are, you're probably like, 'Wow, why is this guy starting if he's happy to lose his job?' Nobody is going to be happy about it, but the way he handled it is the way you'd expect a great teammate and a competitor to handle it."
Never miss the latest news from Inside Pack Sports!
Join our free email list