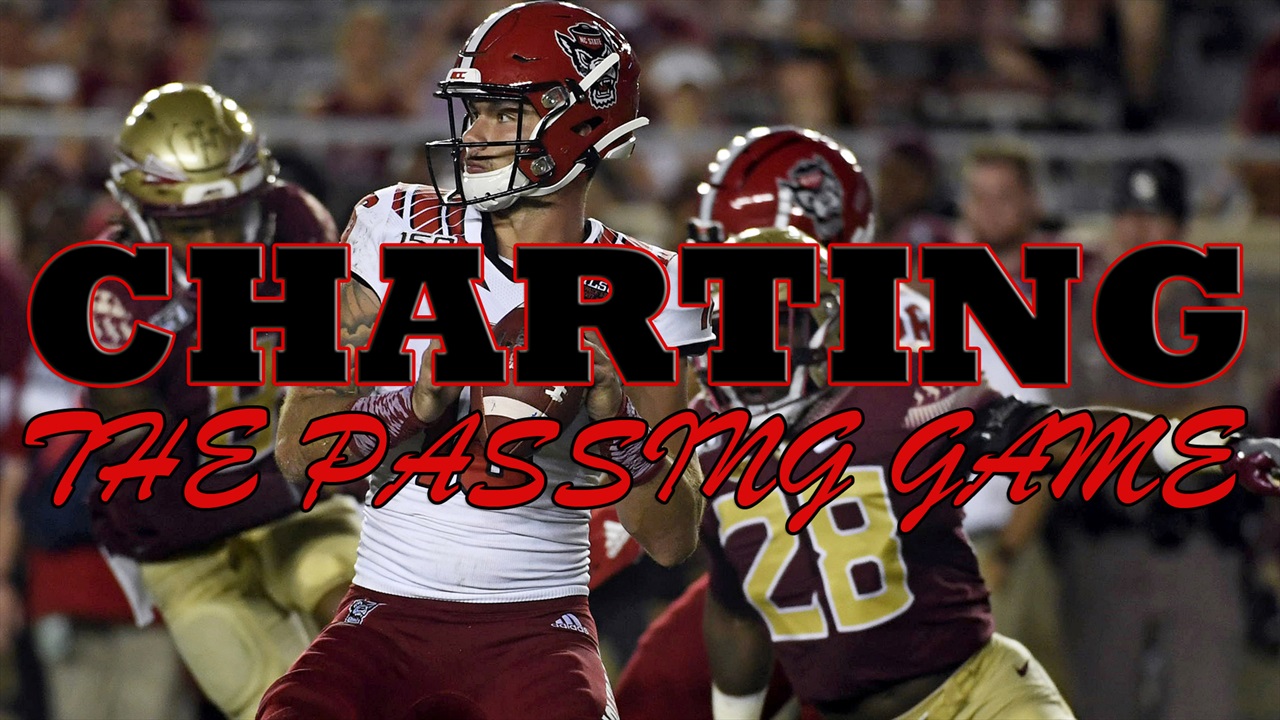 NC State Football
FREE FEATURE: Charting The Passing Game vs. Florida State
---
I don't know about everybody else, but I came away from the Florida State game with more questions than I had going in. And while the quarterback topic will dominate the headlines for the foreseeable future, there are so many other discussion areas such as pass game philosophy, receiver play, and pass protection that also need to be examined.
With that being said, this is a very fortuitous time for an open week.
Matt McKay
So let's begin our look at this past weekend's passing performance by quickly discussing starting quarterback Matt McKay. Playing the first three offensive series, McKay was 3-of-7 for 20 yards. In the eyes of Dave Doeren this was a poor opening; thus, he elected to play Bailey Hockman from that point forward.
The reality is that McKay was not throwing the ball well to start the game. Of his seven passes I deemed three of them to be uncatchable balls with one being marked as a dropped interception. While he did complete one very nice tight window throw to Emeka Emezie on a corner route, his other passes were just not good enough. And this inconsistency ultimately cleared the way for his competitors.
Bailey Hockman
With his first extended action of the year Bailey Hockman delivered a mixed bag of eye-opening highlights and cringe-worthy lowlights.
I personally don't care who the quarterback for NC State is, but I think within this game anybody can find reasons to believe Hockman should or should not be the starting quarterback moving forward.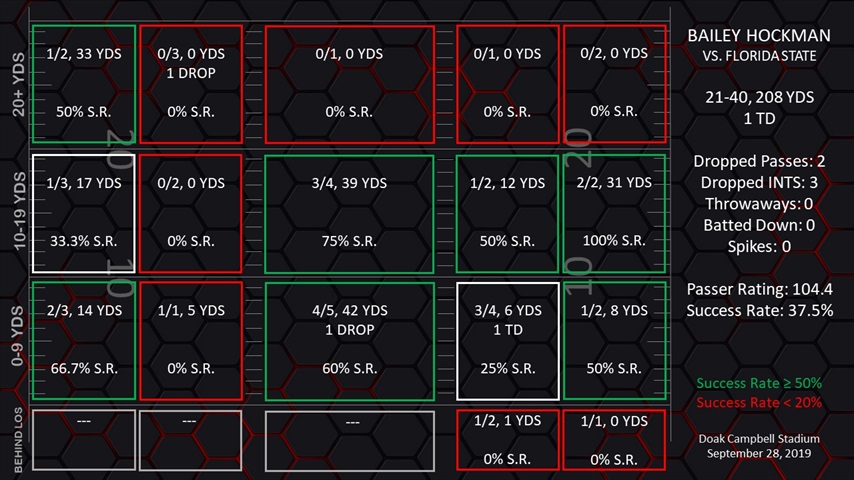 Looking at Hockman's passing chart against Florida State, I believe most eyes will gravitate to the top row – deep passes (20+ air yards). Most folks, including myself, felt the offense needed more verticality. We can see that Hockman obliged by attempting nine passes that were at least twenty yards downfield. This compares to McKay attempting only thirteen deep passes throughout the entire season up to this point.
And dropping down the chart just slightly we can calculate that 55% of all passes from Hockman traveled a minimum of ten yards through the air. For a basis of comparison, the highest mark for McKay occurred against Ball State at 43%. And going further, if we look at the West Virginia game – which had a similar game script to Florida State – passes over ten yards only accounted for 31% of throws. So Hockman seems to be more apt to throw downfield – but as I'll bring up in a future article, I also see a shift in play calling having a role in these numbers.
One area for which the numbers show a noticeable difference between Hockman and McKay is in their ability to handle pressure. For the most part I thought Hockman handled the pocket well against Florida State's stout defensive front. I charted six instances where he was hurried or hit by the pass rush. Out of these six throws he completed four of them for 46 yards, and all four converted a first down. This compares favorably to McKay's numbers on pressured throws where I have him marked as 4 of 16 for 43 yards on the season. One game doesn't make a trend, but it is something to monitor moving forward.
The other aspect of this that I noted was that when Hockman scrambled, he maintained excellent awareness for where the line of scrimmage was. This allowed him to influence defenders in a couple of instances to move forward, which in turn opened a throwing window in the area they had just vacated. Ultimately, you don't want to be making too many throws in scramble scenarios, but I thought this was a strong aspect of Hockman's performance.
If there is one area of Hockman's passing performance that I'm neutral on right now it would be third down passing. In the end the numbers were not good. I've got him down as 2 of 7 for 20 yards, with two of those throws almost being interceptions. The reason I'm neutral, though, is that we all saw how slow McKay started in this area. He improved these numbers with more reps, and it is something you hope to also see with Hockman. But from a fanbase perspective you have to recognize that we may have to witness the maturation process starting all over again for a new quarterback.
And lastly, there are a couple of aspects of Hockman's game where I have concerns.
First is simply his accuracy. He finished with a completion percentage of 52.5% which is slightly worse than McKay's 57% on the season. But more importantly, when he missed throws it was in dangerous areas. I charted three dropped interceptions for Hockman and a couple of other throws where the defender was in better position to catch the ball than the receiver. You hope this will improve with more reps going forward, because with the struggles of this offense they cannot afford to be turnover prone.
The last note that I had regarding Hockman's performance concerned one particular pass where he attempted a ten yard out from the far hash. The throw was late and it allowed the defensive back to cut in front of the receiver and nearly intercept the pass. Frankly, the ball was too soft, and it made me wonder whether Hockman had the arm for that particular route. Maybe he does and that was just a poor throw. But if he doesn't then it will allow upcoming defenses to shrink the field on him as they'll invite those strenuous throws.
Devin Leary
I also think it is worth mentioning the performance of Devin Leary when he was called upon. The redshirt freshman came in off the bench on the final drive to complete four of five passes for 54 yards.
Throwing mostly to the edges, it really highlighted the difference in arm strength between Leary and the other two quarterbacks.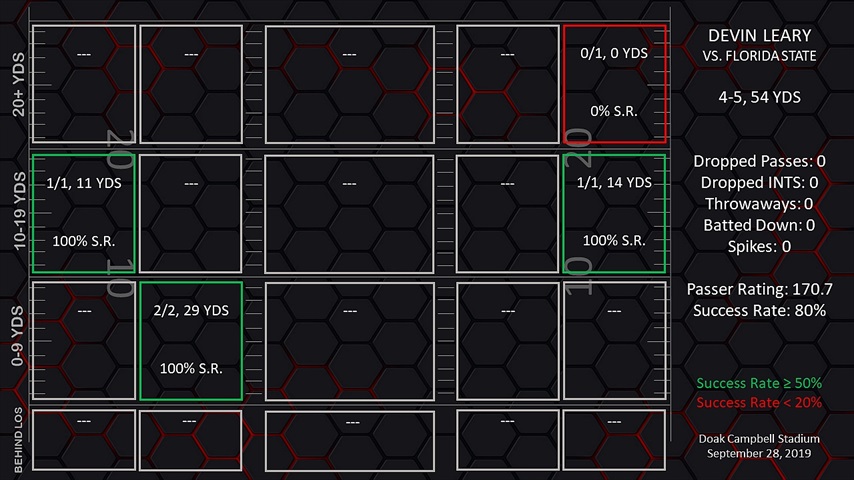 And even though it was late in the game with the outcome already determined, I didn't think the Florida State defense gave him much. We saw them rush three on one play while dropping eight into coverage, then bring a series of blitzes while playing some press coverage on the edges.
So while it was only a few snaps, I think it was a nice challenge and debut for Leary. I'm not sure it will give him the starter's role, but it does give the NC State staff more to chew on during this open week.
Pass Blocking
As a whole I don't think you can be too unsettled by the pass blocking performance of the offensive line. We knew this would be their most difficult game to date, and it didn't help that NC State got behind and had to chase points for most of the night.
In 54 total dropbacks this grouped allowed two sacks. In terms of pressures, I noted six in my charting of their performance. However, I will add the caveat that a couple of pressures and major hits on the quarterback were abated by personal foul penalties against the Florida State front.
I thought it was very noticeable how many of these pressures – violent hits and both sacks – occurred in the fourth quarter. One can only assume that the offensive linemen were eventually worn down. For the health of NC State's quarterbacks, and for a recipe more apt for winning with this offense, let's hope we don't see that many dropbacks in any upcoming contests.
Pass Catchers
While I don't think this group had a banner night, it wasn't as poor as the previous two games. Coming off back-to-back five drop performances, I only noted two drops against Florida State. We witnessed Devin Carter look more natural as part of the passing scheme, and he rewarded Bailey Hockman with the deepest catch of the season. Max Fisher also worked himself into the rotation and nearly finished the game with an exceptional catch and run.
But as a whole this group still struggles to get separation from defenders. We saw several passes defended by the Florida State defense, and only 34% of NC State's passing yardage on the night came from run after catch. The reality is that when many of these catches are made a defender is generally close by to tackle and limit any additional damage.
At this point in the season I'm not sure how this can be alleviated outside of trying to scheme more separation into the routes. From an alignment perspective they could use more condensed formations or bunch sets to help facilitate rub routes. Or they could target more downfield routes from the backfield in an attempt to seek athletic mismatches. Ultimately, something will need to happen, as these tight window throws are only exacerbating quarterback issues.
Perimeter Screens
It was obvious going into the Florida State contest that the NC State staff felt they could utilize perimeter screen passes to their advantage. There could be several reasons why. Maybe the staff wanted to get the ball outside away from what was perceived to be a strong defensive front. Maybe they felt they could get numbers to the edge due in part to Florida State playing primarily a two-high safety alignment which at times gave inside receivers completely free releases.
Whatever the reason, it ultimately didn't pan out. I charted NC State attempting five perimeter screens in the first half for an average gain of less than a yard. We saw the Florida State defensive backs aggressively charge downhill, repeatedly beat any blocking attempts, and securely pin the runner before they brought him down.
And to build off of these perimeter screens, NC State attempted at least two screen-and-go concepts looking to catch an overly aggressive defense with their eyes in the backfield.
On both of the attempts, though, the quarterback overthrew the receivers. I'm sure these concepts looked good on the chalkboard, but the lack of execution made them a downright disaster.
Never miss the latest news from Inside Pack Sports!
Join our free email list